Without the right treatment, traumatic brain injury in children can lead to serious complications later in life.
Since their brains are still growing, an injury can stop them from reaching important developmental milestones.
That's why early intervention is so important. The sooner your child receives treatment, the easier it will be for them to adapt to the academic and social challenges they may face as they get older.
In today's article, we're covering the best ways to treat traumatic brain injury in children and what you can do to ensure they make a good recovery.
Understanding Traumatic Brain Injury in Children
In the past, most neuroscientists considered traumatic brain injury in children less severe than adult brain injuries.
Because a child's brain was still developing and more adaptable, doctors believed an injury would have less of a long-term effect.
This explains why there was very little emphasis on recovery for children with TBI until recently.
Most doctors tell parent that their children will be fine once the brain has time to heal. Unfortunately, this isn't true.
More and more research is showing that the age a brain injury occurs does not make it any less severe.
The problem is these deficits usually don't show up for years, especially if the child was very young when the injury occurred.
This means that when a behavioral or social problem finally appears, the link between their brain injury and their issues isn't always obvious.
As a result, many kids do not get the treatment they need to recover.
Symptoms of Traumatic Brain Injury in Children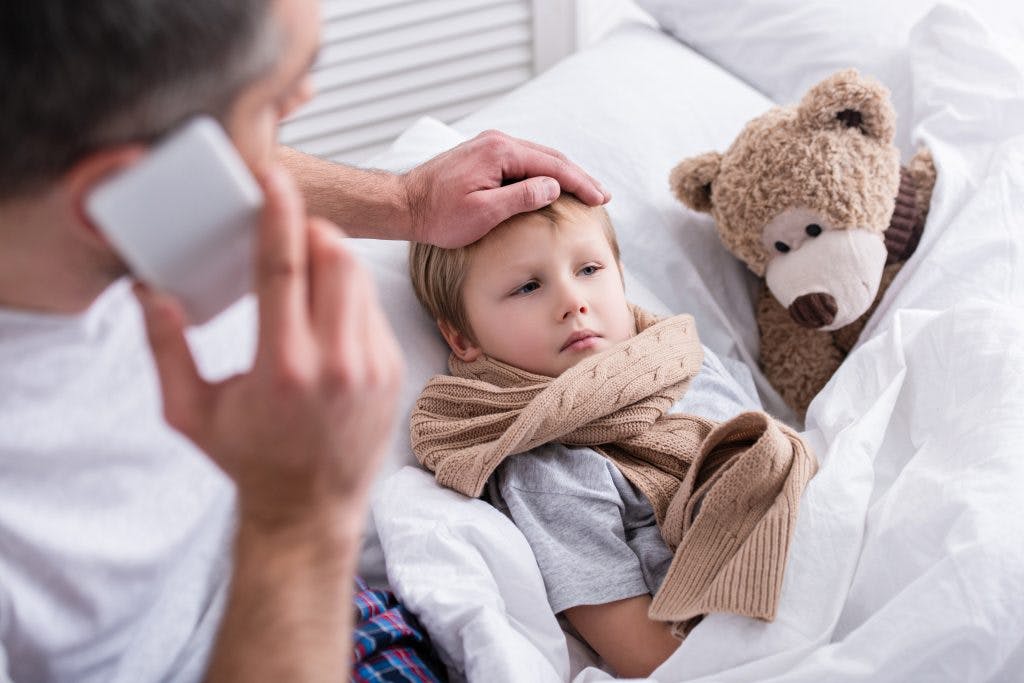 The symptoms of traumatic brain injury in children will vary with age.
TBI symptoms in older children
For older children between the ages of seven and fourteen, the symptoms are the same TBI symptoms in adults, such as:
Trouble with memory
Trouble organizing information
Language problems (aphasia)
Social difficulties
You may not notice some issues until they are older and their brain does not develop at the same rate as their peers.
For example, your child might not show any trouble socializing until they are in middle school, when cognitive demands on them are different and social expectations change.
Signs your infant or toddler might have a TBI
For infants and toddlers the symptoms of TBI are much different. If your child hits his/her head, pay attention to these signs:
Changes in play. If they suddenly lose interest in their favorite toy or game, this could be a sign of attention problems.
Changes in mood. If a normally happy kid is suddenly sad for no discernable reason, that is cause for concern.
Persistent crying. If nothing distracts your child from crying, take them to the hospital right away.
Loss of new skills. If they knew a few words and now do not talk, they may have damaged the language center of their brain.
Using Neuroplasticity to Treat Traumatic Brain Injury in Children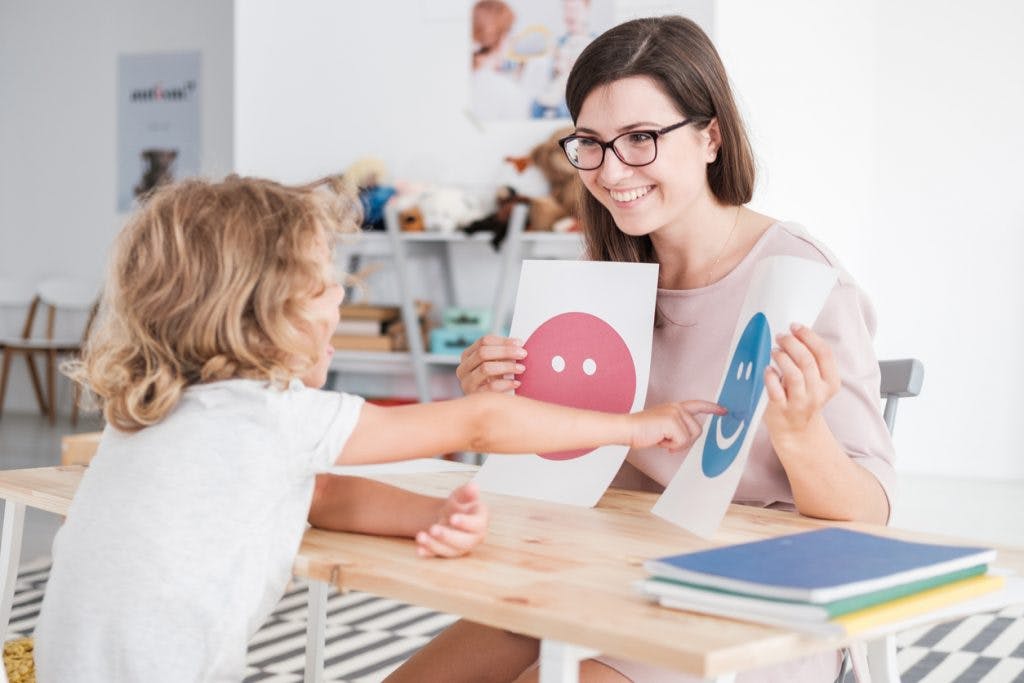 Luckily, there is one advantage children with TBIs have over adults.
It involves neuroplasticity, which is the brain's natural ability to reorganize nerve cells.
This ability lets healthy brain regions take over function from damaged ones.
Both adults and children can activate neuroplasticity.
But because they have more nerve cells than adults, children's brains are naturally in a heightened state of plasticity. This means they have a greater chance of making a full recovery!
For a fantastic demonstration of neuroplasticity in children with brain injury, check out this TED talk:
As the video shows, even a child with only half of her brain left could make a full recovery, thanks to the power of neuroplasticity!
Neuroplasticity is activated through repetition, so if you want your child to relearn an ability after their injury, they will need to do intensive therapeutic exercises.
It's best to start restorative therapy as early as possible, because there's a downside to neuroplasticity you'll want them to avoid.
How to Avoid "Bad Plasticity" When Treating Traumatic Brain Injury in Children
Neuroplasticity helps a child with brain injury relearn an action and regain abilities.
However, sometimes the brain learns how to do an action the wrong way. If that action gets repeated too often, the brain will "forget" the right way to do it.
So, to use the example in the video above, Christine had adapted to her leg weakness by learning to walk incorrectly.
The longer she walked that way, the more her brain absorbed that bad habit, until she couldn't do it any other way.
It's not impossible to break these habits, but the longer bad habits last, the harder it is to change them.
That's why early intervention is so important. If you can teach your child the right way to walk, their brain will adapt.
Best Therapies for Children with TBI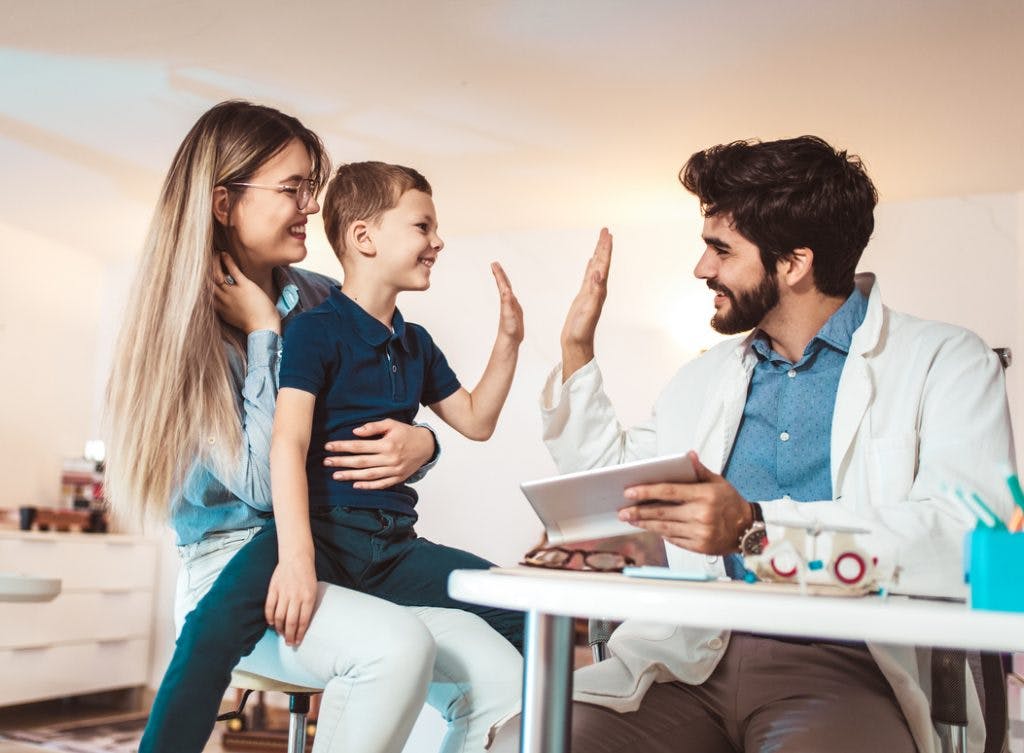 Now that you know how neuroplasticity works, here are some therapy interventions you should consider for your child.
Restorative PT
If your child has brain injury paralysis or spasticity after their brain injury, enroll them in physical therapy as soon as possible.
The root cause of muscle weakness and spasticity after TBI is poor communication between the brain and muscles.
But exercise can help restore that communication. That's what PT tries to accomplish.
The physical therapist will teach your child how to move the right way again. They will also show you the best exercises you'll need to do with them at home.
To see the most results, make sure you do therapy with them every day, not just when you visit the therapist. Just make sure they don't get too fatigued.
Behavioral Therapy
An injury to the frontal lobe can lead to behavioral issues such as aggression and impulsivity. This will make it hard for your child to function normally.
A behavioral therapist can help kids with TBIs learn different behaviors that are more constructive.
For example, to help the child from getting overwhelmed, the therapist will create a structured routine that children with brain damage can follow.
They will also work on improving self-awareness and regulating behavior.
Speech Therapy
Probably the most important therapy for treating traumatic brain injury in children is speech therapy.
Speech therapists deal with all aspects of language and communication problems, from the physical side to the more advanced cognitive side.
A speech therapist can help with swallowing problems, slurred speech, and word recall.
They can also teach your child cognitive rehab exercises that will improve their memory, concentration, attention, and several other skills.
Finally, speech therapists can help with social communication. This means they can help your child learn conversation skills they might struggle with.
Since communication skills grow throughout childhood, it's crucial to continue with speech therapy even years after their injury. That way they do not fall too far behind their peers.
Final Thoughts on Traumatic Brain Injury in Children
Every traumatic brain injury in a child, even a mild one, should be taken seriously. Children's brains are vulnerable, and if the right care isn't given, they can end up with severe deficits later in life.
And yet, because their brains are still young, they also have a higher chance of making a full recovery!
You and your child both have a long road to recovery ahead, but thanks to their brain's neuroplasticity, they can still have a happy, fulfilling life after brain injury.