When physical health is affected by cerebral palsy, the corresponding effects on one's mental health may be overlooked. For example, an individual's medical team may be more concerned about improving mobility so that the person is self-sufficient, before addressing mental health concerns. However, the two can go hand-in-hand and should both be equally prioritized.
Mental health disorders such as anxiety and depression can interfere with motivation to participate in therapy regardless of whether the individual with cerebral palsy is a child or an adult. To help you understand the link between cerebral palsy and mental health disorders, this article will discuss:
What Causes Mental Health Problems in People with Cerebral Palsy?
There are several categories of mental health disorders. Some common issues that individuals with cerebral palsy may struggle with include:
Mood affective disorders such as depression and bipolar disorder
Anxiety disorders such as generalized anxiety disorder or obsessive-compulsive disorder
Adult personality and behavior disorders such as antisocial or avoidant personality disorder
The prevalence of mental health disorders in individuals with cerebral palsy is not necessarily related to the severity of one's disability. Rather, it's more closely related to levels of stress, pain, fatigue, and perception of belonging.
Some social situations that can increase the risk of mental health disorders in individuals with cerebral palsy include:
Bullying or teasing
Abuse
Inability to learn as quickly as peers
Loneliness
All these situations have something in common: they make the individual feel different. This can cause a ripple effect into someone's mental health and cascade into their physical health, too.
Poor sleeping patterns, low physical activity, and pain (which are all commonly experienced by people with cerebral palsy) also increase the risk of developing mental health disorders. For example, individuals with chronic pain may have reduced sleep quality, which can consequently lead to lower energy levels to participate in physical activity.
Cerebral Palsy and Mental Health in Children and Adults
Some experts say that youth with cerebral palsy are particularly vulnerable to mental health problems. It's helpful to treat mental health regardless of age, though. No matter what stage of life someone is in, mental health should be treated as a priority.
Studies show that adults with CP have a greater risk of mental health disorders than those without CP, especially individuals with comorbid neurodevelopmental disorders like autism or epilepsy.
It's important to address mental health concerns early, as it can lead to a vicious cycle of getting worse as time goes on or a virtuous cycle of improving as the individual moves into adulthood. During a vicious cycle, an individual's CP may cause mental health distress which drains energy and motivation for rehabilitation. Without rehabilitation, the individual's mobility, self-care, and communication skills may worsen, which may increase feelings of isolation.
However, during a virtuous cycle, an individual receives early intervention for mental health, which may increase their energy and motivation for therapy. With consistent therapy over time, their mobility, ability to perform personal care, and communication skills will likely improve. This can increase feelings of self-efficacy, self-esteem, and other positive feelings.
Because of this, individuals with cerebral palsy should seek counsel for any mental health concerns, and clinicians should be advised to help in any way possible, regardless of the person's age.
Signs of Mental Health Problems in Children and Adults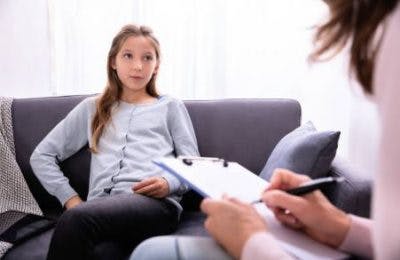 Behavioral changes are often among the first outward signs of a mental health disorder in children. As such, being able to recognize when someone is showing signs of behavioral challenges is crucial to preventing mental health disorders from progressing.
According to the National Alliance on Mental Illness, symptoms of mental health conditions in young children include:
Changes in school performance
Excessive anxiety
Hyperactive behavior
Frequent nightmares
Aggressive or disobedient behavior
Frequent temper tantrums
Withdrawal from activities they usually enjoy
In moderation, these behaviors are typical of young children; however, when they occur excessively, they may suggest the need for help from a mental/behavioral health professional.
Adults tend to have greater self-awareness than children. However, it can still help to understand the signs of a mental health disorder in adults, which include:
Excessive worry, fear, or feelings of sadness
Extreme mood changes, including uncontrollable "highs" or feelings of euphoria
Avoiding friends and social activities
Difficulties understanding or relating to other people
Changes in sleeping habits or feeling tired and low on energy
Thinking about suicide
If you or a loved one ever think about suicide, or need help with your mental health, contact the NAMI HelpLine to find out what services and supports are available to you.
Treatments for Cerebral Palsy and Mental Health Disorders
For non-urgent mental health concerns, such as persistent anxiety and depression, don't be afraid to reach out to your doctor or a mental health professional. Seeking professional help is necessary to get a proper diagnosis and treatment.
Mental health disorders are generally treated through behavioral psychotherapy or medications. In therapy, individuals can benefit from talking about their struggles in a judgment-free environment. They can also learn practical ways to cope and improve their thought patterns.
For individuals that wish to receive more help, talk to your doctor to see if medications such as antidepressants are a good fit for you. Keep in mind that medications for mental disorders may cause further motor impairment. Make sure to notify your doctor if you experience reduced motor function. You may be prescribed a different medication to prevent further functional impairment.
Understanding Cerebral Palsy and Mental Health
There is growing awareness around mental health concerns in both youth and adults with cerebral palsy. By pursuing treatment through psychotherapy or medication, individuals can encourage a virtuous cycle of improved mental and physical health.
If you are a parent of a child with cerebral palsy, it's important to be aware of behaviors that may point to the development of mental health disorders. And if you are an adult with CP, you can take care of your mental health by seeking help and talking to someone.
Mental health professionals are great resources and would make a great addition to your medical team/regimen. We hope this article helped you understand how to pursue improved mental health with CP.