Light sensitivity is a common problem after a head injury. However, sometimes the symptoms of light sensitivity can be hard to recognize, as they often overlap with other symptoms of brain injury.
Today's article will help you identify the causes and symptoms of light sensitivity and show you some of the best ways to cope with it.
Causes of Light Sensitivity After Head Injury
Light sensitivity, or photophobia, is one of the most common symptoms of mild traumatic brain injury and concussion. It mainly occurs after damage to the thalamus.
The thalamus filters visual information and sends that data to different brain regions. After a head injury, blood vessels that deliver oxygen to the thalamus can become damaged and therefore starve the thalamus of nutrients.
If this happens, the thalamus can no longer filter your vision, causing a visual overload. This explains why dark rooms, which have less visual information, are often more tolerable for head injury patients than bright rooms.
However, damage to the thalamus is not the only cause of light sensitivity. Other body systems and areas of the brain that also play a role include the:
Autonomic nervous system. The ANS governs most of your body's autonomic processes, including pupil dilation. If an injury disrupts it, your pupils may dilate more than usual, which will cause light sensitivity.
Superior colliculus. This part of the brain keeps you oriented in space. It also has some control over the eye muscles. If it malfunctions, it can make a person's vision more sensitive.
Vestibular system. If a head injury damages the vestibular system, it is common to have vision challenges accompany this. One of these challenges could include sensitivity to light.
After a head injury, a person will usually have a combination of these problems. Fortunately, it is possible to treat most of these causes.
Symptoms of Light Sensitivity After Concussion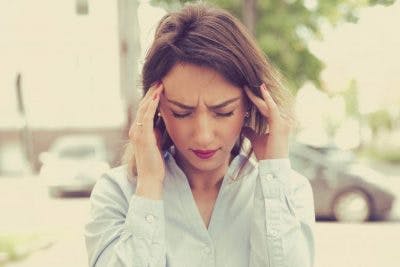 The most common symptoms of light sensitivity include:
Headaches
Eye strain
Eye pain
Vision fatigue
Inability to tolerate bright lights
There are also other symptoms that may accompany light sensitivity, such as:
Vertigo
Cognitive fatigue
Problems multitasking
While these symptoms are not necessarily caused by the photosensitivity directly, they may go hand in hand because of being very common after a head injury. Additionally, because your brain may be using extra energy to try to process bright light after a brain injury, this may limit the energy it has left for other activities. This could contribute to dizziness and fatigue.
Treating Light Sensitivity After Head Injury
If you had a mild TBI or even a concussion, your light sensitivity will likely resolve on its own after a few weeks. However, with more severe TBI or a condition called post-concussion syndrome (where you demonstrate symptoms of a concussion beyond the normal recovery period), photosensitivity will probably not go away without treatment. Be sure to work closely with your doctor.
The following treatments may help to minimize light sensitivity after a head injury:
1. Vestibular therapy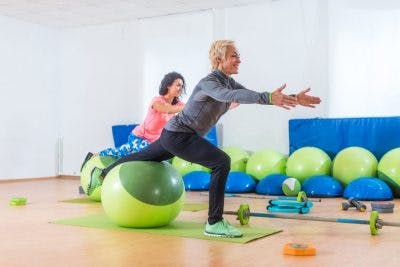 If your photophobia is associated with dizziness, the vestibular system may be at the root of the problem. Therefore, healing your vestibular system may decrease your photophobia.
You can accomplish this through vestibular therapy exercises. These exercises will target your balance, motion-induced dizziness, and visual issues.
Some sample exercises you can try include:
Sit or lie on your bed. Move eyes up and down, then left and right. Do this 10 times.
Bend neck forward and backward slowly, then turn from left to right. Do 10 times.
While standing, throw a ball from one hand to the other above eye level.
Some of these exercises may cause you to feel slightly dizzy, so be sure to have someone spot you if you feel unbalanced. If the dizziness grows too intense, sit down immediately and rest.
2. Gaze stabilization exercises
Once again, if a head injury affects your vision, it can make you more sensitive to light. Strengthening your eye muscles through vision therapy may help reduce strain on your eyes.
Gaze stabilization exercises can help you with this. Therapists use these exercises to help patients focus on a stationary object while moving.
Some gaze stabilization exercises include:
Looking straight ahead and focusing on a target while walking slowly towards it, or while moving from a sitting position to a standing position
Turning your head side to side, then up and down, while keeping your eyes focused on the target
Try to perform at least 10-15 repetitions of these exercises. Keep increasing the amount of time you spend on them without bringing on too severe of symptoms.
3. Flavonoids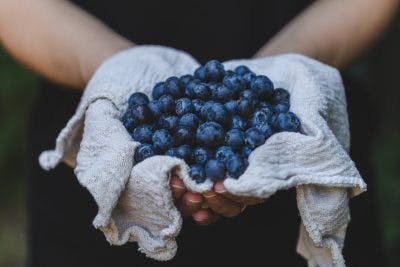 Flavonoids are a group of antioxidants that come from plants. While research is scarce, they are thought to be important for your vision and overall eye health. Additionally flavonoids are known to stimulate production of BDNF (brain-derived neurotrophic factor), which can significantly aid the brain's healing process.
As your brain heals, it can handle more sensory information at one time. This may reduce your sensitivity to light.
Most brightly colored foods contain flavonoids, including:
Blueberries
Cranberries
Red kale
Strawberries
The more antioxidants you consume, the more you will reduce the inflammation in your brain. Over time, this will alleviate your photophobia symptoms.
4. Gentle Exercise
New research shows that aerobic exercise can drastically reduce TBI symptoms and post-concussion syndrome symptoms, including light sensitivity. Some other benefits of exercise include:
Increased blood flow to your brain. When you practice aerobic exercise, it improves your cardiovascular function, which increases blood flow to your brain. This boosts overall brain function, which may make it easier for your brain to process light.
More neurotransmitters. Scientists have found that regular physical exercise boosts the number of neurotransmitters in your brain. This increase helps your brain process information faster, which may make it easier to process the input from bright light.
Although exercise is helpful, don't overdo it. If it causes your symptoms to worsen, then continue resting and try some other treatments instead.
5. Protect your eyes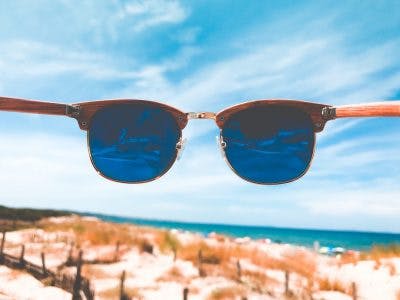 While the above treatments should reduce your sensitivity to light, they will not cure you instantly. Until then, you must protect your eyes.
The following are a few effective ways to accomplish this:
Wear sunglasses. Wearing sunglasses outside can help reduce strain on your eyes. However, try not to wear them often when indoors. To recover, you must slowly increase your light tolerance, and wearing sunglasses indoors will make that process more difficult.
Limit screen time. Try to limit the amount of time you spend in front of your computer, phone, or television. Otherwise, they will quickly overload your brain. If you must use a screen for work, wear blue light-filtering glasses, which can lessen headaches.
Colored glasses. Glasses with colored lenses reduce the amount of visual input your eyes receive. This can make things easier on your brain while you work. Eventually, though, you should start using them less often to make a full recovery.
Finally, try to get enough sleep. The more sleep you get, the faster your brain will heal. This means you should stop using screens at least an hour before bed.
Light Sensitivity and Brain Injury
Light sensitivity after a head injury can be frustrating and painful. Most cases will fade on their own, but some may require a little extra help.
By understanding the sources of light sensitivity, you can better equip yourself to treat it.
We hope this article helps you move forward on your recovery from the symptoms of head injury.