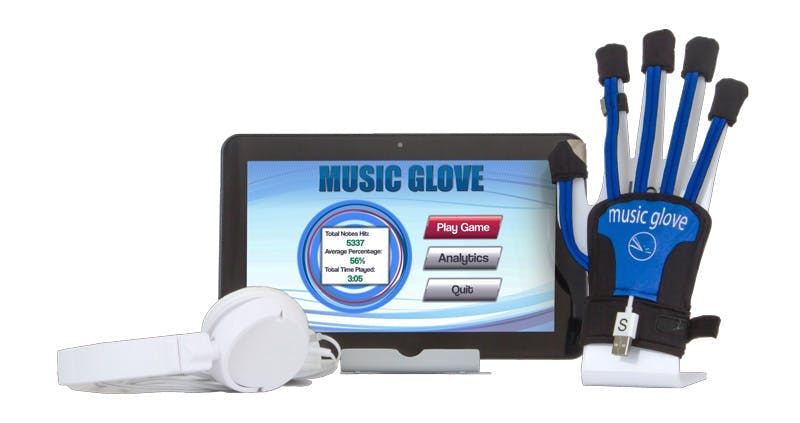 Try it 100% risk-free for 30 days!
If MusicGlove doesn't help, you get a full refund within 30 days of delivery, no questions asked.
Clinically proven to improve hand function in 2 weeks
FDA listed neurorehab that helps improve mobility for hands and fingers
Combines therapeutic music and gaming for an immersive rehab experience
Used in 300+ rehabilitation hospitals, 10,000+ homes
If you want to use both MusicGlove and FitMi with a Tablet, you can get discounts with a bundle
Ships in 1-2 business days
30 Day Risk Free Return Policy
Benefits of MusicGlove with a Tablet
Easy to Use
Our Tablet comes with all the software you need pre-installed. Plus, it has a simple touchscreen interface, so you don't need to use a keyboard or mouse either.
Ultra-Portable
With the Tablet, you can do your therapy anywhere: at the table, in bed, or on the go. Just turn it on, and you're ready to recover.
Works with FitMi too!
The Tablet comes with both MusicGlove and FitMi software pre-installed. So if you choose to use FitMi home therapy also, you'll be ready to go.
Frequently Asked Questions
Do you ship internationally?
We ship to some international countries including the United States, Canada, the European Economic Area, India, South Africa, Australia, New Zealand, Hong Kong, Singapore, Brazil, Argentina, Peru, and Chile.
For individuals in Singapore, Indonesia, and Thailand, please see our distributor at zaoinc.com.
Do you need hand movement to get started?
To use MusicGlove hand therapy actively without assistance, you need the ability to touch your thumb to at least one of your fingertips or side of your index finger.

MusicGlove is intended to treat:
Stroke
Spinal Cord Injury
Cerebral Palsy
Traumatic Brain Injury
Neurologic and muscular injury
Developmental disability
If you have received hand therapy in clinic and want to continue at home, MusicGlove is for you!
Shipping is free within the continental US. There is a subsidized shipping charge for Alaska, Hawaii, and international orders.
We accept returns on all sales within 30 days of purchase. Return shipping is covered for shipments within the continental U.S.
Get Started with MusicGlove!
Every MusicGlove is backed by our 30-day money-back guarantee
MusicGlove for PC/Mac
Works with compatible computer
MusicGlove with Tablet
Includes 10" Flint Tablet
MusicGlove + FitMi Bundle
Includes MusicGlove hand therapy

Includes FitMi home therapy

Save $50 when you bundle!