Lowest Prices of the Year Guaranteed! Save up to $75 for a limited time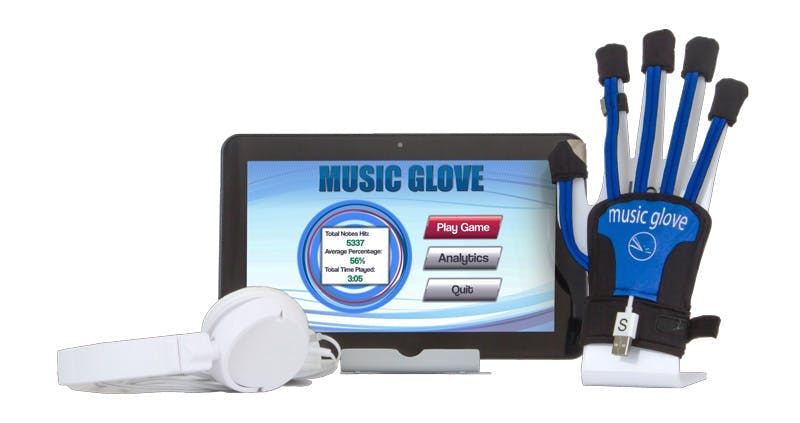 Try it 100% risk-free for 30 days!
If MusicGlove doesn't help, you get a full refund within 30 days of delivery, no questions asked.
Clinically proven to improve hand function in 2 weeks
FDA listed neurorehab that helps improve mobility for hands and fingers
Combines therapeutic music and gaming for an immersive rehab experience
Used in 300+ rehabilitation hospitals, 10,000+ homes
If you want to use both MusicGlove and FitMi with a Tablet, you can get discounts with a bundle
30 day full refund return policy
Free shipping within the continental US
Benefits of MusicGlove with a Tablet
Easy to Use
Our Tablet comes with all the software you need pre-installed. Plus, it has a simple touchscreen interface, so you don't need to use a keyboard or mouse either.
Ultra-Portable
With the Tablet, you can do your therapy anywhere: at the table, in bed, or on the go. Just turn it on, and you're ready to recover.
Works with FitMi too!
The Tablet comes with both MusicGlove and FitMi software pre-installed. So if you choose to use FitMi home therapy also, you'll be ready to go.
Frequently Asked Questions
Get Started with MusicGlove!
Every MusicGlove is backed by our 30-day money-back guarantee
MusicGlove for PC/Mac
Works with compatible computer
MusicGlove with Tablet
Includes 10" Flint Tablet
MusicGlove + FitMi Bundle
Save $50 when you bundle!

Includes MusicGlove hand therapy

Includes FitMi home therapy