Amnesia is one of the many secondary effects of head injury that a person can experience.
While it is a normal part of recovery from a traumatic brain injury (TBI), it can still be hard for friends and family to see a loved one go through it.
Today you will learn the causes and symptoms of amnesia after head injury plus how you can support your loved one during this time.
Causes of Amnesia After Head Injury
Amnesia is the inability to form new memories or recall old ones. It can also include confusion regarding place, time, and person.
In other words, the person has no memory of: (1) where they are, (2) how they got there, and (3) any new memories since the injury. When amnesia occurs after a concussion or brain injury, it is known as post-traumatic amnesia.
Post-traumatic amnesia most often appears after a person emerges from a coma. However, this is not always the case.
Several brain regions are involved in the processes of memory and new learning, and damage to any of these areas can cause amnesia. Some of the major areas of the brain that are in charge of memory include:
Cerebral cortex
Hippocampus
Parahippocampal gyri
Thalamus
An injury to one of these areas doesn't necessarily happen directly. Research on the hippocampus has found that exposure to prolonged periods of stress can affect the structure itself, causing hippocampus to shrink. Interestingly, this may explain why victims of abuse and military combat survivors sometimes experience amnesia.
Types of Amnesia
There are a few types of amnesia that can develop after a head injury, including:
Anterograde amnesia. With this type of amnesia, the person cannot remember new information. They cannot remember a conversation they just had, for example. They can, however, remember data and events that occurred before their injury.
Retrograde amnesia. This type of amnesia causes a person to forget events that occurred before their injury. However, they can still make new memories. Sometimes, after a severe head injury, both anterograde and retrograde amnesia can occur together.
Dissociative amnesia. In rare cases, a person can not only forget their past but also his/her identity. For example, they might not recognize their own reflection. This usually occurs after extremely traumatic events in which most people will eventually recover and remember who they are.
For patients after traumatic brain injury, the most common type of amnesia is anterograde amnesia.
In fact, the presence and duration of anterograde amnesia is one of the best predictors of TBI outcome. In general, the shorter the amount of time a person has amnesia, the better their chances are of a full recovery.
Signs of Amnesia After Head Injury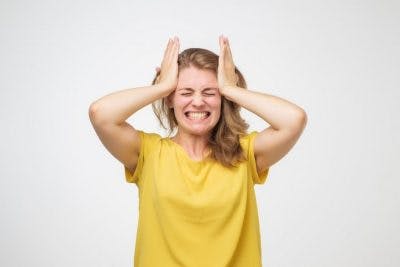 The most prominent signs of amnesia are memory loss and confusion, but there are others as well. These include:
Agitation and distress
Aggressive behaviors, such as violence, shouting, and swearing, that may be uncharacteristic of the individual
Inability to recognize loved ones
Childlike and clingy behavior
With post-traumatic amnesia, a person's ability to distinguish "right" from "wrong" are affected as the brain struggles to cope and recover after injury. Therefore, the patient will have almost no control over their actions and may seem very different.
As distressing as it might be to see your loved one in this state, try to remember that amnesia is almost always temporary. As their brain begins to heal, they should regain control of these types of behaviors.
How to Help Someone with Amnesia After Head Injury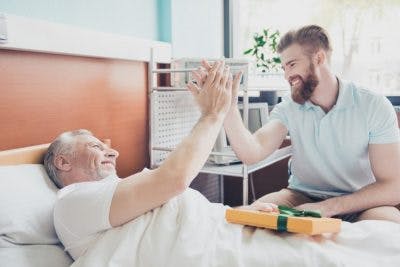 The following are some tips to help you interact safely with a person with amnesia after head injury:
Identify yourself. Whenever you enter your loved one's room, be sure to tell them who you are. This may keep them from becoming irritated or agitated. When leaving the room, even for a few seconds, make sure you remind them who you are when you return as they may not remember.
Ask before touching. In the first few days after they wake up, the patient will be highly sensitive to stimulation. Therefore, the person with amnesia may not want to be touched. Always ask them if you can hold their hand before doing so and, if they say no, then respect their wishes.
Stay calm. If your loved one sees other people acting distressed, that can add to their condition and make the situation much worse.
Be patient. Don't try to make the person remember anything and try not to correct any of their false beliefs.
Allow time for yourself. As a caregiver or family member, it's important to give yourself time to rest. While it's normal to feel like you can't leave your loved one's side, taking a break allows you to have the energy to support them in their recovery.
Amnesia After Head Injury: Key Points
Amnesia is a stage of brain injury recovery that most patients will pass through, especially if they are emerging from a coma.
Signs of amnesia include loss of new memories, extreme confusion, and unpredictable behavior. These will usually resolve as the brain heals.
Finally, always remember that your loved one is not fully in control of his or her actions right now. So try not to take any of their words or actions personally.
As time passes, your loved one will eventually regain control over their behavior and will start to remember you again.
When that happens, they will need you there to help them on their recovery journey ahead.
Featured Image: ©iStock/jacoblund