Have you ever wondered why people get Botox injections for cerebral palsy?
The first thing that comes to mind when you think of Botox is probably wrinkle reduction.
Believe it or not, it's the same medication used to reduce spasticity in people with cerebral palsy.
This article will explain everything you need to know about Botox injections for cerebral palsy.
Let's start!
Why Get Botox Injections for Cerebral Palsy?
Botox is the brand name for onabotulinum toxin A. It is made from a bacterium called Clostridium botulinum which causes muscle weakness.
Spasticity (when muscles continuously contract, causing stiff movements) is the most prevalent problem in people with cerebral palsy.
If left untreated, spasticity in childhood can cause disproportional growth, chronic pain, and abnormal gait.
Botox blocks the nerve signals that make your muscles tighten.
Therefore, injecting small amounts of Botox into spastic muscles allows them to relax.
Botox does not work immediately after injection. Generally, you will start to notice the results in a few days, but it won't take full effect for another 2-4 weeks.
Botox can help reduce complications of cerebral palsy caused by spasticity like pain and limited range of motion.
Taking Advantage of Botox Injections for Cerebral Palsy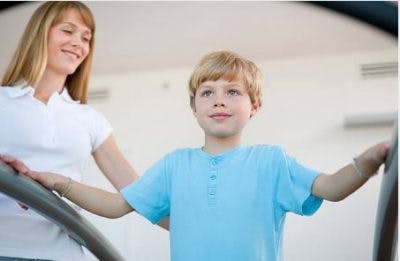 Botox is a temporary treatment for spasticity.
Its effects can wear off in as soon as 3 months and it's possible for the body to build a resistance to the toxins, so it's ideal to delay the time in between treatments as much as possible.
Botox provides short-term relief, but cerebral palsy is a life-long condition that needs long-term solutions.
Luckily, there are ways to utilize Botox to get lasting results.
While on Botox, people with cerebral palsy should take advantage of their reduced spasticity and implement a physical therapy program that will promote proper form and motor function.
This will allow them to strengthen underused muscles, lengthen tight muscles, fix poor posture, and expand range of motion.
Is Botox Safe for Children with Cerebral Palsy?
The FDA has not yet approved Botox for pediatric patients (2-17 years old) with lower limb spasticity, but it has been recently (June 2019) approved for upper limb spasticity.
Botox injections are administered in small, safe doses. Too much of it can result in botulism (paralysis caused by the toxins in the bacteria) and be fatal.
This study tested Botox on children with spasticity in their legs. One group received 200 units (the recommended and max dose) of Botox per leg while the other group received 100 units.
The children in the higher dose group showed significantly greater improvements than the lower dose group.
Additionally, children ages 7 and under demonstrated better functional benefit than children older than 7.
Therefore, early intervention and using the right dose of Botox without compromising health is key to treating spasticity in children with cerebral palsy.
Side Effects of Using Botox Injections for Cerebral Palsy
Although Botox injections are generally very safe, about 3-10% of people will experience side effects.
Common side effects of using Botox to treat spasticity include:
Soreness, bruising, pain, redness, or swelling at the injection site
General muscle weakness
Headache
Fatigue
Increased sweating
Are There Alternatives to Botox Injections for Cerebral Palsy?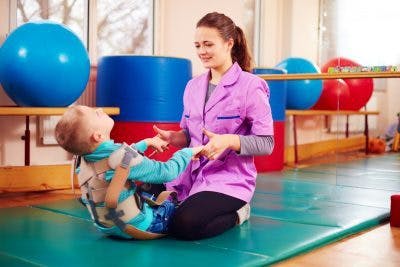 Other ways to manage spasticity include oral medications, injections, baclofen pumps, exercise, surgery, and orthotics.
For children with cerebral palsy, surgical interventions and injections may not be ideal.
Depending on the severity of spasticity, treatment options will vary.
For example, someone with mild cerebral palsy should be able to manage their spasticity through oral medications, exercise, and orthotics.
Oral medications may not be powerful enough for someone with moderate spasticity. Doctors will then recommend direct injections of muscle relaxants.
To minimize pain for children, a medical professional will usually apply numbing cream on the skin before the injection.
Someone with more severe cerebral palsy may need higher risk interventions like baclofen pump surgery or single-event multi-level surgery (SEMLS) to realign the body.
Botox Injections for Cerebral Palsy: Summary
Botox is commonly used to manage spasticity in patients with cerebral palsy, but the injections alone are not enough for long-term results.
To treat spasticity long-term, people must participate in active exercise to train the body to move properly.
While the effects of Botox are temporary, they create a window of opportunity for people with cerebral palsy to practice moving with correct form and improve motor control.
Hopefully, this article helped you better understand how Botox can help people with cerebral palsy and how to use it to get lasting results. Good luck!