Ready to be inspired by 7 uplifting stroke recovery stories?
These stroke recovery stories will help you understand that strokes can happen at any age, and that recovery takes a lot of hard work and patience.
Everyone will experience stroke recovery a little bit differently, but the fundamentals to recovery remain the same.
Prince's Stroke Recovery Story
Prince had his stroke at 39-years-old while playing basketball.
He had to be airlifted to the hospital to get the blood clot removed from his brain.
Before his stroke, Prince never got regular checkups, so he was unaware of his high blood pressure (a major risk factor for stroke).
His stroke was a major wake up call and taught him to prioritize his health.
Since then, he has had to drastically change his diet, which he claims was one of the hardest parts of rehabilitation.
He now strongly advocates for everyone to get regular medical checkups and to take baby steps to adopt a healthier lifestyle.
Carol's Stroke Recovery Story
In 2016, Carol had a stroke which left her entire right side paralyzed.
She left inpatient rehab able to walk with the assistance of a cane and basically, enough to get by at home.
Carol continued to go to rehab for 4 months and then was told that she would not recover much more than she already had.
Following a stroke, the brain is in a heightened state of plasticity where it is eager to adapt and recover quickly.
However, recovery does not stop after those initial 3 months! Although plasticity levels revert back to normal, the brain is still very capable of rewiring itself!
You just have to keep going and activate the neural pathways in your brain through repetitive movement.
Carol got the FitMi so that she could work on stroke recovery from home. It helps encourage her to perform the repetitions she needs.
On top of that, she's living proof that there's always hope for recovery if you're willing to put in the work.
Adam's Stroke Recovery Story
At just 7-years-old, Adam had his first stroke.
And a year later, he survived his second stroke, which left him unable to walk or use his left arm.
After 3 months in the hospital, Adam was released in a wheelchair.
Over the next 8 months, he learned to walk using splints and talk through speech therapy.
Nearly 3 years after his second stroke, he found a local disabled sports club and discovered air rifle shooting.
"Since joining the sports club, I have represented Great Britain in swimming and shooting […] I'm now barely at home as I'm training most of the time or competing with the British Paralympic shooting team. My big target now is to make it into the Paralympics for 2012."
Finding something he loves has taught Adam to be confident again and understand that he can achieve anything he sets his mind to.
Michael's Stroke Recovery Story
Michael was 69-years-old and retired when he had his stroke.
He spent 3 months in the hospital and became very depressed.
"When I realized that I didn't recognize the alphabet and couldn't read, I became very frightened. I didn't want to go outside of the hospital," he explains.
"I didn't want my friends to visit. I was ashamed of being the way I was. I didn't know what to say to them. I didn't want to be cheered up. I only wanted my wife to see me."
After returning home, his wife encouraged him to attend a communication and an art class.
"These classes made me feel there was a life after a stroke and gave me hope."
He found that the best way to approach stroke recovery was to set goals and make constant efforts to reach them.
He can now use the bathroom on his own, walk unassisted, and read.
Barbara's Stroke Recovery Story
At 41, Barbara was a vegetarian, avid runner, and cyclist when she got her stroke.
She describes feeling a burst behind her eye, which was later discovered to be an arteriovenous malformation, a "tangled cluster of vessels that form at a point where an artery and vein come together."
As a result, Barbara had weakness and spasticity in the left side of her body.
When she first started PT, Barbara needed 4 people to help her up, her fingers wouldn't open, and she couldn't straighten her elbow.
When asked if she had any advice for other stroke patients, she answered, "Don't expect a quick fix. While a stroke happens in an instant, recovery takes much, much longer. At first, I thought I would be completely recovered in a year."
Four years after her stroke, Barbara can now walk on her own and can live an active life just like she did before her stroke. She utilizes ankle and foot orthotics, electric stimulation, and Botox.
Barbara continues to receive physical and occupational therapy to work on her rehabilitation and has made significant progress years after her stroke.
Cindi's Stroke Recovery Story
Cindi was a 46-year-old graphic designer who woke up one morning unable to talk.
"I knew what I was trying to say in my mind, but it had nothing to do with the sounds that were coming out of my mouth."
Her left side was also paralyzed.
Through brain-imaging software, doctors were able to identify that Cindi could benefit from a thrombectomy (a surgery to remove the blood clot in her brain).
When Cindi arrived at inpatient rehab, she was in a wheelchair and didn't know how to do anything independently.
Within her 4 weeks at inpatient rehab, Cindi learned to walk again. However, her recovery did not end there.
She continued to go to physical, occupational, and speech therapy daily.
After over a year of intense rehabilitation, Cindi has returned to work part-time, and can talk, walk, and drive just like before her stroke!
Margaret's Stroke Recovery Story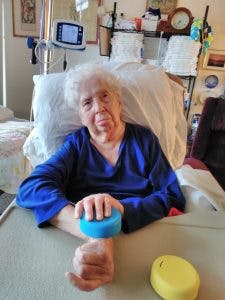 When Margaret sustained her stroke, it left her with hemiparesis and severe spasticity in her affected hand. She tells her stroke recovery story:
"In 2010, I had a stroke. Since then, my right arm and both of my hands have become increasingly more contracted. I have not been able to open and close my hands. My hands have been clenched and very tight. My arm has been contracted up toward my chest.
In June 2017, I received the FitMi. My caregivers have helped me use the FitMi with my hands. Although I have been unable to use the FitMi every day, I have regularly used it either 2 or 3 days a week.
After years of having clenched hands, my hands are starting to relax. I am able to open and close my hands much more easily.
My arm is relaxing and is not as contracted. I am regaining flexibility of my fingers. I am able to hold the FitMi pucks instead of the caregivers having to hold my hand over the FitMi and moving my hand.
I feel I have made progress in regaining the use of my hands and right arm. My caregivers and Occupational Therapist agree.
I am encouraged and will continue to use the FitMi, and I feel confident I will continue to make progress in regaining my flexibility and use of my hands and right arm. I am very grateful."
Margaret proves that it's possible to recover hand movement after stroke — even after years of paralysis.
Learn more about FitMi from Flint Rehab »
Stroke Recovery Stories: Key Takeaways
The key to stroke recovery is understanding that your brain is capable of rewiring itself and that if you continue to work hard, results will follow.
You're essentially reteaching your body how to function again, and that takes time.
Find what motivates you. Your family? Your goals? Your faith?
Recovery can take years and you may hit plateaus, but the important thing is to keep going!