Stroke recovery stories can help provide inspiration on the road to recovery.
Below you will find 5 of our favorite stroke recovery stories that have inspired many.
We hope they inspire you to keep going.
1. Marna's Stroke Recovery Story
"Had a stroke Oct 14. Went through all the rehab, but was still flaccid. Have been working at anything I could find that might help.
A year ago I joined a gym. My trainer was very good at posture. He helped me with a lot of posture and helped me get stronger.
But we both had one frustration. Seems like no matter how hard I tried, I just couldn't get past the weakness in my arm, leg, and trunk, along with the spasticity pain that went along with it.
After only 3 days using the FitMi, my ankle and shoulder have loosened up and started to work properly all with just pounding on a puck with my hand and stomping on it with my foot. This also showed me how weak I really am."
Although Marna considers herself weak, we think she's tough. And perhaps the most remarkable part of her story is her speed. She understood that repetition is what it takes to achieve a speedy recovery, which helped her see results in just 3 days! That's almost unheard of.
2. Margaret's Stroke Recovery Story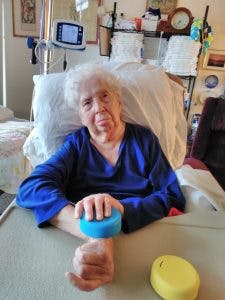 "In 2010, I had a stroke. Since then, my right arm and both of my hands have become increasingly more contracted. I have not been able to open and close my hands. My hands have been clenched and very tight. My arm has been contracted up toward my chest.
In June 2017, I received the FitMi. My caregivers have helped me use the FitMi with my hands. Although I have been unable to use the FitMi every day, I have regularly used it either 2 or 3 days a week.
After years of having clenched hands, my hands are starting to relax. I am able to open and close my hands much more easily.
My arm is relaxing and is not as contracted. I am regaining flexibility of my fingers. I am able to hold the FitMi pucks instead of the caregivers having to hold my hand over the FitMi and moving my hand.
I feel I have made progress in regaining the use of my hands and right arm. My caregivers and Occupational Therapist agree.
I am encouraged and will continue to use the FitMi, and I feel confident I will continue to make progress in regaining my flexibility and use of my hands and right arm. I am very grateful."
We are so encouraged by Margaret's story because she has regained hand movement after years of not using it. Simply incredible!
3. Michael Greene's Stroke Recovery Story
"Having a stroke November 18th 2014 changed my life completely. Having High Blood pressure and taking medication daily without fail, stress was found to be the ultimate cause. I've been through it all.
The stroke affected my complete right side. Complete muscle weakness and speech impediment. I've tried everything from acupuncture to water therapy. I can say that following the instructions provided by Flint Rehab has enabled me to walk, talk and get along without assistance.
I'm driving and working out on my own. I still have drop foot and it's taking a little longer than I expected but I'm sure with continuing with these programs. Thanks for all the assistance."
Indeed, foot drop can be quite a stubborn stroke side effect, but it can be remedied with effective rehab exercise like FitMi.
Keep up the great work Michael!
4. Mary Ellen's Stroke Recovery Story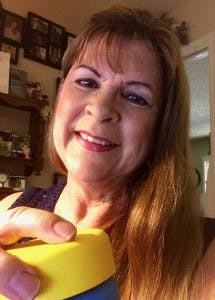 "I had my acute stroke September 22, 2016. It is about 11 months today. I was in outpatient therapy for about 6 months, doing PT, OT and Speech. I had the most wonderful therapists, their experience and never ending support was so important during my journey to recovery.
While there I was introduced to the Flint Music Glove, OMG, it is wonderful! I used it every free hour I had. I loved how it helped me start and continue to use my right and/fingers. My small motor skills are continuing to improve. I did purchase one for my home therapy.
After 6 months my outpatient therapy was turning into my own home therapy. In preparation for this, I learned there was a new Flint Rehab Tool called FitMi, I ordered it right away and the FitMi has been such an important tool for me in my home therapy.
I have to stay moving and the FitMi takes that to another level because of building the competitive reps and timing! It is excellent!! I highly recommend the FitMi it is a huge part of my journey, I could never of done these reps without this wonderful tool.
I schedule myself for my FitMi, Music Glove and Flint Fit as well as going to a gym and a beginners Pilates class. All the tools and articles that FlintRehab offer, give me the support and knowledge for my recovery."
Although Mary thanks us, she's the one who deserves the credit. Her consistency and enthusiasm will ensure that she keeps seeing amazing results.
5. Mrs. Murtland's Stroke Recovery Story
"I'm very impressed and pleased with the FitMi rehab unit. My wife suffered an intense stroke in 2015 and has been slowly making progress towards regaining her mobility and movement back.
However in just a few short weeks her physio therapist and myself have seen gradual hand movement returning. This we feel is the direct result of her regaining neuron connections in her brain from using the Fitmi unit.
This is because the levels of achievement are gained by using a game count down approach in the programming of fitmi.
It has caused her mind to work hard to beat the time. Creating a challenge for her was always a way for her to achieve goals. And your fitmi rehab unit has done just that."
Ah, yes. Challenge is very important for recovery, and it also provides good motivation for people who enjoy a little self-competition like Mrs. Murtland.
Keep challenging yourself and you will see results.
What's Your Stroke Survivor Story?
All of these stories came from our FitMi home therapy customers, and we are so happy to hear about all the progress they're making!
If you have a story that you'd like to share, swing by the comments below! We'd love to hear from you.