Anger after stroke is an unpleasant side effect that can take a toll on health and relationships if unaddressed.
To help you and your loved one take control of anger after stroke, we created this guide.
Understanding Anger After Stroke
There are different causes of anger after stroke, which we discuss in detail below. But before we dig in, it's important to understand the two underlying causes.
First, episodes of anger after stroke can be healthy reaction to adjusting to life post-stroke.
There are many changes that stroke patients must process – and a frustrating medical system that must be accomodated – so some amounts of anger is normal and understandable.
But when anger after stroke becomes damaging to the patients physical or emotional health – or if anger damages the relationship with caregivers – then it should be addressed.
Causes of Anger After Stroke
Here are the top 3 causes of anger after stroke:
1. Anger from Damage to the Brain's Emotion Center
Sometimes anger is the result of damage in the part of the brain that regulates emotion.
The emotion center of the brain resides in the right hemisphere, so anger issues are more common in right side stroke patients.
In this case, biological impairments in the brain could be the cause of angry outbursts or other intense emotions.
How to cope with it:
When anger is out of your control, it's a good idea to explain to family and friends that your behavior is due to brain damage caused by your stroke.
Loved ones will be extremely forgiving of any emotional outbursts if they know that you don't mean it.
2. Anger from the Grieving Process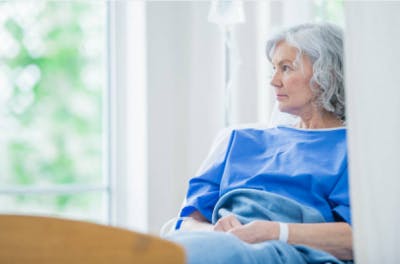 Sometimes anger after stroke is a result of the devastating losses that occur.
And the losses don't have to be material things – even the loss of speech or movement is enough to send someone into the grieving process. Understandably so!
When stroke survivors must cope with their losses, they will often go through the 5 stages of grief after stroke. These stages include denial, anger, bargaining, depression, and acceptance.
Sometimes the anger phase will last for a few days; other times it can last for years.
How to cope with it:
Since anger is a stage of grief, the only way out of it is through it. The stages of grief don't usually occur in order, so it's possible to go from anger to acceptance with the right mindset.
3. Anger Due to Post-Stroke Depression
Sometimes anger is a symptom of post-stroke depression, which affects more than one third of all stroke survivors.
Some of the symptoms of post-stroke depression are anxiety, hopelessness, pessimism, lack of interest, insomnia, irritability, and anger.
How to cope with it:
When anger is a symptom of post-stroke depression, it's best to work with a team.
If anger issues pose physical or emotional harm to the patient, then talk to your doctor about possible medication that can help. Participating in psychotherapy can also be a huge help.
There's also another alternative…
Rewiring the Brain to Overcome Anger After Stroke
There's a natural way to overcome anger after stroke and it has to do with neuroplasticity: your brain's ability to rewire itself and form new neural connections.
The key to activating neuroplasticity is to practice something with repetition. Although this concept is often used for physical rehabilitation, it can also help with emotional rehabilitation!
Just like you can regain hand mobility by practicing hand exercises with high repetition, you can also rewire your emotions!
Meditation is a great example. Practicing meditation has been shown to grow the areas of the brain responsible for emotion regulation.
By practicing mediation, you can rewire your brain and move away from reaction mode (i.e. reacting with anger) and move into a responding mode – a more mindful way of living.
Whether your anger is caused by a right-sided stroke or the stages of grief, we hope you feel confident in the alternative treatment options available.
Meditation is tough to do consistently, but it can reap huge benefits for you and your loved ones.