Anger after stroke presents a unique challenge for recovery. It often occurs in the acute stages of stroke and may be difficult for both stroke patients and their loved ones.
Understanding the causes and triggers of anger after a stroke may provide direction for effective treatment and prevention. In this article, you will learn what may explain your loved one's actions and what you can do to help them cope.
Causes of Anger After Stroke
Emotional problems such as anger are a result of multiple effects associated with a stroke. These include:
Cognitive impairments that damage a person's ability to process information and understand others.
Physical effects that make it more difficult to engage in activities the person once enjoyed.
Emotional imbalance, which may cause a person to have difficulty controlling their feelings.
In particular, a stroke that occurs in the frontal lobe or pontine areas may affect a person's ability to regulate emotions such as anger.
There are also other factors that may cause a person to exhibit anger outbursts after a stroke.
Common Triggers of Anger After Stroke
To learn how to regulate anger after stroke, it is critical to understand the factors that may be triggering the aggressive behavior. According to synapse.org, common triggers for anger include:
Confronting a task you can no longer perform
Lack of structure or unexpected events and a perceived lack of control
Suffering from post-stroke fatigue or confusion
Anxiety and overstimulation, e.g. crowds, or excess noise and activity
Encountering rude or insensitive behavior from others
Unrealistic self-expectations
Many of these triggers are common during the stroke recovery process. However, by understanding and avoiding the triggers, you may reduce the frequency of angry outbursts.
Managing Anger After Stroke
In many cases, post-stroke anger and aggressive behavior decline in frequency and intensity as time passes. Once the damage to your brain begins to heal and you adjust to your new situation, you may begin to regain control over your emotions.
Most people, however, will need to incorporate several coping methods to control their anger after a stroke. Below are some suggestions that may be helpful:
1. Understand your behavior
Recognizing the situations that trigger your anger after a stroke may help you manage your mood.
For example, if you notice that when you are hungry you get more frustrated, try setting an alarm to remind you to eat. This may help you avoid hunger and, as a result, avoid potential angry outbursts.
You may need to enlist the help of others to fully understand your behavior. You and your loved ones may consider keeping a journal of your behavior, then compare notes to see if you can find any common factors.
2. Take a Break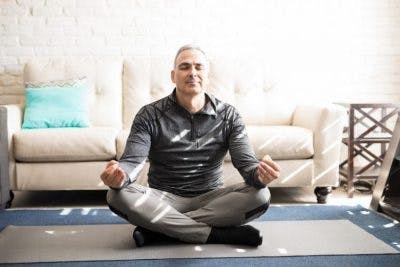 When warning signs of anger begin to appear, such as elevated heart rate, confusion, sweating, or a change in your voice, leave the situation and find a safe place where you can calm down. Also, have your loved ones give you a signal if they notice signs that you are becoming frustrated.
Once you are alone, use techniques that your therapist may teach you to control your anger. Some helpful coping mechanisms include:
Deep breathing
Listening to relaxing music
Meditation and prayer
Physical exercise
Closing your eyes
Continue doing a practice that works best for you until feelings of anger fade and you begin to regain control.
3. Try Medication
If typical coping methods do not seem to make an impact on your anger, medications may offer some relief. For example, medications such as selective serotonin reuptake inhibitors (SSRIs) may reduce anger after a stroke.
SSRIs are antidepressants that increase the levels of serotonin in the brain. Serotonin is a neurotransmitter that carries signals between neurons (brain nerve cells). It is also a hormone that stabilizes our mood and contributes to feelings of well-being.
Specifically, an SSRI called fluoxetine (Prozac) has been shown to help improve "post-stroke anger proneness" – even 3 months after discontinuation of treatment.
Talk to your doctor to find out if SSRIs can help you manage your anger after stroke and also discuss any potential side effects.
Strategies for Family Members to Prevent Anger Proneness in Stroke Patients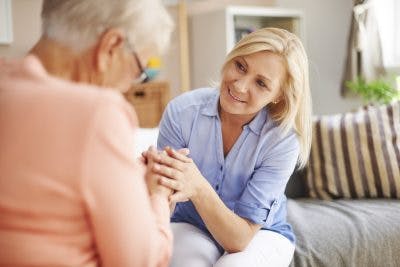 Immediately after a stroke, a person may have lowered self-control. Therefore, it may fall on family members and caregivers to avoid triggering the person's anger and frustration level. The following are tips to help you accomplish this.
Please remember that the person's anger may not be directed at you, but rather at their limitations.
Environment tips
The first step family members of stroke survivors should consider is adapting the environment to keep them safe.
Remove any objects from the house that can be used as a weapon and keep them in places the person cannot reach. Tools and utensils such as knives should be locked away.
In addition, offer something to calm the person when they become agitated. Some patients enjoy stress balls to distract them from their feelings, while others need noise-cancelling headphones to regain control of their thoughts.
Finally, if your loved one has difficulty with memory problems, this may make them feel disoriented and confused.
Remind them frequently where they are, what they are doing, and why. This may prevent agitation and overstimulation after a stroke.
Management tips
If an angry outburst occurs, family members may have learned effective ways to defuse the situation. The following are three l steps you can take when your loved one's anger rises:
Withdraw. Do not argue with the person during their outburst. Rather, if they are becoming dangerous, leave them alone. As you leave, let them know what you are doing. For example, say something like, "We are going to step out of the room until you calm down."
Validate. Once they have calmed down, acknowledge that their feelings are valid and that you understand why they acted that way. However, if they said or did something hurtful, tell them that behavior is unacceptable.
Strategize. Work with the person to find ways to avoid anger outbursts in the future. For example, maybe instead of yelling, they could use a punching bag or write out their frustrations. Sometimes a code word is effective so the person can realize they are acting out before they lose control.
Finally, try to treat each outburst as an isolated incident. The stroke survivor might not remember each time they have gotten angry, and it does not accomplish anything positive to make them feel guilty for something they do not remember.
Make sure you also take care of your own mental health as well, either through support groups or private counselling. Dealing with a loved one's post-stroke anger can be emotionally exhausting, and you will help both yourself and your family member if you take steps to avoid burnout early.
Finally, in extreme cases, anger after stroke can lead to violent or abusive behavior. If this occurs, it is critical to take actions to protect yourself by calling the domestic abuse hotline in your area. In the United States, that number is 1-800-799-7233.
Understanding Anger After Stroke
While anger after stroke can be difficult to control, it's important to recognize that these problems may be caused by the stroke. In addition, loved ones of stroke survivors should not take any outbursts personally.
It will take much time and effort, but with the right approach, you can begin to reduce your anger and regulate your behavior.
Featured Image: ©iStock/fizkes