Just because someone has cerebral palsy doesn't mean they won't be able to drive. While cerebral palsy affects an individual's movements, there are many ways to ensure one's safety on the road. In fact, obtaining your driver's license is an excellent way to expand your independence and improve your quality of life.
To help you understand what the process of obtaining a driver's license is like for individuals with cerebral palsy, this article will discuss:
Is It Safe for People with Cerebral Palsy to Drive?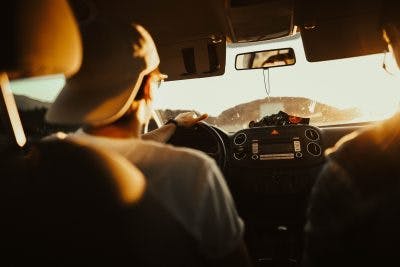 Under the Americans with Disabilities Act (ADA), individuals with disabilities cannot be discriminated against for public services. This means that the DMV cannot deny people the right to drive just because of their disability. However, each person must be physically and psychologically evaluated to ensure that they can drive safely without causing harm to themselves or others.
Not everyone with cerebral palsy will be able to drive. It depends on the severity of their cerebral palsy, which areas of the body are affected, and what kinds of associated conditions the individual has. Cerebral palsy can affect all different parts of the body. It can affect only the legs, one side of the body, one limb, or the entire body altogether.
Some professionals and therapists are certified or specialize in the area of driving and are called driving rehabilitation specialists. Individuals may work with a driving rehabilitation specialist to explore potential driving options. By allowing an individual with cerebral palsy to drive, their driving rehabilitation specialist must be confident that the driver will not cause harm to themselves or others on the road.
Some conditions commonly experienced by people with cerebral palsy that may compromise safety on the road include:
If a driving rehabilitation specialist decides that the individual's motor impairments can be safely managed so that they do not interfere with the individual's ability to operate a vehicle, and that the individual is able to handle the cognitive demands of driving, they may begin the process of obtaining their driver's license.
Benefits of Driving with Cerebral Palsy
Every case of CP is unique, and while driving may not be safe for some individuals with cerebral palsy, others may be perfectly capable of doing so without causing harm to themselves or others on the road.
Driving can open a whole new world of opportunities for individuals with cerebral palsy. They can go to work, run errands, and socialize without needing to depend on another person for transportation. It also increases community mobility, which can help boost self-confidence, independence, and overall quality of life.
What Kinds of Car Adaptations Are Available for People with Cerebral Palsy?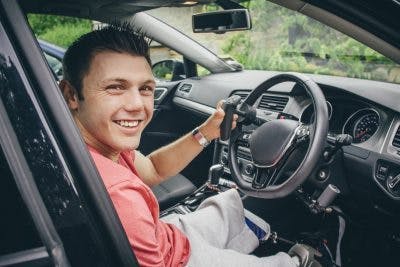 There are many car adaptations that allow individuals with cerebral palsy to drive safely. Car modifications will need to be determined on an individual basis, based upon an individual's abilities.
Some commonly installed car adaptations include:
Hand controls, joysticks
Wheelchair lifts
Seat adjusters, swivel seats
Also, keep in mind that individuals will need to learn how to use car modifications, which can increase the time required to obtain a driver's license.
Watch the video below to see how David uses his car adaptations to navigate the road.
How to Get a Driver's License with Cerebral Palsy
So how does someone with cerebral palsy get a driver's license? Driving regulations for drivers with disabilities will vary from state-to-state, so check with your DMV to familiarize yourself with your state's specific driving laws and procedures.
Generally, in order to get a driver's license, a person with a disability must:
1. Pass the Written Exam
While special accommodations may be made (a verbal test, extra time, etc.), people with cerebral palsy still must take the same tests as everyone else. Individuals must be at least 16 years old to obtain a license but can get a permit and start practicing between ages 14 and 15, depending on the state.
The written portion of the exam is to obtain your learner's permit. Once you've passed the written test, you can practice driving with car adaptations.
2. Sign Up for an Adaptive Driving Program
An adaptive driving program will prepare and guide you through the process of obtaining your driver's license.
With a physical and psychological evaluation, your doctor along with a driving rehabilitation specialist will determine whether it's safe for you to start driving. An adaptive driving program may include driving simulations to assess your overall safety, reaction times, and skill using certain adaptations. It will also assess what kinds of vehicle modifications you will need and teach you how to use them.
3. Get Car Adaptations
It's essential that you have the car adaptations necessary to help you drive safely. Vehicle modifications will help accommodate your motor impairment and make driving much easier.
You will not be allowed to drive without proving that you've installed the appropriate car adaptations.
4. Pass the Driving Test
The final step is to pass your physical driving test. After that, you'll be free to drive on your own! Cerebral palsy can make tasks like driving much more difficult but with enough practice, you'll learn how to overcome those challenges and boost your independence.
Cerebral Palsy and Driving
Driving can be a great way for individuals with cerebral palsy to be more productive, social, and confident in their abilities.
Hopefully, this article helped you better understand that having a disability does not automatically exclude someone from driving. By utilizing car adaptations, many people with cerebral palsy can become more independent and drive safely.