When leaving the hospital after a stroke, the next steps in the rehab process are not always clear.
Because every stroke is different, recovery plans will look a little different for everyone. But time is precious after a stroke, and choosing the best plan early on can drastically improve your chances of making a full recovery.
To help you navigate the rehab process, this article will explain the options available to stroke patients after they leave the hospital. We will also explain what factors you need to consider when choosing a facility to transfer to.
Preparing to Leave the Hospital After Stroke
Before leaving the hospital after a stroke, there are steps you must take to ensure a safe transition home (or to another facility if that is appropriate for you). A discharge plan is the best way to accomplish this.
Some goals of a good discharge plan include:
Ensure your loved one has a safe place to live
Determine what type of care, assistance, home modifications, and/or adaptive equipment they might need
Choose a health care provider who can monitor your loved one's medical needs
Teach you how to provide daily care for your loved one, or find a caregiver or nurse who can help you
Find the best rehabilitation programs or facilities near you.
Discharge planning should begin long before leaving the hospital and should include an assessment of your loved one's living situation by a professional. Discharge planning will typically involve a social worker, therapists, nurses, physicians, and of course the patient and their family.
Where Do You Go After Leaving the Hospital After Stroke?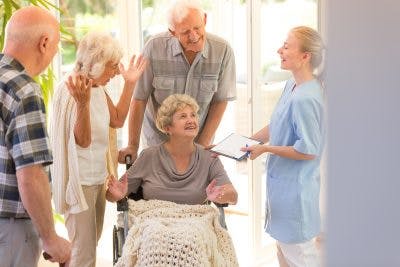 Some patients have minimal impairments after their stroke and can return straight home from the hospital.
Most stroke survivors, however, will need to be transferred to an inpatient rehab facility or a skilled nursing facility.
Both types of facilities have their benefits and drawbacks. We'll explain the differences between the two and how to choose the right one in the sections below.
Keep in mind that while your desires will be taken into consideration regarding where you/your loved one will go, the hospital team will also be making their recommendations based on the patient's level of functioning, medical needs, and how much family support they will have whenever they do ultimately return home.
Comparing Inpatient Rehab and Skilled Nursing Facilities
The main factor to consider when choosing between an inpatient rehab facility and a skilled nursing facility is the level of care you or your family member requires.
In general, skilled nursing facilities are for patients who may have more medical needs, and who may not have a strong family or caregiver support system (meaning they don't have people who can care for them at home). They are also more suited for patients who cannot tolerate several hours of therapy a day.
On the other hand, inpatient rehab centers are more appropriate for patients who can still tolerate intensive therapy (at least 3 hours per day), but are not able to live at home yet.
This flow chart offers a helpful illustration to easily remember the difference between the two options: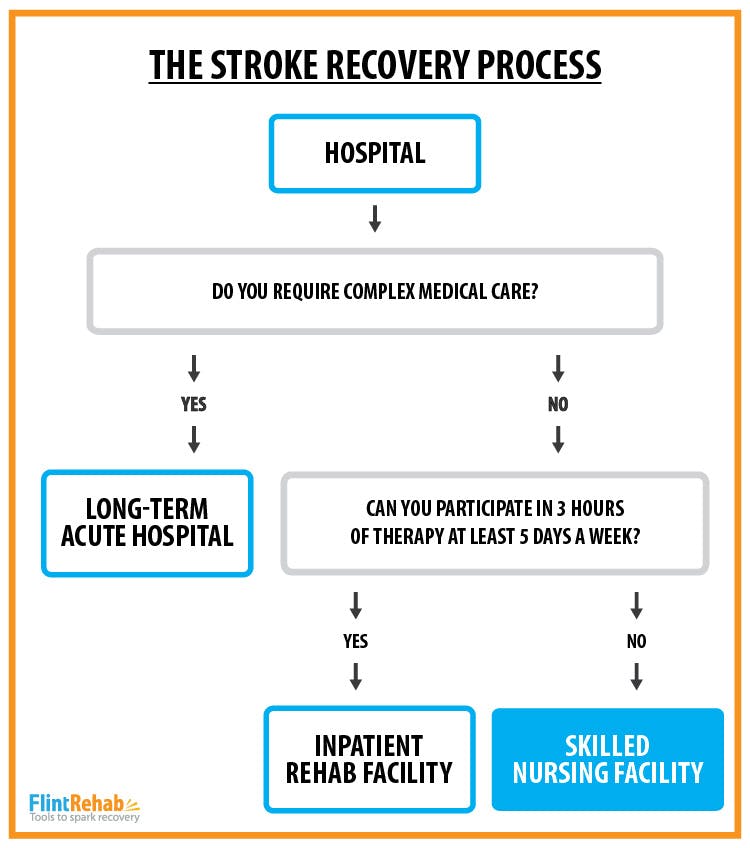 At the inpatient facility, the rehab team will design a treatment plan to address the person's unique needs. They will receive at least 3 hours of therapy throughout the day, 5-7 days a week.
The different therapies they will take part in include speech, physical, and occupational therapy.
Why Intensive Rehab Is So Beneficial for Appropriate Patients
During the first three months after a stroke, the brain enters a heightened state of neuroplasticity. To take advantage of this recovery window, doctors at inpatient rehab centers encourage intense therapeutic exercise, for those patients who are appropriate for this level of care.
Neuroplasticity refers to the brain's ability to rewire itself and repair neural connections. This means the brain heals itself fastest during this period.
This ability can only be activated through intensive exercise though. Therefore, if appropriate for you, it is critical to get into a rehabilitative therapy program as soon as you leave the hospital after a stroke.
How to Choose the Right Stroke Facility for Your Loved One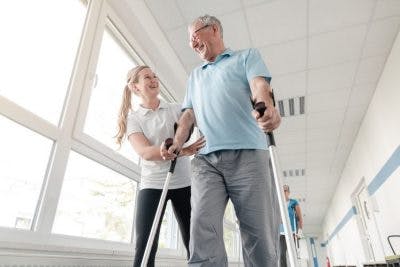 Before your loved one has been discharged from the hospital, you will want to choose which rehab facility to transfer them to. Finding the best facility for your loved one may require some investigation on your part, although the hospital staff should be able to tell you which are covered by your insurance in the nearby areas.
For skilled nursing facilities, Medicare's website offers quality ratings with its Nursing Home Compare feature. You can type in a ZIP code and create a side-by-side comparison of up to three different nursing homes. This list will show you detailed information including staffing and quality measures.
Even if your family member cannot tolerate intensive therapy right now, try to choose a skilled nursing facility that has programs focused on rehabilitation. It's important for their recovery that they receive at least some type of therapy while they are living there.
Without therapy, their condition is less likely to improve and may even decline.
Medicare also offers a helpful checklist you can use when visiting a nursing facility. This can give you an idea of what to look for and what questions to ask.
For inpatient rehab facilities, the Commission on the Accreditation of Rehabilitation Facilities (CARF) has a list of accredited providers. Just click on the advanced search link and enter your location. Then select "Stroke Specialty Program" in the Program Focus field and you should get a list of results.
Continuing Your Stroke Recovery After Inpatient Care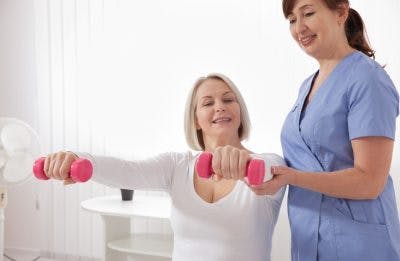 Once your condition improves enough, you will be discharged from the rehab facility. However, that is not the end of your stroke recovery journey.
To keep up the momentum you gained during inpatient rehab or while at the skilled nursing facility, you should continue to work with different specialists. Some healthcare professionals to have on your team after leaving the hospital include:
Physical therapists
Speech therapists
Occupational therapists
Psychologists
Most outpatient rehab clinics offer these services in one location. If there is an outpatient stroke clinic near you, we recommend making an appointment. The medical team at the inpatient rehab facility or skilled nursing facility will need to prescribe outpatient therapy for you in order to be considered for an outpatient facility.
The Importance of Home Therapy After Stroke
To complement your outpatient therapy once you reach this stage and to ensure the best stroke recovery possible, you must practice your exercises at home every day. The more you activate your brain's neuroplasticity, the more progress you can make.
If you have difficulty remembering your therapy program, home therapy devices like FitMi can walk you through your exercises in a fun and engaging way.
Practicing your stroke rehab exercises every day will keep your brain stimulated and can help you achieve a faster recovery from stroke.
Leaving the Hospital After Stroke: Key Points
Planning for what to do when you leave the hospital after a stroke can be overwhelming.
The most important consideration to keep in mind when choosing a treatment option is your level of function. If you can tolerate multiple hours of physical activity, then an inpatient rehab facility might be the best place for you. If you cannot, then consider trying a skilled nursing facility.
Whichever you choose, make sure you take part in some form of therapy every day, even if it is only for a few minutes.
No matter how severe your stroke is, if you continue stimulating your brain with therapy, you can have a real hope of making your recovery journey a success. Good luck!   
©iStock/KatarzynaBialasiewicz