Individuals who use stroke rehab equipment at home are often more motivated to exercise on a regular basis, and as a result, see improvements in their mobility.
Stroke survivors who exercise daily will benefit from brain stimulation that is necessary for recovery.
Written exercises alone can help, but adding useful stroke rehab equipment expands the type of exercises you can do. Here's a roundup of the best stroke rehab equipment available for you to use at home.
All Amazon links are non-affiliate, which means we do NOT make any money when you click on them.
Premium Stroke Rehab Equipment
Not all stroke survivors need premium equipment in order to see results. However, premium stroke rehab gadgets can be motivating to use, which help encourage regular exercise.
Since repetition and consistency are key to recovery, consider these premium stroke recovery tools to use at home. It's always a good idea to run them by your therapist to ensure they're a good fit for you.
1. Electrical Stimulation Machine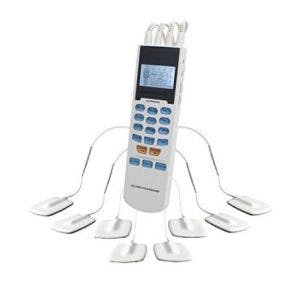 If you have paralysis after stroke or severe muscle weakness, then electrical stimulation can help introduce movement into the areas that were affected. Electrical stimulation can be very effective for regaining movement after stroke, especially when you combine it with strengthening exercises.
Shop electrical stimulation devices on Amazon »
2. MusicGlove Hand Therapy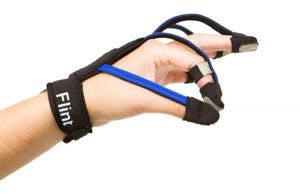 This stroke rehab device from Flint Rehab is clinically proven to improve hand function in just 2 weeks. It combines therapeutic hand exercises with a music-based game that will make you forget you're doing therapy in the first place.
Shop MusicGlove from Flint Rehab »
3. FitMi Interactive Therapy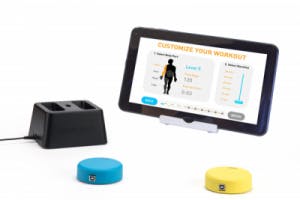 Flint Rehab's most popular recovery tool, FitMi home therapy, can help motivate you to accomplish the high repetition of exercise necessary to see impressive results. It's good for improving leg, arm, and hand mobility.
Leg and Core Stroke Rehab Equipment
If you want to improve your ability to walk (gait) and balance, then consider investing in rehab equipment that targets the legs and core.
Here are some great lower extremity recovery gadgets to consider:
Stationary bikes are an excellent investment to help you exercise as you recover from a stroke. It combines bilateral leg movements with aerobic activity, which promotes cardiovascular health and lower body coordination. Bilateral training like this is therapeutic for stroke survivors because it encourages movement on the weaker side.
Shop exercise bikes on Amazon »
5. Balance Boards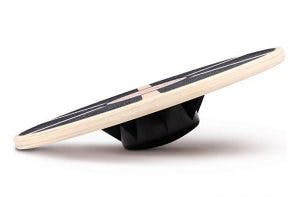 Individuals with low-level impairments benefit from using balance boards to retrain the balance system, which is commonly affected after a stroke. Always use your balance board in the presence of a caregiver and hold onto a table or countertop for extra support.
Shop balance boards on Amazon »
Classic stability balls make great, affordable stroke exercise equipment for focusing on your core. A strong core is essential for improving balance after stroke, so you can use this ball to practice various core exercises for stroke patients.
Shop stability balls on Amazon »
Arm and Hand Stroke Rehab Equipment
Arm and hand movement is essential for accomplishing the activities of daily living and feelings of independence. Fortunately, there are many stroke rehab devices on the market that can help with this goal.
To improve arm and hand mobility, consider these useful stroke recovery tools: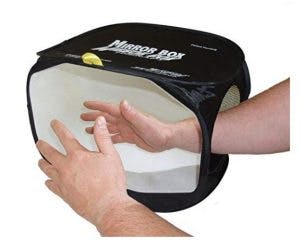 Mirror therapy is particularly useful for individuals after a stroke who struggle with hand weakness or clenched hands after stroke. It works by placing a mirror over the affected hand and using the reflection to "trick" the brain. This type of therapy can retrain your brain to move your weakened hand.
8. Arm Peddlers
Use the leg bike featured above to exercise your arms by simply placing it on the table, instead of the floor. Exercise for your arms provides the same type of benefits as it does for your lower body.
9. Arm Skates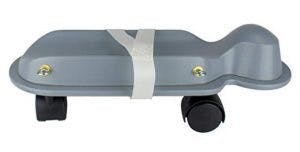 An arm skate can increase range of motion by limiting the amount of work required. Although they are not primarily used to increase strength, they help reintroduce movement to the affected arm.
10. Dumbbells and Wrist Weights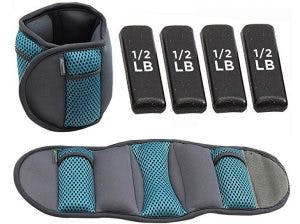 To increase strength in your affected arm, dumbbells and wrist weights are an affordable, simple option. Use them to complete upper extremity stroke exercises to not only stimulate the brain and encourage recovery, but stimulate muscle growth too. This can help address any muscle atrophy (loss of muscle tissue) that may happen after long periods of inactivity.
Shop light weights on Amazon »
11. Therapy Putty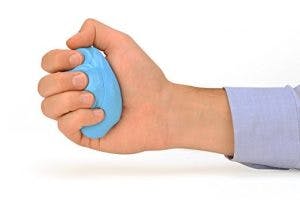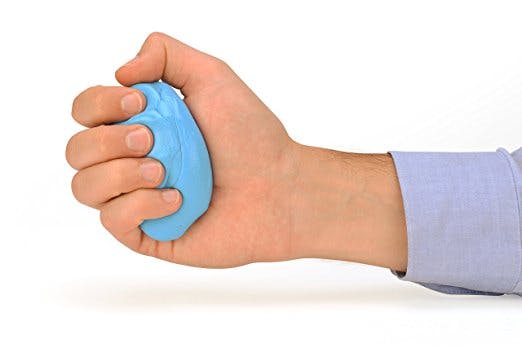 Therapy putty is another popular hand therapy tool that can help improve fine motor coordination, strength, and range of motion. Practice these therapy putty exercises to help you achieve these goals.
Shop therapy putty on Amazon »
12. Hand Exercise Balls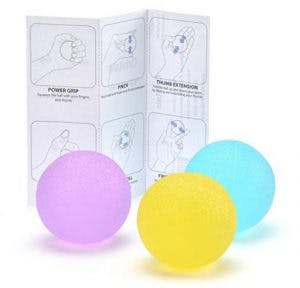 Hand exercise balls are a popular form of hand therapy after stroke because they are easy to use and inexpensive. Use them and follow along with this therapeutic hand therapy ball program.
Shop hand exercise balls on Amazon »
Stroke Rehabilitation Equipment for Aphasia
Aphasia is a post-stroke side effect that impacts an individual's ability to communicate. There are many different types of aphasia, so it's important to work with a speech therapist for diagnosis and treatment.
To see the best improvements, it often works best to practice speech therapy exercises at home in between visits to your local speech therapist. Here's our recommended speech therapy app: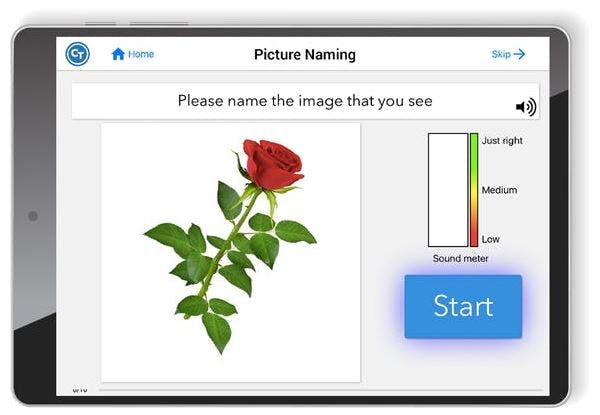 Aphasia is a condition that affects speech after stroke. To improve your language skills, practice speech and cognitive exercises that target your communication and memory skills. A great way to motivate yourself to do this is by using the CT App with over 100,000+ speech and cognitive exercises.
Shop CT App from Flint Rehab »
How to Choose the Right Equipment for You
The best stroke rehab equipment will motivate you to exercise and perform high repetitions of your rehab exercises.
A high number of repetition activates neuroplasticity, which is the mechanism that your brain uses to rewire itself and relearn important activities
The more your brain rewires itself, the more muscle control you will develop. Activating neuroplasticity is how you will see lasting long-term results.
If you aren't motivated to exercise, then you won't see results. Be sure to choose stroke equipment that you find meaningful and motivating!
Best of luck on the road to recovery.