To help a student with a traumatic brain injury succeed in the classroom, it's essential to understand what to expect and how to prepare. Recovering from a traumatic brain injury can take months to years. As a result, students may still be recovering when they return to school and need the help of teachers and other academic personnel to reach their academic goals.
To help you understand how to support a student with a traumatic brain injury in the classroom, this article will discuss:
How Does Traumatic Brain Injury Affect Learning?
A traumatic brain injury can affect a wide range of skills, including movement and cognition. As a result, learning in a traditional classroom setting can become challenging.
Every brain injury is unique and will result in different secondary effects based on which areas of the brain have been affected. Some examples of how a traumatic brain injury can affect learning include:
Attention problems may make it challenging to tune out distractions and focus on the lesson.
Difficulties reading, writing, and listening can make it challenging to process and comprehend information.
Memory problems can contribute to difficulties recalling old information or retaining new information.
Organization problems can cause difficulties planning, prioritizing, and completing a sequence of activities.
Impulsivity can lead to behavioral challenges and reduced social skills.
Sensory issues such as difficulties processing sounds can contribute to learning problems.
Speech and language difficulties can contribute to challenges with learning new information or demonstrating one's academic abilities. This will primarily depend on the individual's specific type of speech or language disorder.
Motor impairments can make it challenging to get to class on time, write, and speak.
Sensitivity to overstimulation can make it very easy for the student to become distracted and lose focus.
Now that you understand the various ways a traumatic brain injury can affect a student's learning potential, let's discuss how to ensure success in the classroom.
How to Help a Student with Traumatic Brain Injury Succeed in the Classroom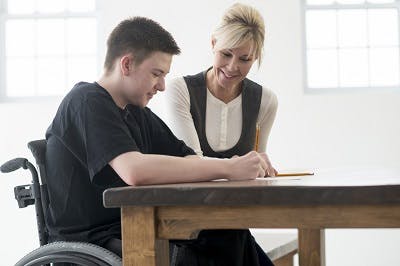 There are various ways to help a student succeed in the classroom after a traumatic brain injury. Under the Individuals with Disabilities Education Act (IDEA), students with TBIs are eligible to receive special services to help them thrive in an academic environment.
To receive special education and related services, the student must be evaluated and determined a "child with a disability" as defined by the IDEA. Below, we'll discuss the 3 major steps involved in setting up these services and creating an environment in which students with TBI can thrive in the classroom.
1. Create an Individualized Education Plan
Communication is key to understanding the student's needs and ensuring that they are in good hands when they return to school. Therefore, it is essential for the school to set up a meeting between the student, their parents, teachers, and any additional personnel that may be involved.
The purpose of this meeting is to create an effective Individualized Education Program (IEP) for the student. A primary focus of the IEP is to ensure the student is receiving the supports they need to continue learning in the least restrictive environment.
During this meeting, various topics should be addressed, including:
The effects of the student's TBI
Potential complications that may arise (i.e. challenges getting from one class to another, testing difficulties, etc.)
Whether the student should participate in a special education program or remain in a regular classroom setting with accommodations
What types of accommodations must be provided
Once the IEP is written, all parties involved will be given a copy detailing the agreed-upon accommodations. It is then the school's responsibility to make sure that the services are provided.
2. Provide Reasonable Accommodations
Depending on how the traumatic brain injury affects the student's learning abilities, various accommodations may be provided.
Examples of reasonable accommodations include:
Additional time to complete work
A notetaker or adult aide
Different forms of testing (i.e., providing a verbal test vs. a written test)
Providing assistive technology
Allowing extra time to get to class
Allowing periodic breaks
Offering additional help outside of class
Permission to record lectures
Seating near the teacher
A quiet room to take tests without distractions
Utilizing a pass/fail grading system rather than letter grades
These are just a few of the adjustments available to students with brain injuries. For a more thorough list, speak to a disability advisor at the school.
3. Review and Revise the Individual Education Plan
To optimize success in the classroom after a traumatic brain injury, the student's IEP should be reviewed and revised annually. However, because individuals with a TBI may recover affected functions at a quicker rate, more frequent reviews may be warranted.
This is an excellent time to determine what sorts of services have been helpful and suggest additional ways to support the student's academic needs. As the student recovers from TBI, they may become more independent, and certain accommodations may no longer be necessary.
Traumatic Brain Injury in the Classroom: Key Points
A traumatic brain injury can present significant obstacles to learning in a classroom. For example, individuals may struggle with movement, concentration, memory, and various other major functions that impact academic success.
Fortunately, with the right support team and accommodations in place, it is possible to overcome these obstacles. Therefore, it is essential for the student, their parents, and academic personnel to effectively communicate with each other to make sure the student is in an optimal learning environment.
We hope this article helped you understand how a traumatic brain injury can affect learning and how to help students receive the support they need to succeed.