Just because you have spinal cord injury doesn't mean you'll never have fun again. There are lots of activities for spinal cord injury patients!
Have you ever started walking on a treadmill only to stop after 10 minutes because you're bored to death?
There's a reason why people like to play sports and do activities to get their daily exercise in. It's because you're having so much fun that it doesn't even feel like work.
Beneficial Activities for Spinal Cord Injury Patients
Staying physically active is great for maintaining your health and preventing spasticity.
Here's a list of activities so entertaining that you might even forget you have spinal cord injury.
1. Go to the Pool!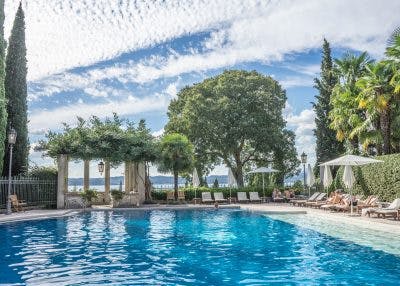 Remember when you were a kid and did lots of flips and handstands in the pool?
That's because the water reduces most of the impact on your legs, making you feel weightless.
The same idea applies to spinal cord injury patients.  You probably won't be able to swim, but can definitely try to stand or walk.
Practicing muscle movement and balance inside a pool is super helpful because you don't have all your weight bearing down on you.
You don't even have to move much! Leisurely floating and splashing around is always fun.
However, if you want to get more active, water aerobics is a great option for spinal cord injury patients.
2. Yoga!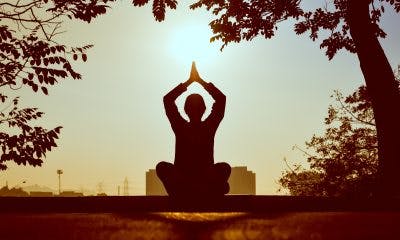 Yoga is amazing for toning, increasing muscle strength, and flexibility. This makes it one of the best activities for spinal cord injury patients.
It's all about alignment between your mind and body.
Considering that spinal cord injury is literally a disruption in the alignment of your body, it totally makes sense why you might consider doing some yoga to readjust.
It consists of breathing, meditation, and physical exercises so it's an all-in-one activity with many benefits.
We've said it before and we'll say it again, recovery is a mind game as much as it's a physical one.
Yoga is proven to reduce cortisol levels, which means less stress, anxiety, and depression.
3. Bowling!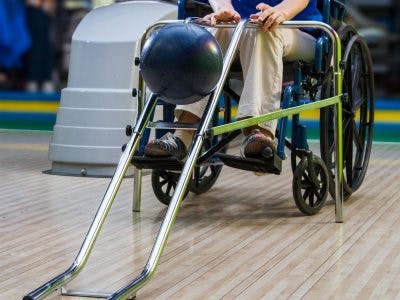 Yes, you read that right.
You might think that playing with a heavy bowling ball seems counter-intuitive for someone with spinal cord injury, but it's actually a great way to have some fun outside of the house.
Choosing a ball that is too heavy is the main reason why someone might experience back pain while bowling. All you have to do is use a lighter ball.
The lightest bowling balls are usually 6 lbs and will add a little resistance so you can get strength training.
Bowling requires a lot of back, shoulder, arm, and hip movement so it's essential that you stretch before.
Learning how to swing the bowling ball is probably the most difficult part, but can also prove beneficial. You're essentially teaching yourself how to balance at different positions. A strong core will help develop your sense of balance.
If you're unable to swing the ball, a ball ramp (pictured above) will do all the hard work for you. It makes it so much easier to control the ball and all you have to do is push it!
4. Dancing!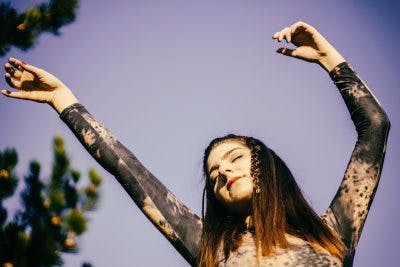 Who doesn't love to dance? Blast some of your favorite music and move what you can!
This is such an easy and effortless activity for anyone, but it's beneficial for spinal cord injury patients because they're practicing movement without even thinking about it.
The more you dance, the more likely your body will get accustomed to certain movements. This can help with neuroregeneration and coordination.
5. Archery!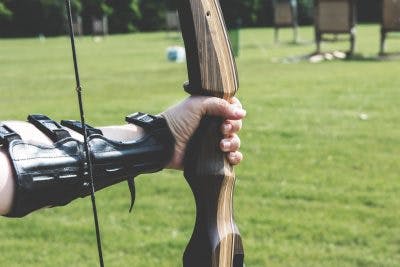 Archery was one of the first sports to be used as remedial exercise for those with paraplegia.
It trains your arm, shoulder, and trunk muscles, which has proven to help restore an upright position.
Archery is a sport that people with paraplegia can compete in just as well as any non-disabled person.
Even if you don't have complete feeling in your upper body, you can still do archery with a specialized glove or extension splint.
It's great for developing hand-eye coordination and muscle memory because you're repeating a technique that requires a lot of focus.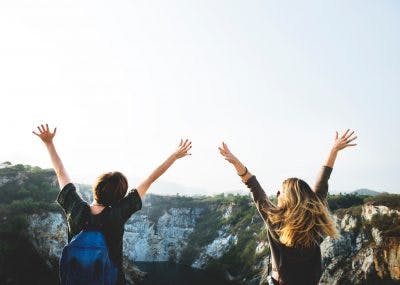 See? There's lots of activities for spinal cord injury patients!
You may need to adjust how you do it, but spinal cord injury should not discourage you from participating in all your favorite activities.
Can't walk? Get a wheelchair! Can't reach? An arm extension tool can help!
Involving yourself in the activities you love will help you stay positive and relieve stress.