Wondering what the best bed mobility exercises for spinal cord injury patients are?
Well, look no further! We've put together a list of 6 effective exercises that will boost bed mobility.
Let's get started!
Bed Mobility After Spinal Cord Injury
Bed mobility refers to your ability to roll, sit up, lie down, scooch over, and transfer on and off your bed.
We recommended these exercises for SCI patients with paraplegia (injury level T1 or below). Those with C6–C8 injuries may also be able to perform them, but SCI patients with injuries at C5 and up generally don't have the arm function necessary to support their weight.
SCI patients with paraplegia will have completely functional arms but depending on the location and severity of their injury, may have poor trunk control and will experience difficulties with balance.
With paraplegia, you learn to become more dependent on your arms to compensate for paralysis in the legs.
Bed Mobility Exercises for Spinal Cord Injury Patients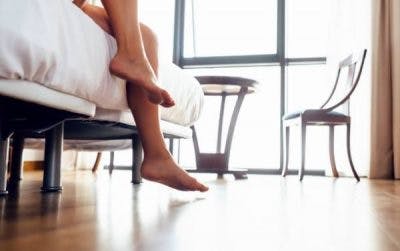 Bed mobility exercises for spinal cord injury patients will heavily rely on positioning and momentum.
These bed mobility exercises will help you develop the techniques necessary to get in and out of bed on your own.
Perform them on the bed so that you get accustomed to how a springy surface can affect your movements.
1. Body Twists
First, use your arms to move your right leg over your left leg. The further to the other side the right leg is, the easier it will be to roll onto your side.
Next, lie flat on your back and thrust your arms to the left. The momentum of the swing should roll the rest of your body to the side.
Practice this exercise in both directions.
2. Wriggling
Wriggling requires using your whole body (or at least what you can control) to gradually move from one part of the bed to another.
By continuously making small movements towards a certain direction, your body will eventually make its way over to where you want to go.
3. Reverse Push-Ups
Instead of lying on your stomach and pushing yourself up, you're going to lie on your back and use your arms to lift your upper body up.
To create a stable base, get on your forearms first. Then, straighten one arm at a time and move your hand back to hold your body up.
Lift and lower your body by bending and straightening the arms.
This exercise will help strengthen your arms and practice transitioning into an upright position.
4. Sit-Ups
Sit-ups will help strengthen your core muscles to improve sitting balance.
Because you'll be performing this exercise on the bed, you won't be straining your tailbone.
However, because your tailbone will sink into the mattress, it may be more difficult to perform sit-ups.
Try thrusting your upper body up and forward to build momentum.
5. Toe Touch Hamstring Stretch
Sit with your legs straightened front of you and lean forward, towards your toes.
This stretch will promote sitting balance and train you to position your body forward to stay upright.
6. Lateral Trunk Lift
Roll over to your right side (see exercise #1), prop your upper body up with your right forearm, and hold.
Your body should look like a sideways "J", with your head and torso making up the curve.
It's easier to get up from your side than from your back.
This bed mobility exercise for spinal cord injury patients will stretch the sides of your trunk and help you practice lifting your upper body from the side.
Adaptive Tools to Improve Bed Mobility for Spinal Cord Injury Patients
Adaptive tools provide additional support for those who need it and promote independence.
These three adaptive tools can make getting into or out of bed much easier: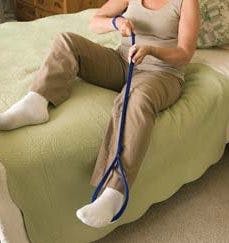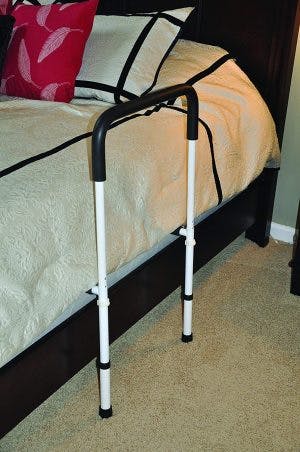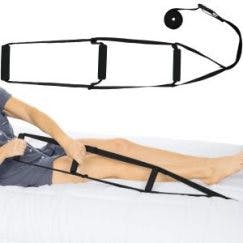 Leg Lifter. Many SCI patients will have difficulties reaching their feet and will find it helpful to use a leg lifter to maneuver their legs into different positions.
Bed Rail. A bed rail will provide a stable surface to hold onto as you transfer on and off your bed.
Bed Rope Ladder. With a bed rope ladder, you pull on the rungs to lift your body into an upright position. It attaches to your bed frame to ensure stability.
Improving Bed Mobility After Spinal Cord Injury
That's a wrap! Now you know what exercises you can do to improve bed mobility.
Check out the video below for more ways to practice bed mobility.
Every spinal cord injury is different, so don't worry if you can't perform all of the exercises just yet.
Experiment, adjust, and find what works best for you.
The more you practice, the easier the exercises will get. Good luck!