Muscle atrophy due to spinal cord injury often occurs due to physical inactivity.
It's a given that paralysis will affect your mobility, but spinal cord injury patients still need to exercise to maintain their health.
We've put together the ultimate guide to muscle atrophy due to spinal cord injury so that you know exactly what to expect and what treatments work best!
What is Muscle Atrophy Due to Spinal Cord Injury?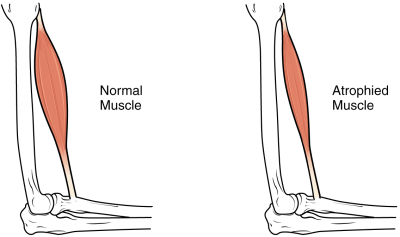 When you don't use your muscles, they shrink!
Muscle atrophy (aka muscle wasting) is when you lose muscle mass.
One of the primary functions of our muscles is to contract and relax so that we can move around.
The main reason why so many patients lose a bunch of weight after spinal cord injury is because they're losing so much bone and muscle mass from being immobile.
2 types of muscle atrophy can occur after spinal cord injury: denervation atrophy and disuse atrophy.
Denervation Atrophy is when the nerve to a muscle is damaged and can no longer trigger muscle contraction.
Because the muscle is not being used, the body thinks you no longer need it and starts to waste away.
When there's no more control over the muscle, the only way to preserve it is through the help of functional electrical stimulation.
Disuse Atrophy is when your muscles shrink from lack of movement.
Use it or lose it! The more you use your muscles, the bigger and stronger they get.
However, once your body notices that you no longer need the muscles to be so strong, they'll start to shrink to preserve energy.
Just by performing everyday motions like standing, walking around, and lifting objects, we use a certain amount of muscle. If you don't perform these actions, your muscles will shrink.
The plus side is that because the nerves connected to your muscles still work, you can always regain that muscle mass.
Why Do We Need to Maintain Muscle Mass If Paralyzed?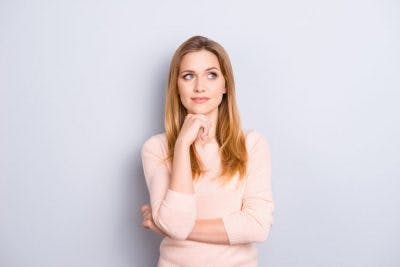 Health is holistic. Not taking care of your muscles can cause a domino effect that leads to a bunch of other health problems.
Dangers of a sedentary lifestyle not only include muscle atrophy but also:
Reduced Circulation: When you stay in one position for too long,  blood doesn't circulate efficiently and can pool in your lower extremities. This can cause deep vein thrombosis (blood clotting) and pressure sores.
Metabolic Syndrome: Our bodies are designed to be active, and when you're too sedentary, your metabolism slows down because you don't use enough energy. This results in high blood pressure, weight gain, and high cholesterol levels.
Injury Susceptibility: The conditions of your muscles almost always correlates with the state of your bones and joints. When these are all weak, your chances of injury are higher due to weak balance and strength. Staying sedentary can cause neck, shoulder, back, and hip pain and poor posture.
Even if you have complete paralysis in your legs, make sure to perform passive range of motion exercises and stretches. Although passive exercise cannot prevent muscle atrophy, it will help increase blood circulation throughout the body.
What Are the Best Treatments for Muscle Atrophy Due To Spinal Cord Injury?
The most effective ways to combat muscle atrophy is through exercise, a nutritious diet, and functional electrical stimulation.
1. Exercise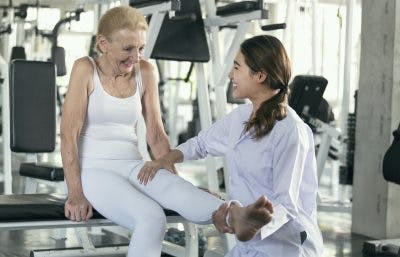 Exercise is probably the most effective form of prevention and treatment for muscle atrophy.
You don't need to be performing strenuous exercises. Daily activities like standing, walking and carrying objects from one place to the other all work your muscles.
You want to keep repeating these exercises to actively promote normal muscle contractions.
If you're having a hard time staying motivated, a program like FitMi can help keep you highly engaged while performing lots of repetition.
Another great way to ease into exercising your muscles again is to get into a pool. Buoyancy will help reduce tension and pressure on your joints. Once you get used to the movements, transition onto land.
2. A Healthy Diet for Muscle Atrophy Due to Spinal Cord Injury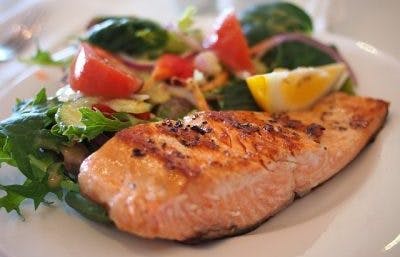 Many people underestimate the power of diet in recovery.
By adding more nutritious foods into your diet, you'll be fueling your muscles and energy levels more effectively.
Make sure to include proteins, carbohydrates, and healthy fats into your diet for muscle retention.
Protein helps maintain and build muscle mass. Foods high in protein include lean meat, chicken, fish, yogurt, tofu, and nuts.
Carbs help provide quick energy. Good sources of carbohydrates include fruits, vegetables, and whole grains.
Healthy fats like omega-3s will help prevent muscle deterioration. You can get healthy fats from foods like salmon, walnuts, and avocados.
Another important thing to keep in mind is how much you eat. It's all about finding a healthy balance between food and exercise.
Initially, SCI patients drop weight because they lose so much bone and muscle density. However, many tend to gain weight from being inactive.
It gets even more tricky because, in order to gain muscle, you need to eat enough.
Speak to a dietician or physical therapist for nutrition advice. They can help personalize a plan specific to your condition.
3. Functional Electrical Stimulation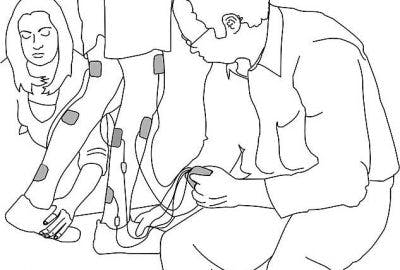 Functional Electrical Stimulation (FES) uses electrical currents to activate movement through targeted muscle groups.
With SCI,  nothing is wrong with your muscles; there's just little to no motor control to facilitate movement.
This is where FES comes in. It makes the muscle contract to perform a particular movement.
FES Cycling combines FES and exercise together to prevent and treat muscle atrophy due to spinal cord injury.
Studies show that FES cycling not only slows muscle atrophy due to spinal cord injury but also increases leg muscle mass!
That being said, the effectiveness of FES cycling depends on the patient's efforts and consistency. The more they exercise, the better the results.
Types of Spinal Cord Injury and Muscle Atrophy
Treating muscle atrophy due to spinal cord injury becomes more difficult depending on the completeness of your injury.
Exercise is going to be much easier for those with incomplete paralysis than complete paralysis.
Regardless, focus on using the muscles that you do have control over because the spinal cord heals from the top down.
With promising developments in research and technology like FES, we're hopeful that even those with complete paralysis can recover from muscle atrophy.