Paralysis after a spinal cord injury can limit mobility, but there are many fun activities that individuals with quadriplegia can participate in and enjoy.
Quadriplegia refers to paralysis of the arms and legs. However, depending on the severity of one's spinal cord injury, quadriplegia can range from mild to severe.
Similarly, depending on the location of one's SCI, quadriplegia may only affect certain parts of the arms. For example, someone with a C8 spinal cord injury may have normal shoulder, elbow, and wrist movements but experience weakness in the hands while someone with a C4 injury can be paralyzed from the neck down.
This article will share 23 fun activities for individuals with quadriplegia.
Fun Activities for People with Quadriplegia or Paralysis
Before we get into the activities, it's important to understand that your loved one is so much more than their disability.
Quadriplegia presents itself so differently in each individual, so don't assume that your loved one will or will not be able to participate in a specific activity.
Consider the individual's interests and hobbies. Most activities can be adjusted so that your loved one can participate. Without further ado, let's get into the activities.
1. Singing
Following a C5 or higher level spinal cord injury, individuals with quadriplegia may experience diaphragm weakness. Singing can help increase respiratory muscle strength and control.
2. Go to the Movie Theater
Going to the movie theater or a drive-in theater provides a completely different experience than watching a movie from home. If your loved one uses a wheelchair, accessible seating is available.
3. Attend a Sporting Event
Go cheer for your favorite sports team! Going to a game is an experience that makes you feel part of something greater than yourself. People of all different backgrounds are brought together to support the same team. You should be able to reserve tickets for the accessible seating in a stadium.
4. Take a Scenic Stroll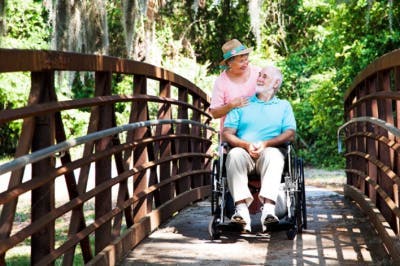 Staying indoors all day can get stuffy. Consider going outside a little bit every day to get some fresh air. Especially because individuals with spinal cord injuries have a greater risk of osteoporosis, getting your daily dose of vitamin D from the sun will help keep the bones strong.
5. Have a Picnic
Pack up all your favorite snacks and have a picnic! This is a great way to get a change of scenery and spend quality time together.
6. Visit a Museum/ Aquarium/ Zoo
Go to a museum and learn about history, art, or science! This is a great way to immerse yourself in different cultures and times.
Similarly, going to the aquarium or zoo is a fun way to see and learn about all your favorite animals.
7. Check Out Your Local Farmers Market
Going to a farmers market is a completely different experience than going to your typical grocery store. There are lots of fresh and unique items, so it's a great opportunity to be adventurous and try something new.
8. Throw a Social Event
A social event such as a trivia or game night draws upon the interests of the person living with quadriplegia. It's also a fun way to get friends and family together and enjoy each other's company.
9. Start a Collection
Find something that you and your loved one both have a passion for and start a collection! This will cultivate a common interest to bond over.
10. Bowling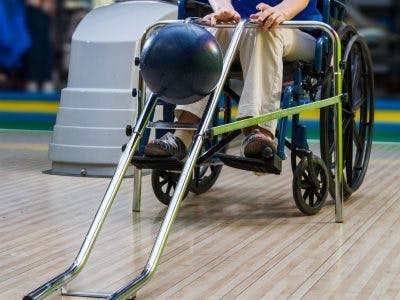 Heavy objects and paralysis don't sound like a very good match, but bowling is a fun activity that can be easily adapted for people with quadriplegia. For example, the individual could use a bowling ramp and push the ball forward.
11. Archery
Did you know that there are specialized gloves and extension splints that allow people with quadriplegia to participate in archery? Archery is a great sport that can help improve coordination after spinal cord injury.
12. Photography
Plan a photoshoot with your loved one! Coming up with an idea, picking out scenery and outfits, staging, taking the photos, and editing them is an immersive experience that promotes creativity and helps reduce stress.
13. Horseback Riding
Horseback riding at an equestrian center that offers therapeutic riding for people with disabilities is a fun activity that can help improve balance after a spinal cord injury. One person will guide the horse while another will walk alongside the individual with quadriplegia to ensure their safety.
14. Go to the Pool
Getting into a pool is another fun activity for individuals with quadriplegia. Water has unique properties that can help promote mobility. For example, buoyancy makes you feel lighter, helps keep you afloat, and reduces pressure on the joints.
Additionally, individuals with quadriplegia can use products like noodles, floaties, belts, vests, and boogie boards for extra support.
If swimming sounds appealing to you and your loved one with quadriplegia, try to find a therapist/rehab clinic with a pool where you can get some guidance on safety before doing this on your own.
15. Handcycling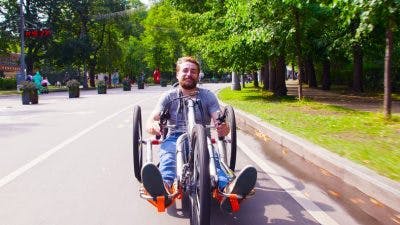 Individuals with greater mobility in their arms may enjoy handcycling. It's just like bicycling, except you pedal with your arms. If the person with quadriplegia struggles with gripping functions, they can use special gloves and an elbow lever brake.
16. Pottery
Pottery is a fun and creative activity that individuals with quadriplegia can partake in to develop their hand functions. The resistance of the clay can help strengthen the hand muscles and improve control.
17. Paint/ Draw/ Color
Other creative activities include painting, drawing, or coloring. Individuals with quadriplegia who struggle with gripping objects can use a universal cuff. Practicing these activities can help maintain full range of motion in the wrists and improve fine motor skills.
18. MusicGlove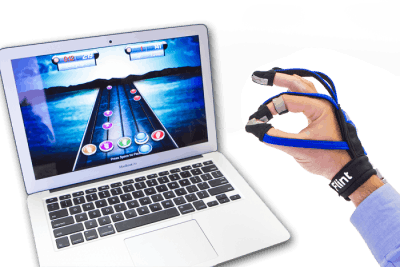 MusicGlove combines hand-therapy, music, and gaming to keep individuals with weakened hand functions engaged and practicing the repetitions they need to improve. In fact, it's clinically proven to improve hand functions in just 2 weeks!
19. Play an Instrument
Learning to play an instrument is a great way to improve hand functions. For example, individuals can practice spreading their fingers apart and pressing the keys of a piano, or gripping onto a pair of drumsticks and beating the drums.
20. Cooking
Cooking is another fun activity that can help individuals with quadriplegia develop their upper extremity functions. For example, mixing ingredients together can help develop strength while decorating a pizza with toppings practices fine motor skills.
There are tons of adaptive cooking devices that can allow people with disabilities to do things safely in the kitchen. If you're having trouble finding the right items, talk to your occupational therapist to get ideas.
21. Card Games
Playing card games can help someone with quadriplegia develop a wide range of motor control in their hands. Tasks can include shuffling the deck, picking a card out of a pile, or hitting a card. There are even special card holders if your loved one is having trouble holding the cards!
22. Jenga/ Board Games
Board games are a fun activity that can encourage spinal cord injury patients with quadriplegia to practice pinching their fingers together to grip small items and develop dexterity.
23. Gardening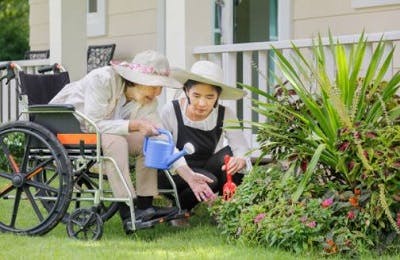 Planting flowers, vegetables, and fruits can become a great source of purpose for many people. It offers something to look forward to and a reason to get outside every day. Similar to spinal cord injury rehabilitation, gardening requires daily commitment and patience.
If you have the means, consider getting a raised garden bed/elevated planter if your loved one is not able to reach or get down to the ground to help.
Fun Things to Do with People with Quadriplegia Are Not Limited
As you can see, these activities can generally be enjoyed by anyone and are not limited to people with quadriplegia. As long as the individual with quadriplegia is willing to adjust, they can continue to participate in many of their favorite activities.
We hope you try some of these activities with your loved one.