There are many activities someone with quadriplegia after spinal cord injury can participate in for fun!
Keep in mind that just because a person has qudriplegia does not mean they cannot enjoy an activity. There are plenty of ways to adjust activities so that anyone can participate!
Here's a list of 35 fun activities that you and your loved one can both enjoy.
Let's get started!
Fun Things to Do That Don't Require Arm Functions
If your loved one has a higher level cervical spinal cord injury (C1-4), they likely don't have full sensorimotor control in their arms or shoulders.
Here are some fun things to do with someone with quadriplegia that don't require arm function:
1. Karaoke
Singing is something that anyone can do, even if you're not very good at it.
In fact, singing can increase respiratory muscle strength and control in individuals with C4 and C5 injuries.
Take your loved one to a karaoke room or buy a karaoke machine so that you can sing from home.
To be extra budget-friendly, you can even just search karaoke or instrumental versions of your favorite songs on YouTube.
2. Go to the Movies
Going to the movie theatre is always fun and wheelchair users hardly ever have to worry about finding a seat because there's accessible seating!
You can also consider going to a drive-in theatre for a completely different experience.
3. Go to a Concert
Go to a concert and listen to some live music!
The Amercians with Disabilities Act states that "venues are required to sell tickets for accessible seats in the same manner and under the same conditions as all other ticket sales."
Listening to music can relieve stress and improve your mood.
4. Go to a Sports Event
Go cheer for your favorite sports team at a game.
Going to a game is an experience that makes you feel part of something greater than yourself.
You're in a space where tons of people are brought together to support the same team.
5. Take a Scenic Stroll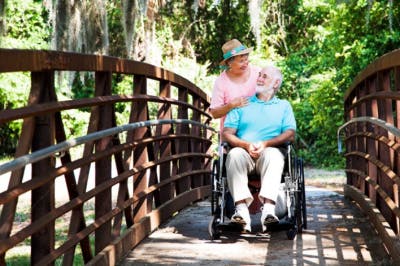 Staying locked up in your house all day can be depressing.
Go to a park or beach and take in all that nature has to offer.
6. Have a Picnic
Pack up all your favorite snacks and have a picnic outside!
This is a great way to get a change of scenery.
7. Hot Air Balloon Ride
Check out the view from high up in the air.
It's amazing how small everything appears when you're looking at it from a high vantage point.
8. Go to a Museum
Go to a museum and learn about history, art, or science!
This is a great way to immerse yourself into different cultures and times.
9. Go to an Aquarium/ Zoo
Going to the aquarium or zoo is always a fun experience.
Spend the day looking for and learning about all your favorite animals.
10. Check Out Your Local Farmers Market
Go to a farmers market and pick up some fresh produce!
It's a completely different experience than going to your typical grocery store.
There's often a bunch of products that you've never even heard of, so it's a great opportunity to be adventurous and try something new.
11. Get Your Nails, Hair, or Makeup Done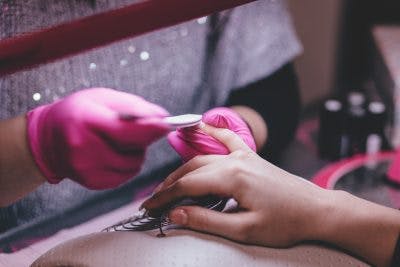 We all need a little pampering every now and then.
There's something so therapeutic about getting your hair, nails, or makeup done.
When you look good, you feel good.
12. Throw a Trivia Night
Gather all your friends and have a trivia night!
This is a fun way to learn a bunch of random facts and hang out with your friends.
You can find lots of trivia questions online or through apps.
13. Start a Collection
Find something that your loved one and you both have a passion for and start a collection!
This will give you guys a common interest to bond over.
A collection provides something to look forward to as it grows over time.
Fun Things to Do That Require Minimal Upper Limb Control
SCI patients with C6 and C7 injuries typically have some wrist function.
Here are some fun things to do with someone with quadriplegia that can move their shoulders, bend their elbows, and move their wrists.
14. Bowling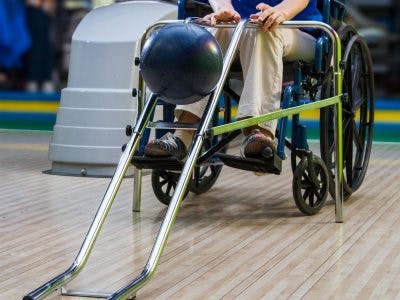 Heavy objects and paralysis don't sound like a very good match, but bowling is an activity that can be easily adapted for people with quadriplegia.
There are bowling ramps where all you need to do is push the ball forward.
This allows your loved one to participate in a game without straining their arm muscles.
15. Archery
Did you know that there are specialized gloves and extension splints that allow people with quadriplegia to participate in archery?
Archery is a great sport for developing hand-eye coordination and focus.
It's one of the few sports that someone with paralysis can perform just as well as a non-disabled person.
16. Photography
Photography is a great way to get creative and show people your world.
Plan a photo shoot! All you need to do is push a button.
You can even get a tripod and set the timer on the camera so that you can be in your pictures too.
17. Horseback Riding
Horseback riding is an activity that allows you to interact and build a bond with animals.
Make sure to go to an equestrian center that offers therapeutic riding for people with disabilities.
They'll have adapted equipment that will make it easier for people with quadriplegia to stay balanced and safe.
You will have one person guiding the horse and another person stabilizing your loved one while riding.
18. Visit an Animal Sanctuary
If your loved one is an animal lover, take them to an animal sanctuary.
It's a great way to interact with animals and learn about preservation.
19. Read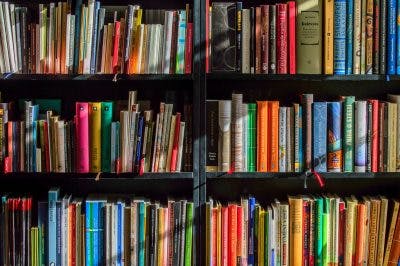 A book can transport you to an entirely different world with a flip of a page!
This can help fulfill a sense of adventure and provide an escape when life gets dull or overwhelming.
20. Kayaking
Kayaking is a sport that requires shoulder and bicep control, but not necessarily hand control.
Gripping aids can help people with quadriplegia hold onto the paddle and specialized seats will help them stay balanced.
21. Go to the Pool
Getting into the pool is a great way to stay cool on a hot day, but it can definitely be a little scary after a spinal cord injury.
The Americans with Disabilities Act requires pools open to the general public to have accessible means of entry for people with disabilities.
A person with quadriplegia can use a pool lift to get in and out of a pool.
There are also aquatic wheelchairs that are designed to go down ramps into shallow waters.
Buoyancy keeps us afloat but for extra security, many different products (noodles, floaties, belts, vests, boogie boards, etc.) can help individuals with quadriplegia stay safe at the pool.
22. Handcycling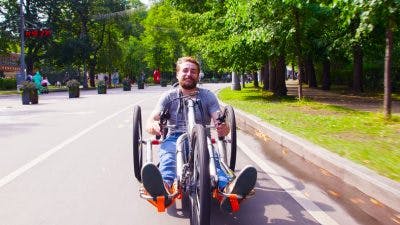 Handcycling is just like bicycling except instead of pedaling with your feet, you use your hands.
It's a good way to get your aerobic exercise for the day while also strengthening your arms and core.
If paralysis affects strength in the hands, your loved one can use special gloves and an elbow lever brake.
23. Go to an Arcade
Going to an arcade is always fun and there are games for all different levels of mobility.
Simple games that require minimal hand function include jackpot, air hockey, and coin pusher.
Fun Things to Do With a Quadriplegic That Has Partial Hand Functions
The C8 and T1 nerves are typically connected to the muscles responsible for finger movements.
Here are some fun things to do with someone with quadriplegia that is working on grabbing objects and being more precise with their hand movements.
24. Sculpting
Get creative and make some pottery!
All you have to do is mold the clay with your hands while the wheel spins.
The tougher the clay, the more resistance it has, and the more hand strength it will require to shape.
25. Painting/ Drawing/ Coloring
Another way to get creative is to paint, draw, or color!
The up and down motions will help you practice wrist control.
Heard of adult coloring books? They have intricate designs that help develop fine motor control.
26. Video Games
Video games can help people with quadriplegia practice extension and flexion of their thumbs.
While using the controls typically only involves the use of your thumbs and index fingers, they do help keep you engaged and motivated to keep making the movements.
27. MusicGlove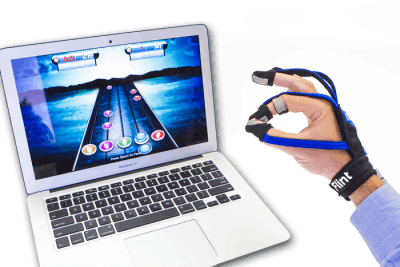 MusicGlove combines hand-therapy and gaming to encourage people with quadriplegia to perform lots of repetitions.
Massed practice is key to improving motor function, but it gets boring for patients to keep repeating the same thing over and over again.
MusicGlove challenges you to tap your fingertips to your thumb alongside music. Because you're so engaged by the game, you're able to perform more repetitions and ultimately improve motor control in all of your fingers.
28. Piano
If your loved one is musically inclined, learning how to play a song on the piano can be very motivating.
It helps develop finger dexterity and the options are limitless.
As hand function improves, they can play more dynamic songs.
29. Cooking
Make a batch of cookies or a pizza!
There are so many appliances that take care of all the hard mixing and kneading, but it might be a good idea for someone with quadriplegia to practice mixing ingredients together to develop arm strength.
Enjoy your favorite treat and feel good that you and your loved one were able to make it together.
30. Make Jewelry
Make friendship bracelets or necklaces! Stringing beads is a great way to work on dexterity.
To make it more challenging, use beads with smaller holes.
31. Card Games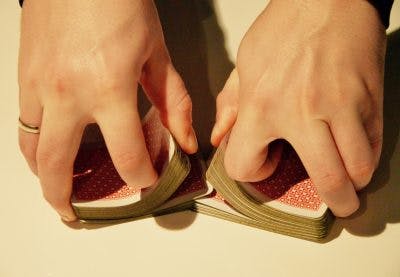 Playing card games can help someone with quadriplegia work on developing motor control in their hands.
Whether they're shuffling the deck, picking a card out of a pile they're holding, or hitting a certain card, they're working on developing a range of different motions with their hands.
32. Puzzle
Matching up pieces of a puzzle is a great way you exercise your brain and develop your fine motor skills.
To make it more challenging, buy puzzles with more pieces. Although they're more difficult, they're much more rewarding to finish.
33. Gardening
Got a green thumb? Create a garden!
Planting flowers, vegetables, and fruits will give your loved one something to look forward to and a reason to get outside every day.
34. Jenga/ Board Games
Who doesn't love a game night?
A little bit of competition is healthy and keeps you occupied.
Pinching your fingers together to grab or maneuver your piece helps practice finger movements.
35. Table Tennis
Because a ping pong table is relatively small, you don't even have to move your wheelchair to play ping pong.
In fact, it's one of the biggest Paralympic sports.
It's easy on the joints, improves reflexes, and promotes hand-eye coordination.
There are Lots of Fun Things to Do With Someone With Quadriplegia!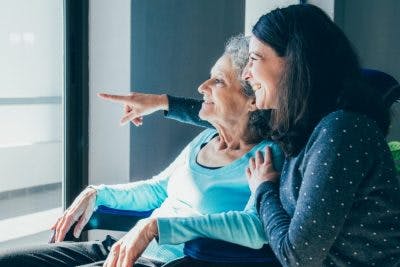 Hopefully, this article gave you some ideas for fun activities you can do with someone who has quadriplegia.
Keep in mind that it's usually the people you're with that makes something fun rather than the action itself.
So don't focus too much on what you're doing, but rather the quality of the time you're spending with your loved one.
Have fun!