Wondering how cerebral palsy affects the elderly?
Cerebral palsy is a life-long motor disorder that starts before or during birth or in early childhood.
While the brain damage that caused cerebral palsy will not worsen over time, symptoms can. Fortunately, advances in management of cerebral palsy-related symptoms are helping individuals to live long, fulfilling lives.
This article will go over common risks associated with cerebral palsy in the elderly and the best ways to prevent the progression of symptoms.
Health Risks Associated with Cerebral Palsy in the Elderly
Thanks to advancements in healthcare, over 80% of individuals with cerebral palsy are expected to live beyond 58 years.
People with cerebral palsy are learning how to effectively manage their symptoms to prolong their life expectancy and enhance their participation in daily activities.
So, what can individuals with cerebral palsy expect as they reach their elderly years?
First, we'll go over a few health risks associated with CP and increasing age. After, we'll discuss effective management techniques that can help minimize these risks.
Limited Mobility
One of the most prevalent symptoms of cerebral palsy is spasticity (involuntary muscle contractions).
The tighter your muscles get, the more limited your range of motion will become. This can make it progressively more difficult to move.
Severe spasticity places significant strain on the musculoskeletal system and can even result in the inability to walk or to functionally use the arms and hands.
Fatigue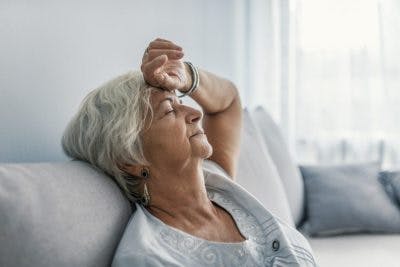 While everyone experiences the effects of aging, it's suggested that people with cerebral palsy experience aging at an accelerated rate.
Fatigue is common in elderly individuals with cerebral palsy because motor impairments often get in the way and make it more challenging to move.
As a result, they continuously strain their bodies and use more energy to perform daily tasks.
Years of consistently straining the body add up and ultimately, takes its toll on the body.
Osteoporosis, Osteoarthritis, and Sarcopenia
Another common health risk associated with cerebral palsy in the elderly is the development of musculoskeletal complications like osteoporosis, arthritis, and sarcopenia.
Osteoporosis occurs when the bones become weak and porous.
Arthritis is characterized by joint inflammation, which often results in joint pain and stiffness.
Sarcopenia is the progressive loss of muscle mass, which results in a loss of strength and function.
Limited weight bearing and poor nutrition can cause the bones and muscles to lose density.
Additionally, excess strain on the joints can wear out the cartilage between bones.
All 3 of these musculoskeletal conditions can significantly affect mobility and cause loss of independence.
Chronic Pain
Chronic pain is extremely common in elderly people with cerebral palsy, primarily due to excess tension on the body.
Most people describe this pain as mild to moderate; however, some do experience severe pain.
Depending on what type of cerebral palsy you have, pain in some areas of the body may be more prevalent.
For example, knee pain is most common among people with quadriplegic CP, while those with diplegic CP frequently report foot pain.
Chronic Diseases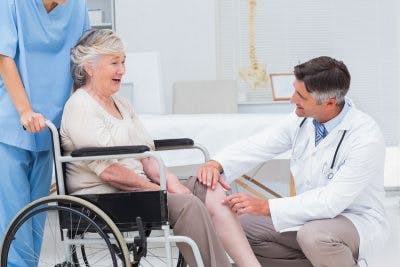 Elderly individuals with cerebral palsy are also more likely to develop chronic diseases than those without CP.
Age and physical inactivity play crucial roles in the development of chronic conditions.
Common chronic complications in CP patients include:
Cancer
Hypertension
Stroke
Diabetes
Respiratory system diseases (pneumonia, influenza, asthma, chronic obstructive pulmonary disease)
So now that you understand the risks associated with cerebral palsy in the elderly, let's go over what you can do to effectively manage its symptoms.
Managing Cerebral Palsy in the Elderly
Early management is critical for minimizing complications and maximizing quality of life in the long run.
Here are some of the best practices elderly individuals can practice to proactively manage their cerebral palsy:
Get Routine Examinations
Increased age and motor impairments are both factors that place individuals at higher risk of developing complications.
Even if you're not experiencing worsening symptoms, focusing on preventative care is key for long-term health.
Routine examinations help detect complications early and help you get treatment before symptoms worsen.
Exercise Regularly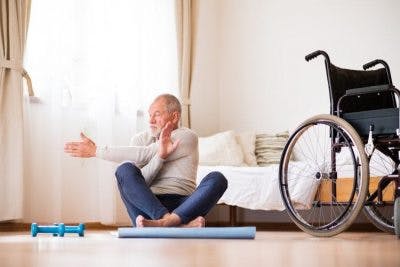 Especially because elderly individuals with CP are more likely to have osteoporosis, osteoarthritis, and sarcopenia, exercise can help promote musculoskeletal health.
Stretching will help expand range of motion in the joints by lengthening tight muscles caused by spasticity.
Weight-bearing will help maintain bone and muscle density.
It's a good idea to see a physical therapist to help ensure you are using proper form. Consistently exercising with poor form can place unnecessary pressure on the joints.
Depending on your motor impairments, a physical therapist may even recommend aquatic exercise, as this is a low-impact way to build muscle strength and promote light weight-bearing through the legs.
Frequently, a physical therapist will also provide you with a home exercise program, so you can continue exercising daily even when you're not attending therapy.
Prioritize Nutrition
What you eat matters! Poor nutrition can cause your bones and muscles to weaken no matter how much you exercise.
To strengthen the musculoskeletal system, elderly individuals should focus on consuming adequate protein, calcium, vitamin D, phosphorus, and magnesium.
Additionally, a nutrient-dense diet will help fuel the body for optimal functioning and increase energy to reduce feelings of fatigue.
Use Assistive Devices
Independence significantly affects one's self-confidence and quality of life.
Assistive devices can provide elderly individuals with the support they need to perform everyday tasks on their own.
For example, adaptive utensils can help those with stiff wrists feed themselves and reachers can help those with limited fine motor skills grab items.
An occupational therapist can help you explore and trial various types of adaptive equipment to determine which options are best able to meet your daily needs.
Understanding Cerebral Palsy in the Elderly: Key Points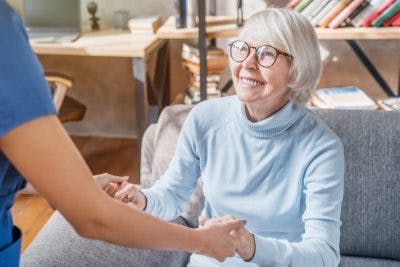 There are increased health risks for elderly individuals with cerebral palsy including fatigue, osteoporosis, sarcopenia, and chronic pain.
Many of these conditions can be prevented or at least minimized through regular physical activity, proper nutrition, and early diagnosis and treatment.
Hopefully, this article helped you better understand how CP can affect the elderly and the importance of preventative care. Good luck!
©iStock.com/wavebreakmedia/Inside Creative House