These therapeutic hand exercises for stroke patients may help improve your fine motor skills. It's important to participate in some form of hand therapy daily for the best results.
The following hand exercises are organized from easiest (Level 1) to hardest (Level 3). Stroke patients that struggle with hand paralysis can start with Level 1. Others can use Level 1 as a warm up and progress to more complex exercises.
Use the links below to jump straight to any section:
Video: Hand Exercises for Stroke Patients with OTA Barbara
Barbara is an occupational therapy assistant that has plenty of experience helping stroke survivors regain hand function.
Follow along to her video demonstrating various therapeutic hand exercises for stroke patients:
When you practice your hand exercises, high repetition is the goal. This helps stimulate the brain and encourage neuroplasticity.
Neuroplasticity is the process the brain uses to rewire itself and bounce back from injury. Remember this: "Re-wire to re-fire."
When you repeat a movement on a regular basis, like these hand exercises, it encourages the brain to build and strengthen neural connections that help make the movement easier in the future.
The brain responds to stimulation. When you repeat hand exercises on a daily basis, it tells the brain that hand function is important. In response, the brain strengthens the pathways that control hand function.
Level 1: Gentle Hand Exercises for Stroke Patients
If you have limited hand movement or hand paralysis, Level 1 hand exercises are a great place to start.
These exercises can be practiced passively by using your non-affected hand to assist your affected hand. Although your non-affected arm is "doing the work," stimulation from passive exercise still helps activate neuroplasticity.
Consistency is key for the best results.
Here are some gentle hand exercises to try at home:
1. Palm Up and Down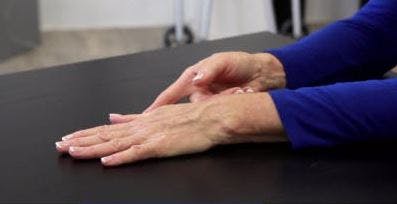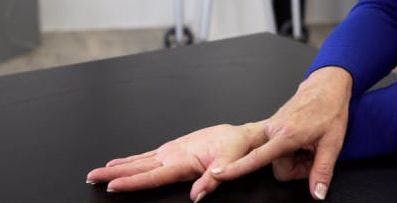 For this therapeutic hand exercise, place your hand palm-down on a table. Then, use your non-affected hand to turn your palm up. Repeat: Palm up, palm down.
2. Wrist Bend Movement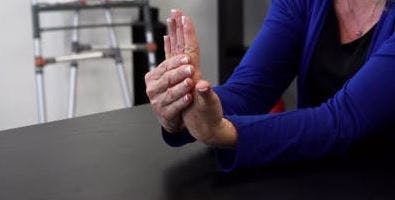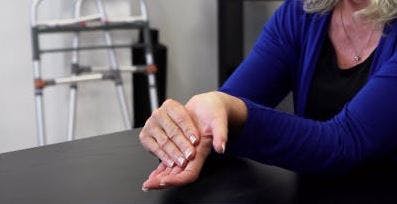 For the next exercise, gently bring movement into the wrist.
While keeping your elbow on the table, place your non-affected hand on the palm rather than the fingers to stretch your affected hand at the wrist.
Stretch backward, then forward. Perform this movement slowly and in a pain-free range.
3. Wrist Side Movement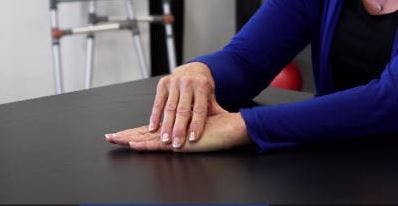 This is the last level 1 hand exercise for stroke patients. It provides a different movement for the wrist, in a side to side direction.
Place your affected hand on the table with your palm down. Then, use your non-affected hand to slide your hand to the left, then to the right. Repeat slowly side to side.
Practice these hand exercises daily with high repetition. Massed practice is the best way to rewire the brain and improve movement after a stroke.
Level 2: Moderate Hand Exercises for Stroke Patients
The following hand exercises are specifically for those with mild spasticity and limited hand movement.
The key to effectively regaining movement in your hand is to practice these hand exercises regularly. Consistency is key to seeing results.
Here are additional therapeutic hand exercises for stroke patients:
4. Rolling Movement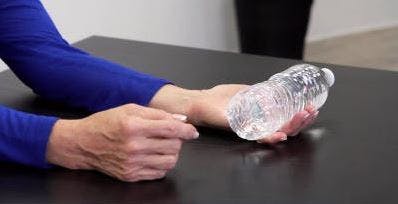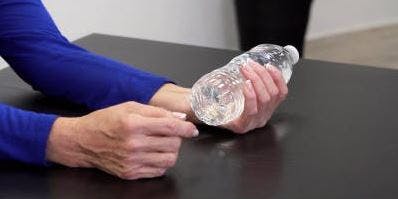 For this slightly advanced hand exercise, place a water bottle in your affected hand. Keep your hand and fingers relaxed.
Curl your fingers and grasp the water bottle in your hand. Then release back down. Repeat the movement by continuing to open and close your fingers slowly so your brain has time to recognize and retrain the motion.
This hand exercise is a strength building exercise that isolates the wrist muscles.
5. Wrist Curl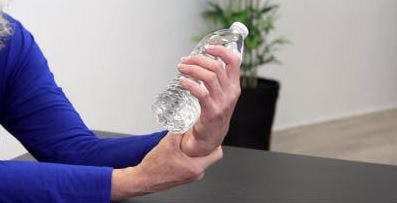 This exercise is like a bicep curl — but for your wrist.
Hold the water bottle in your affected hand and use your non-affected hand to support your arm. Allow your wrist to stretch down, and then curl your wrist up. Repeat up and down slowly.
6. Grip and Release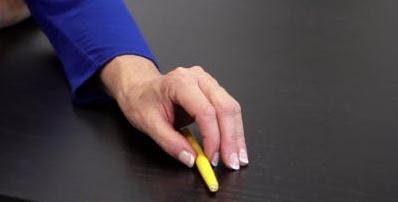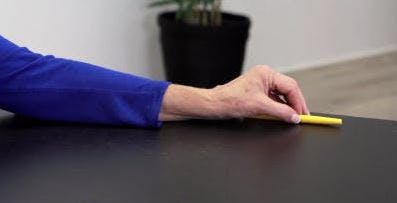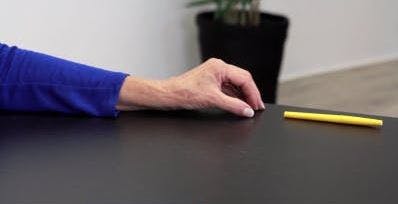 This is the last hand exercise for level 2.
Place a pen on one side of the table. Grip it as best you can with your affected fingers. Slide the pen across the table, and release.
Focus on gripping the pen gently. To emphasize the therapeutic quality of this exercise, use the least amount of force necessary to move the pen.
Repeat by sliding the pen back across the table, keeping your forearm on the table. This helps prevent substituting the use of your shoulder to complete the movement (known as synergistic movement).
Only perform the exercises that are challenging, not frustrating. If you are unable to do it correctly, try again in a few weeks.
Level 3: Challenging Hand Exercises for Stroke Patients
The following hand exercises are intended for stroke patients that have some normal hand movement and dexterity, and want to improve fine motor control.
7. Pen Spin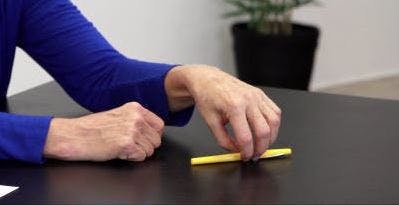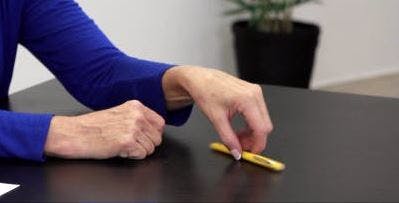 For this advanced hand exercise, place the pen on the table and use your thumb and fingers to spin it. Stabilize your elbow on the table to prevent the use of your shoulder during this movement. Focus on isolating your thumb and fingers.
Challenge yourself with speed during this exercise. Spin the pen quickly for 15 seconds or try to spin it in the opposite direction.
8. Coin Drop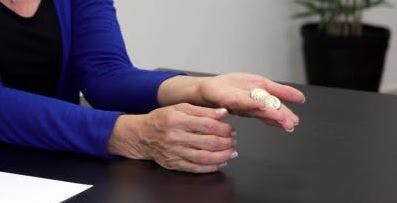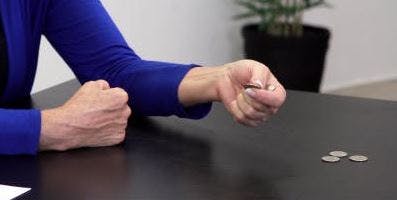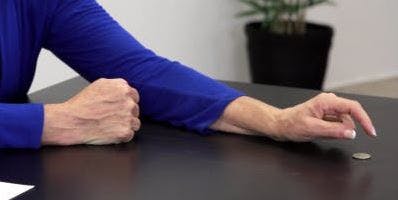 This advanced hand exercise is comprised of 3 movements. Start by placing 8 quarters in a row in the palm of your affected hand.
Use your thumb to move one quarter to grip with your index finger and thumb. Then, place the quarter onto the table while keeping the other quarters in your hand using your other fingers. This is called in hand manipulation and translation skills.
This is a complex hand exercise because it requires coordination of all 5 fingers. After you finish placing them down individually, reverse the exercise to pick them back up.
9. Finger Curl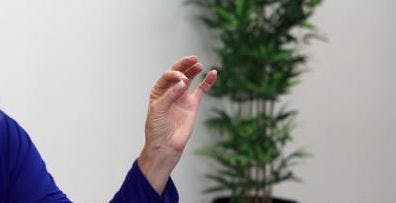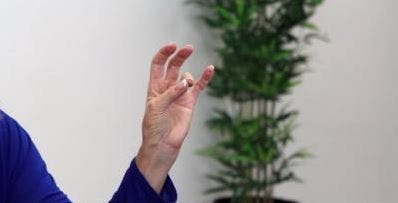 For this last hand exercise, try to touch each fingertip to your thumb. Pinch and release starting with your index finger, moving to your middle finger, then ring finger, and finally your little finger.
This is the same movement as MusicGlove hand therapy, which is a rehab tool that helps you exercise while playing along to a musical game. It's clinically proven to help improve hand function in stroke patients — in as little as 2 weeks.
And that's a wrap! We hope you find these hand exercises helpful during your recovery.