Following a stroke, survivors experience a wide range of secondary effects. These secondary effects depend on the type of stroke (ischemic or hemorrhagic), the area of the brain affected, and stroke severity.
If important motor areas of the brain such as the motor cortex are involved, this can result in weakness of at least one leg due to hemiparesis or hemiplegia. This resulting weakness can be frustrating for survivors as daily activities can become difficult, leading to decreased function or independence.
However, there is always hope for improvement following stroke. Your doctor and rehab team will help you create a rehabilitation plan to address your needs and promote recovery. In addition to medical management, your rehab plan will likely include a combination of therapies such as physical therapy, occupational therapy, and speech therapy.  
To help encourage you and motivate you to pursue recovery, we have created this article to guide you through some leg exercises for stroke patients. These exercises focus on range of motion and light strengthening to help boost recovery.
You'll find something for all ability levels here. Whether you're trying to improve your gait (manner of walking) or balance, you can benefit from these rehab exercises. While this article focuses primarily on leg exercises, this can be a great starting point for those searching for post-stroke exercises.
Video: Leg Exercises for Stroke Patients with PT Liliana
In this video, physical therapist Liliana guides you through some great leg exercises to help address range of motion or mobility after stroke. Maintaining good range of motion in your joints can help manage stroke-related pain, improve circulation, and help you avoid complications such as joint contractures after stroke.
10 Physical Therapy Leg Exercises for Stroke Patients
Exercising with high repetition (i.e. massed practice) is the best method for motor recovery after stroke. As you're designing your home therapy regimen, be sure to focus on high repetition and consistency. These are the keys to stroke recovery.
After you have performed range of motion exercises to promote increased mobility (such as the ones in the video) you can continue with light strengthening exercises. The rest of this article contains more leg exercises for stroke patients from Liliana, DPT, as well as additional exercises from the Flint team.
For these exercises, try performing 2-3 sets of 10 repetitions as a starting point. As you become stronger, you may notice that you can increase the number of sets and repetitions you can perform. As always, consult your own rehab team to determine if these exercises are appropriate for you.
1. Seated Marching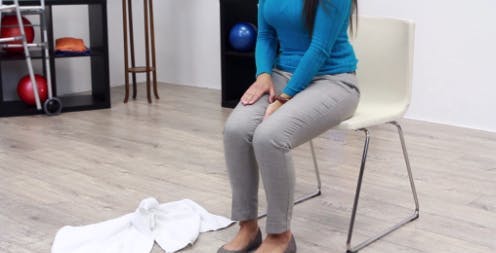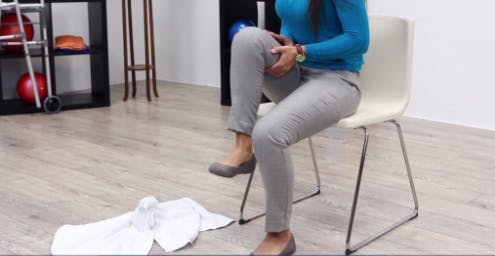 The first leg exercise for stroke patients is seated marching. Start from a seated position and lift your affected leg up into your chest. Then place your leg back down onto the floor. Keep your back straight and maintain controlled movement.
Repeat on the other leg, alternating marching your legs up and down. If needed, use your unaffected arm to help lift the leg and control lowering back to the floor. As you become stronger, try using less help from your arm. When you're ready, you can also add resistance by lightly pushing down on your quads (thighs) with your arms when your leg is at the top.
2. Knee Extension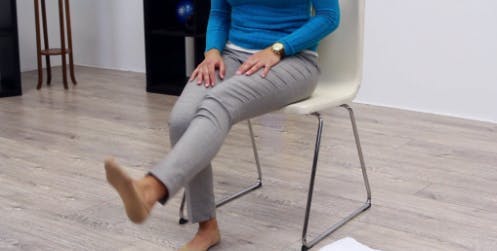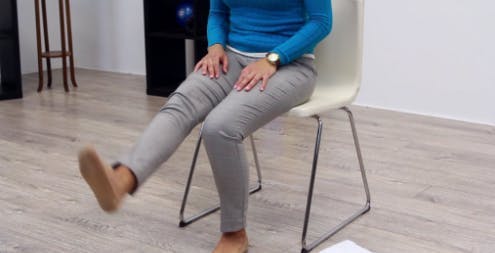 This is a more advanced leg exercise for stroke patients and it requires significant mobility in your leg. If you can't do this movement at first, don't be discouraged. Even attempting part of the motion can be beneficial and is a great place to start.
Begin the exercise from a seated position. Extend your left leg out, straightening your knee until your leg is parallel to the floor. Then, slowly bring your foot back down to the floor by allowing your knee to bend in a slow, controlled manner.
Then repeat with your right leg, alternating back and forth between your right and left legs. As you become stronger, you can add an ankle weight to increase resistance during this exercise.
3. Hip Internal and External Rotations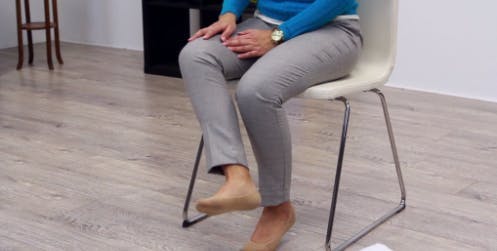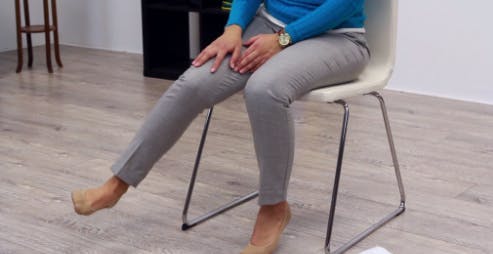 For this leg exercise, sit in a chair and lift your affected leg slightly off the floor. Your knee should remain bent at 90 degrees, but your foot should hover over the floor.
With your leg slightly lifted, rotate your knee in and your foot out, like you're kicking a ball out to the side. Then, bring your knee out and your foot in toward your midline. Repeat back and forth while maintaining the 90-degree bend at your knee.
Progressive Leg Exercises for Stroke Patients
The leg exercises above can help stroke patients of all ability levels work on range of motion and light strengthening. Next, the following exercises will focus on progressive leg strengthening, coordination, and weightbearing.
These exercises can be scaled up or down to meet your needs and help you work toward recovery. For example, you may need the assistance of your arms at first but then be able to progress to active leg movement without assistance. Above all, it is important to make sure you are performing these exercises in a safe location and with assistance if needed.
4. Seated Clamshell
You may have heard of a clamshell exercise before, but this seated version is a great starting leg exercise for stroke patients. Specifically, this exercise helps strengthen the hip muscles.
Start by sitting in the chair with your feet and knees together. Keeping your feet together, press out with both knees like you are opening a clamshell. Then, bring your knees back together as if you are closing the clamshell. If this exercise becomes too easy, you can add resistance to this exercise by placing an exercise band around your knees.
5. Inner Thigh Squeezes
This is a strengthening exercise for the legs, specifically for your adductor muscles (inner thighs). With your feet on the floor, make two fists with your hands and place them side by side between your knees. Then, squeeze your knees and fists together and hold the squeeze for 5 seconds, or as long as you can.
Resistance training such as this can help reverse muscle atrophy after stroke and improve strength during your daily activities. If squeezing your hands is uncomfortable or too challenging, try modifying the exercise slightly. Instead of your hands, you can place a folded pillow, rubber ball, or rolled-up towel between your knees to make this more comfortable.
6. 'L' Taps
This leg exercise involves complex coordinated movements. Practicing these types of exercises provides stimulation to help rewire the brain and improve movement after stroke. Start slowly, but feel free to increase your speed as you learn the pattern or need more of a challenge.
Start in a comfortable seated position with your feet below your knees. First, bring your right foot out to your 3 o'clock position and tap your foot.
Then, bring it back to center and move it up to your 12 o'clock position and tap, returning to center after. This will make an "L" shape. Repeat on the other leg, tapping at the 9 o'clock and 12 o'clock positions.
7. Heel Raises
The plantar flexors (calf muscles) make up another muscle group that is important to target with leg exercises after stroke. One way to work these muscles is to perform heel raises, which can be performed in sitting.
Start with your feet on the floor and knees bent at 90 degrees. Slowly lift your heels from the floor, raising up onto your toes, then slowly lower your heels back to the floor. To add resistance, you can apply pressure to your knees with your arms as if you are trying to prevent your heels from raising.
Additionally, this exercise can be performed in standing for an increased strength and balance challenge. Make sure you perform this exercise while holding on to a tall countertop or railing if performing in the standing position. Then lift your heels up to stand on your "tippy toes" and lower slowly back to the floor.
8. Hamstring Curl
The hamstrings are a very important muscle group as they play a valuable role in many activities. This includes gait (walking), transferring between surfaces, and activities like getting in and out of bed. The hamstring curl can be performed in both sitting and standing to help strengthen these muscles.
In sitting, place your feet on the floor. If you are on a tile or wood floor, it can be helpful to wear a sock to allow your foot to slide. If on carpet, try placing your foot on a paper plate or in a plastic bag.
Slide one heel forward to straighten your knee, then pull your foot back to the starting position. Repeat with the other side, focusing on slow, controlled movement. You can add resistance to this exercise by tying a resistance band in a loop around your ankle and a stationary object in your home. This provides resistance as you curl your leg backward using your hamstring muscles.
This exercise can also be performed while standing at a tall countertop or railing. While holding on to the elevated surface with your arms, pick one foot up off the floor and lift it toward your bottom. Then slowly release your leg back to the floor and repeat with the opposite leg.
9. Mini Squat
This is an advanced strengthening exercise performed in the standing position. Stroke patients with limited mobility should exercise caution. To improve your safety, try practicing in front of a table, railing, or countertop that you can hold for support.
Start with your feet hip-distance apart and secure yourself in a strong stance. Then, reach your hips back and bend your knees as if you are beginning to sit down, but stop halfway and return to standing. If it is helpful to visualize the motion or makes you feel more secure, you can perform this with an actual chair behind you.
Throughout the exercise, focus on controlling the motion and think about squeezing your glutes (butt muscles) as you return to standing. You may feel a slight burn in your glutes or quadriceps. This means you're breaking down your leg muscles before your body builds them back up, stronger than before.
10. Hamstring Stretch
Spasticity can make it difficult to stretch your leg muscles, but don't neglect stretching exercises. Moving your muscles through their range of motion can help improve spasticity, avoid muscle contractures, and decrease discomfort.
To stretch your hamstrings in sitting, extend one leg out in front of you by straightening your knee and placing your weight on your heel. Then, keeping your chest up tall, reach forward toward your toes while staying seated in your chair.
Make sure to bend at your hips and not at your low back. As long as there is no pain, hold the stretch for 20-30 seconds and then come up slowly before switching sides.
Improving Daily Function Using Stroke Exercises for Legs
As you practice these exercises after stroke, the coordination and mobility in your legs should improve. Additionally, you will likely begin to notice improvement in your overall leg strength. Leg exercises are so important for survivors of stroke to help improve overall function and independence with daily activities.
If you want to improve your gait (walking), be sure to add rehab exercises that target your core, too. Core exercises help improve your balance so that you can get back on your feet with confidence. Also, if foot drop is making walking difficult, there are specific foot drop exercises and other interventions, such as electrical stimulation, to help address this.
When it's safe to do so, you can continue to improve your gait by practicing walking. In fact, the best way to improve your ability to walk is to practice walking! Your therapy team will be able to provide you with guidance on how to best promote your return to walking after stroke based on your specific needs.
Overall, the most important piece of your rehab program is consistency. Practicing your daily exercises will boost your recovery and promote a faster return to the activities you love. Some rehab tools, like FitMi home therapy, help you exercise your legs more efficiently so that you can see results faster. Many stroke patients have returned to walking and driving after using FitMi.
Whether you are in the early stages of stroke recovery or your stroke was years ago, there is always hope for improvement. We hope these leg exercises for stroke patients can help encourage you along your rehabilitation journey.