Occupational therapy plays an essential role in rehabilitation after traumatic brain injury. Not only does it teach individuals how to be as functional as possible, but it also encourages them to be open-minded to adjustments. This is crucial for adapting to life after TBI and ensuring a smooth transition back to everyday activities.
To help you understand the purpose of occupational therapy for brain injury recovery, this article will discuss:
Goals of Occupational Therapy for Brain Injury Recovery
The primary goal of occupational therapy for brain injury rehabilitation is to help individuals regain functional independent living skills.
A TBI can affect a variety of physical, cognitive, and psychological functions such as memory, emotional regulation, movement, and sensory processing. An occupational therapist will assess your functional abilities and create a personalized rehabilitation regimen to help you regain or compensate for these skills.
While physical therapists mainly focus on teaching a person how to rebuild their physical strength after an injury, occupational therapists take a more practical and holistic approach. They look at what skills the patient needs to live independently and invent creative ways to help the person accomplish that goal.
Some occupational therapists prefer to work in real-life settings with their patients such as the person's home, bank, mall, or any other place where the person needs to practice skills to regain competence and become independent. When this is not possible, occupational therapists will use clinical settings to create simulated environments (i.e., using a kitchen or laundry room in a clinic to practice these home management skills).
Areas that an occupational therapist can help individuals with TBI improve include:
Self-care
Home management
Recreation
Social skills
Cognitive functioning
Community re-entry skills (shopping, returning to work or school, driving, etc.)
In the following section, we'll discuss the various ways occupational therapists can help promote functional independence after TBI.
Benefits of Occupational Therapy for Brain Injury
Because occupational therapy often focuses on improving the skills individuals use on a daily basis, it offers many practical benefits for brain injury patients.
Below are some skills that occupational therapists most commonly address.
1. Coping Skills
Some of the most difficult secondary effects of brain injury to overcome are the emotional and behavioral problems that often accompany them.
These issues make it hard for TBI survivors to handle frustration and disappointment in a healthy manner, which unfortunately can negatively impact their relationships and even prevent them from finding and keeping a job.
The good news is occupational therapy addresses these problems and teaches brain injury survivors effective coping methods. In fact, some occupational therapists are specially trained in cognitive-behavioral therapy or behavior management strategies, and can help the person and their family members learn how to handle emotional outbursts before they escalate.
This training is crucial for enabling patients with TBI to successfully reintegrate back into their community after injury.
2. Independent Living Skills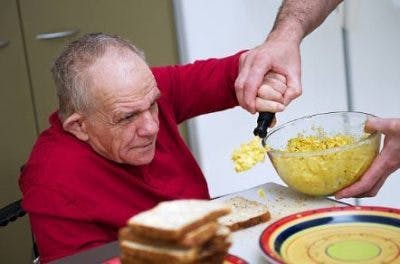 Another area that occupational therapists address is independent living skills.
There are two main categories of independent living skills that OTs will focus on: basic activities of daily living (typically just referred to as ADLs) and instrumental activities of daily living (IADLs).
According to the Occupational Therapy Practice Framework, the basic ADLs encompass the essential activities that are oriented towards taking care of one's own body/well-being. These include:
Eating
Grooming/Hygiene
Bathing
Dressing
Toileting
Functional Mobility (getting from place to place while performing ADL)
Sexual activity
The instrumental ADLs involve higher cognitive processes. They allow a person to be more completely independent. Some examples of IADLs are:
Financial management
Housekeeping
Meal prep
Medication management
Occupational therapists help individuals practice these skills and hopefully regain them. While working on these skills, the therapist will brainstorm ways to adapt them to the person's ability, or even train family members or caregivers to assist the patient with these tasks if necessary.
3. Memory Skills
Memory is another ability that may be impacted by traumatic brain injury. Without the ability to remember important information, such as when to take medication or how long to leave the stove on, it's difficult for the person to safely live on their own.
To address this problem, occupational therapists may teach patients with brain injuries different exercises that improve short-term memory. The more the person exercises their memory, the better their recall skills become.
Therapists may also introduce compensatory tactics such as daily planners, checklists, and other tricks that help people remember. While these techniques won't help the person regain their memory, they will help them function more efficiently until they can improve their skills.
4. Cognitive Skills
Besides memory, occupational therapists can help brain injury survivors improve several other cognitive skills such as attention, visual perception, problem-solving, and executive functions.
These skills are crucial for helping individuals live independently, which is why a significant part of occupational therapy is devoted to improving them.
To improve cognitive skills after brain injury, an occupational therapist may have brain injury patients consistently practice cognitive rehabilitation exercises to stimulate adaptive changes in the brain.
5. Social Skills
Occupational therapy can also involve teaching individuals with TBI important social skills that might have been lost or altered after their injury, such as:
How to begin and end a conversation
How to react to good or bad news
Letting the other person finish their sentences
Non-verbal communication
Therapy either takes place in a group setting or one-on-one. Patients are taught how to react to certain social situations and are given the opportunity to practice interactions in a safe environment.
6. Vocational Rehabilitation
Occupational therapy can help brain injury survivors prepare to return to work or school.
For example, an occupational therapist may help you determine whether it is safe or realistic for you to return to work or how to manage fatigue and pace yourself throughout the workday.
Additionally, an occupational therapist may educate you on disability rights in the workplace or at school. The Americans with Disabilities Act and the Individuals with Disabilities Education Act require employers and educational institutions to make reasonable accommodations to help individuals with disabilities succeed.
Examples of reasonable accommodations include:
Making sure the workplace is wheelchair-accessible
Permitting a more flexible schedule
Providing an accessible parking spot
Supplying adaptive equipment
Allowing extra time on assignments/exams
If it is not realistic for you to return to your job after TBI, your occupational therapist can provide suggestions for other potential opportunities.
7. Driving Rehabilitation
As driving is an essential portion of many individuals' lives, this is an area that occupational therapists often address. Some occupational therapists specialize in driving rehabilitation and may even work at a clinic specifically designed to help individuals return to driving.
Driving rehabilitation may include driving simulations, recommending car adaptations, and practicing the cognitive and physical skills required to drive.
For individuals who are unable to return to driving or did not drive regularly even before their brain injury, occupational therapists are also able to address skills regarding community mobility and navigation, such as how to use a map, pedestrian safety, and how to utilize a bus or train station.
Now that you understand the various ways occupational therapy can prepare individuals for life after TBI, let's discuss the techniques used.
Occupational Therapy Techniques for TBI Rehabilitation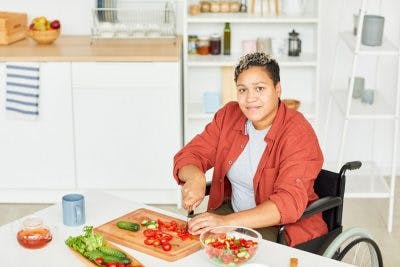 Depending on the severity of an individual's brain injury and what secondary effects they experience, an occupational therapist will recommend various rehabilitation techniques. Generally, these can be divided into restorative and compensatory strategies.
Restorative techniques help you relearn how to perform an activity the way you did before your brain injury. This often involves working on regaining lost or altered skills.
In contrast, compensatory tactics provide an alternative way of performing a task that is not yet possible due to TBI. This may involve learning how to use adaptive tools and installing home modifications.
When possible, occupational therapists prefer to teach patients restorative techniques because they require more active effort from the individual, with less reliance on a device. However, there are plenty of scenarios where compensatory techniques need to be used, and they can still advance a person towards independence.
By utilizing both restorative techniques and compensatory tactics, TBI survivors can optimize their independence and significantly improve their quality of life.
Is Occupational Therapy an Effective Treatment for TBI?
Occupational therapy is an effective form of rehabilitation for individuals with traumatic brain injuries because it promotes neuroplasticity.
Neuroplasticity is the brain's ability to make adaptive changes based on our behaviors. As a result, the most effective way to improve functions affected by TBI is to consistently practice them. This will stimulate the brain and promote the reorganization of its neural circuitry.
Occupational therapy activities are effective because they are task-specific and focus on repetitive stimulation.
Every function and movement you perform activates a unique set of neural pathways in the brain. By continuously practicing the exact tasks you need to improve, you're directly reinforcing demand for those specific functions. The more you practice, the more the brain adapts and strengthens these new connections.
Occupational Therapy for Brain Injury: Key Points
Occupational therapists are experts at identifying what skills a patient needs to relearn to live independently. They are out-of-the-box thinkers who can come up with creative ways to help patients regain abilities and improve their quality of life.
Therefore, if you want to maximize your independence after brain injury, make sure to participate in occupational therapy.