After a traumatic brain injury, survivors may need extra help performing their activities of daily living. Fortunately, there is a wide variety of adaptive equipment for traumatic brain injury recovery available to assist with mobility and cognitive deficits.
In this article we'll discuss some of the best physical and cognitive equipment to help carry out essential tasks. We will also discuss why survivors should be mindful not to become too dependent on them to promote their best recovery.
Adaptive Equipment for Traumatic Brain Injury Survivors with Physical Limitations
Following a TBI, the areas of the brain responsible for voluntary motor control can become damaged which may lead to muscle weakness, limited mobility, and decreased coordination. While survivors work on improving mobility through physical and occupational therapy, adaptive equipment can help individuals compensate for their deficits and complete daily tasks more independently.
The following are therapist-approved devices that can help TBI survivors increase independence and improve quality of life.
1. Mobility Devices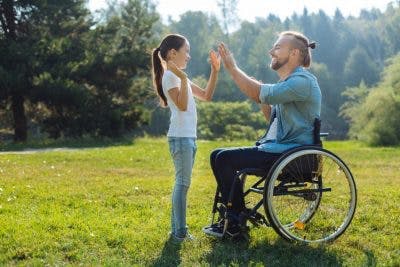 Scooters, wheelchairs, walkers, and canes are all helpful pieces of adaptive equipment that can help you get where you want to go. The key is to find the right balance between assistance and dependence.
For example, if you have a bit of leg strength but struggle with balance, a walker or a cane would be the best option. If you don't have control of your legs but still have use of your arms, a manual wheelchair is a great option. Your occupational therapist is a great resource for recommendations on suitable wheelchairs for your needs.
Additionally, you may find you need different equipment depending on the situation. For example, even if you can typically move around safely using a cane, you may find that you require something more supportive, like a walker, when outdoors or on uneven surfaces. Physical therapists are experts at introducing and training you to use less supportive mobility devices as you pursue recovery.
2. Devices for Eating and Meal Preparation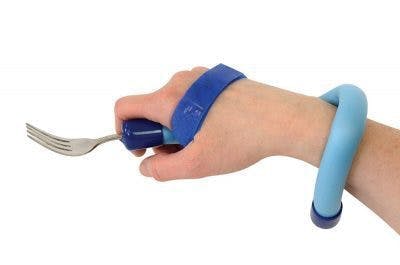 If you experience difficulty with fine motor coordination or gripping small objects, try using adaptive utensils, such as forks with bendable foam handles, to help you eat. You can mold the foam around your wrist to keep a good grip.
You can even use angled spoons and forks to help you get food to your mouth without bending your wrist. If TBI has affected your ability to swallow, it is imperative to work with a speech therapist to get the proper treatment.
Other devices, such as adaptive cutting boards and rocker knives, are available to make cooking more doable.
Find adaptive utensils on Amazon »
3. Adaptive Clothing Aids
Re-learning daily tasks, such as how to get dressed, is an essential part of TBI recovery. As such, there are plenty of adaptive options that can make practicing these tasks easier.
Long-handled shoe horns, pant hooks, or sock-aids: can help you put on your pants, shoes, and socks with more ease and without having to bend over.
Velcro shoes, elastic lace shoes, or shoes with zippers: can make it easier to put on your shoes. Though previously hard to find, Zappos recently added an entire adaptive shoe line to assist individuals experiencing limited mobility.
Shirts or pants with magnetic buttons: can provide a simpler and more efficient way of dressing.
Reachers: can help you firmly grasp and pick up your clothing off the floor.
It's important to remember that these are shortcuts that should not be overly relied upon. Doing activities such as tying your shoes can provide a great form of hand therapy. However, sometimes it's not always feasible to spend the extra time, which is where adaptive equipment can help.
Shop dressing aid sets on Amazon »
4. Aids for Showering and Bathing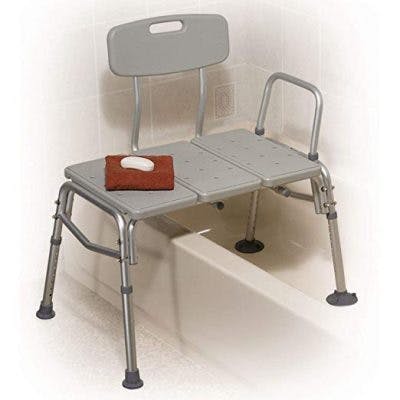 Bathing and showering are other essential activities of daily living. To prevent further injury from these activities such as slipping or falling, a shower bench or seat like the one pictured above is highly recommended.
You might also consider adding a handheld showerhead to make it easier to wash your body thoroughly. For harder to reach areas like your back and feet, bath mitts and long-handled sponges are the most simple, and cost-effective tools to use.
Find shower benches on Amazon »
5. Adaptive Beds
TBI survivors also run the risk of developing bed sores (pressure ulcers) due to metabolic changes, loss of bladder control, and immobility. To lower the risk of bed sores, adaptive beds and specialized mattresses have been made readily available. 
These adaptive beds have the flexibility to inflate or deflate to support certain parts of your body and they can even roll you onto your side or back. Other advanced beds may provide more features such as helping you sit up and get out of bed all on your own.
Adaptive Equipment for Traumatic Brain Injury Survivors with Cognitive Difficulties
Adaptive equipment for traumatic brain injury is not only beneficial for physical activities affected by TBI, but cognitive activities as well. The following are a few tools and tactics you can use to compensate for impaired memory and other cognitive problems you might experience after brain injury. We recommend using these tactics alongside a cognitive rehabilitation regimen, too. 
6. Labels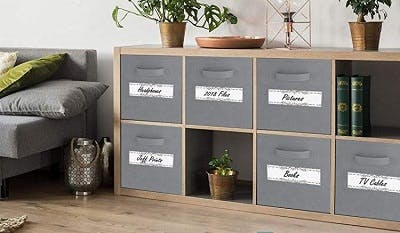 After a TBI, individuals might forget key details from a conversation, lose track of time, or be unable to retrace a route they took. To help combat memory problems and make it easier for you to navigate your home, try using labels to identify key items.
For instance, you could label bedroom drawers, kitchen cupboards, and bathroom cabinets with the items inside them. This will allow you to find what you need faster and help you recall where the items are for the next time you need them.
7. Checklists
Another method to train your brain to recall information is creating checklists. Starting with a simple checklist, like a chore to-do list, will help you keep track of your daily activities while simultaneously exercising your cognitive abilities.
While hand-written notes are usually recommended, there are plenty of helpful apps for brain injury survivors, some of which you can use to create checklists in your smartphone.
8. Recording Devices
If you want to practice cognitive skills but are unable to write down information, try using recording devices like the one in your smartphone. Listening to the audio can help you remember important dates such as birthdays, doctor appointments, and any other information you need.
Alternatively, you can try using a speech-to-text option, such as voice typing under the "tools" menu on Google docs, to verbally make checklists or keep track of important information.
9. Pill Sorters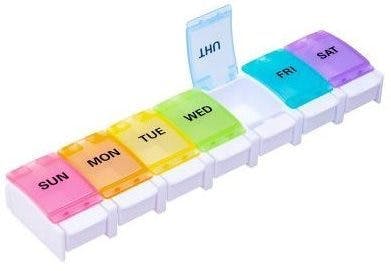 Some traumatic brain injury survivors are placed on medication after their injury for various reasons. It's important to stay on top of your medication to prevent a harmful mix up. This is where pill sorters can help.
Most are divided into morning and evening slots, with each day of the week labeled on top. This can prevent you from taking medication at the wrong time of day. Setting additional reminders on your smartphone is also a great way to make sure you never accidentally miss a dose.
Benefits and Drawbacks of Adaptive Equipment for Traumatic Brain Injury
Adaptive equipment is what therapists call a compensatory tactic, which teaches you how to compensate for lost motor function. Occupational therapists tend to be most knowledgeable on which compensatory tactics are available.
However, relying solely on compensatory tactics during your recovery may cause you to plateau or even lose more function. To prevent that from happening, occupational therapists recommend incorporating restorative techniques into your recovery program.
Restorative techniques teach you how to regain lost function, not just how to adapt. For example, while a walker is a compensation technique for walking, a restorative technique would involve physical therapy exercises for the legs and full-body.
The more you practice doing an activity, the more your brain will rewire itself in response. With enough time and dedication, you can recover affected skills.
Getting the Best Equipment for Your TBI Recovery
Adaptive equipment for TBI recovery can greatly improve your quality of life and boost your independence. It is an important first step toward recovery, but do not stop there.
The ultimate goal of brain injury rehabilitation is to regain as much function as possible. Even if you require assistance at first, continue to challenge yourself with restorative techniques.
With consistent practice, you may reach a point in which you do not need any adaptive equipment at all.