There is a wide variety of adaptive equipment available for patients after a traumatic brain injury (TBI) that can increase independence and improve quality of life.
In today's article, we'll show some of the best devices and compensation techniques that will help you adapt to life with a brain injury.
Let's get started.
Adaptive Equipment for Traumatic Brain Injury Patients with Physical Limitations
The following are some devices that can help TBI survivors with mobility problems and muscle weakness.
1. Mobility Devices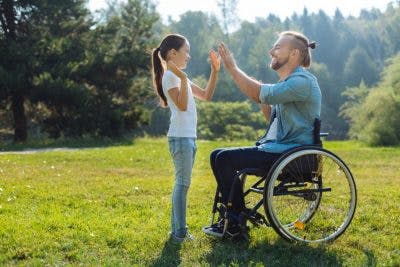 Scooters, wheelchairs, walkers, and canes are all tools you can use to help you get where you want to go.
If you still have decent trunk and leg strength but struggle with balance, a walker or a cane is your best option.
If you don't have control of your legs but still have use of your arms, a manual wheelchair is the way to go.
The key is to find the right balance between assistance and dependence.
For example, if you can still walk after your injury, but you choose to use a wheelchair, you run the risk of muscle atrophy and learned non-use.
2. Devices for Eating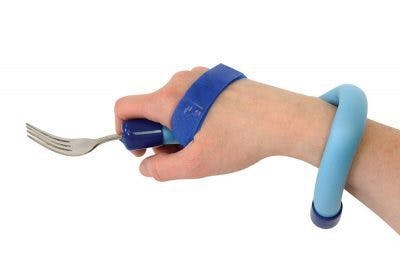 If you experience difficulty gripping small objects, then try adaptive utensils to help you eat, such as forks with bendable foam handles. Just mold the foam around your wrist to keep a good grip.
You can even use angled spoons and forks to help you get food to your mouth without bending your wrist.
However, before using adaptive equipment to help you eat, occupational therapists recommend you adjust your eating position.
Keep your hips, knees, and ankles at a 90 degree angle, while sitting as close to the table as possible. This will prevent food from falling into your lap and can minimize the risk of choking.
Find adaptive utensils on Amazon »
3. Adaptive Clothing Aids
There are plenty of adaptive options that can help people with physical and cognitive limitations learn to get dressed again.
For example, a long-handled shoehorn and sock-aid can help you put on your shoes without having to bend over. A reacher can also help you grasp and pick up your clothing from the floor.
For a good demonstration of how to use all these items, check out the video below:
If you have difficulty tying shoelaces, you can try using Velcro-lace shoes or shoes with zippers. In the same way, there are shirts and pants with magnet buttons that make putting on and taking off your clothes much simpler.
These items used to be hard to find, but recently Zappos added an entire adaptive shoe line that makes it easier to shop as a person with a disability.
Aids for Showering and Bathing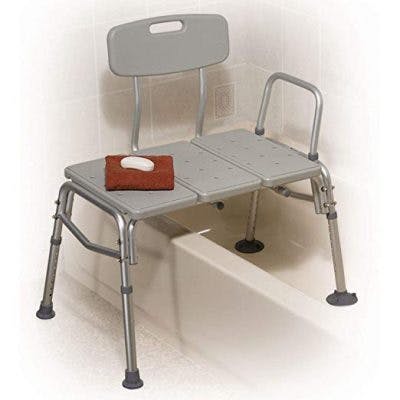 A shower bench or seat like the one pictured above is a perfect tool to allow you to bathe yourself without falling or slipping.
You might also consider adding a shower hose with a handheld showerhead. This makes it easier to wash your body thoroughly.
Finally, bath mitts and long-handled sponges are cheap but effective tools that can help you soap up hard to reach areas such as your back and feet.
Find shower benches on Amazon »
4. Adaptive Beds
To help you avoid bedsores, adaptive beds are available. These beds can inflate or deflate on certain parts of your body, and roll you onto your side or back. Some can even help you sit up and get out of bed on your own.
Here's a video demonstration of an adaptive bed to give you an idea of what they can do:
Adaptive Equipment for Traumatic Brain Injury Patients with Cognitive Difficulties
Brain injury doesn't only affect your movement and strength. Sometimes you might also need assistance with cognitive activities.
The following are a few tactics and tools you can use to compensate for memory loss and other cognitive problems you might experience after brain injury.
5. Labels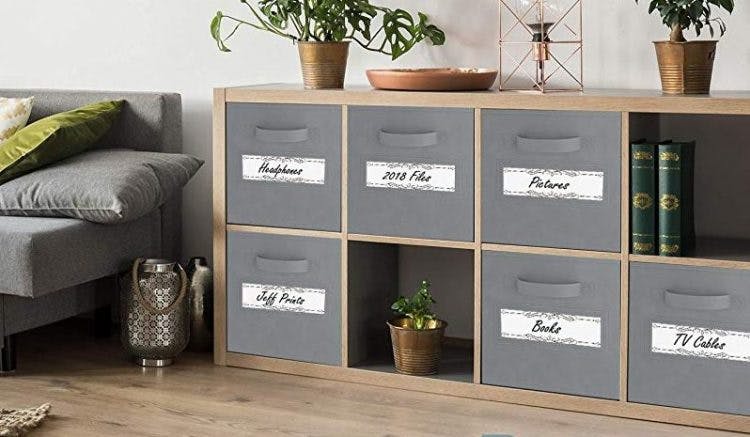 To help combat memory problems after TBI and make it easier for you to navigate your home, try using labels to identify key items.
For example, you could label bedroom drawers, kitchen cupboards, and bathroom cabinets with the items inside them. This allows you to find what you need faster.
You can also label light switches throughout your home so you will remember what each one does.
6. Checklists
In addition, you can place whiteboard checklists in several rooms of the house to keep track of all your chores and appointments throughout the day.
If you have a smartphone, you can also use reminder apps for brain injury patients.
7. Memory Station
If you have trouble remembering what you need when you leave the house, hang a note on the door with a list of all those items. Or create a "memory station" with all your most essential items in a place you can easily find.
This will prevent you from becoming overwhelmed and frustrated with memory loss and will increase your independence.
8. Recording Devices
If you ever want to remember something, but can't write it down, use recording devices. These can help you remember important dates such as birthdays and doctor appointments, and whatever else you need.
For TBI survivors still in school, there are devices such as SmartPens that record audio as you write. This will ensure you aren't missing any critical info.
Just make sure you talk to your professor before using it.
9. Pill Sorters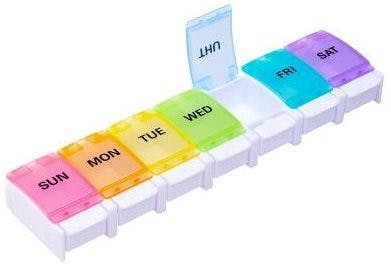 It's hard to keep track of all the medications you must take after brain injury. Unfortunately, mixing them up can be harmful to your health.
That's why it's crucial to use a pill sorter. Most pill sorters are divided into morning and evening slots for each day of the week. This can prevent you from taking a medication at the wrong time of day.
You should also set reminders on your phone to make sure you never accidentally miss a dose.
Benefits and Drawbacks of Adaptive Equipment for Traumatic Brain Injury
Adaptive equipment can greatly improve your quality of life and boost your independence. But as with everything, it has a downside.
Adaptive equipment is what physical therapists call a compensatory tactic. It teaches you how to compensate for lost function, which is great at the beginning of recovery.
Unfortunately, if you rely on compensatory tactics too often, you end up losing more function.
That's why occupational therapists recommend you incorporate restorative techniques into your recovery program.
Restorative techniques teach you how to regain lost function, and not simply adapt. The more you practice doing an activity the right way, the more your brain will rewire itself in response.
With enough time and dedication, you can recover that skill.
Equipment and TBI Recovery
Adaptive equipment can be an important first step toward recovery. But you should not simply stop there.
The ultimate goal of brain injury rehabilitation is to regain as much function as possible. Even if you need assistance at first, continue challenging yourself through restorative techniques.
Eventually, you might even reach the point where you won't need adaptive equipment at all.
Just keep your eye on the prize, and we know you'll get there.