Depending on the location and severity of one's traumatic brain injury (TBI), individuals may experience a wide variety of secondary effects. Because no two brain injuries are exactly the same, each person experiences TBI and its effects differently.
To help you understand what to expect following a TBI, this article will go over some of the most common secondary effects.
Secondary Effects of Traumatic Brain Injury
Secondary effects of TBI refer to conditions that occur as a result of the initial brain injury. Some complications may not develop until several months later while others will be present immediately.
Fortunately, many of these effects are treatable, especially if you can catch them early. That's why it's essential for you and even your close family members and friends to be aware of potential complications that may arise after a TBI and keep an eye out for early signs of them.
Below, we'll discuss the various secondary effects that may occur after TBI. All the links in this post contain in-depth information on each secondary effect of TBI.
Physical Effects
The primary motor cortex controls most intentional physical movements. Therefore, some of the most common effects of traumatic brain injury affecting this area are mobility impairments and specific movement disorders.
Motor impairments after TBI occur because motor signals from the brain cannot reach the muscles. As a result, individuals may not be able to control the contraction and relaxation of their muscles or coordinate their movements.
Some of these mobility-related complications of traumatic brain injury include:
Cognitive & Perceptual Effects
There are multiple possible cognitive effects of TBI. These most often occur after a frontal lobe injury, which affects a person's ability to process information. Additionally, a TBI can affect our perceptual-cognitive skills as well.
Cognitive and perceptual impairments significantly affect the way individuals interact with and make sense of their surrounding environment. As a result, they can affect one's relationships, career, and overall recovery. Fortunately, with the right interventions (which will be explained later in this article), individuals often learn how to overcome cognitive and perceptual changes.
The following are the most common cognitive and perceptual effects of traumatic brain injury:
Emotional Effects
Besides cognitive effects, traumatic brain injury can cause a person to experience emotional changes. Some of these are a result of direct damage to the emotional center of the brain. Others are caused by a combination of circumstances related to brain injury.
Adjusting to life after TBI can be overwhelming and stressful, which can cause individuals to feel a wide range of emotions. Generally, emotional effects that are not associated with damage to the emotional center of the brain are most severe immediately after the injury. As time passes and individuals learn more effective ways to cope and adjust, emotional sensitivity often stabilizes.
Below are a few of the most common emotional effects of brain injury:
Sensory Effects
Lastly, traumatic brain injury can cause a variety of sensory perceptual changes. These typically occur after damage to the parietal and temporal lobes.
Often, there's nothing wrong with the eyes, mouth, nose, skin, or ears themselves. Rather, sensory perceptual changes are caused by the brain's inability to process information sent from these parts of the body. This alters how sensory input is perceived. Treatment may involve training the brain to better process the information through repetitive stimulation or learning adaptive tactics to compensate for lost senses.
The following are the most common sensory perceptual effects of brain injury:
Learning how a TBI may affect the body is a critical first step. It's also important to understand how treatment works, which you'll learn next.
Treatment of TBI Secondary Effects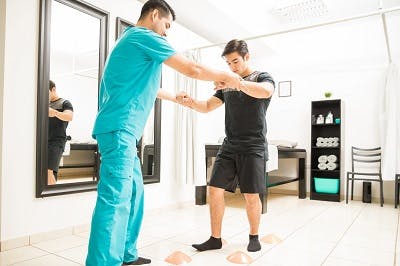 Because every individual experiences traumatic brain injury and its secondary effects differently, a personalized approach to treatment is essential.
By working with a team of medical specialists you can learn how to better manage your specific complications. To treat secondary effects of TBI, individuals may work with various healthcare professionals, including:
physical therapists
occupational therapists
speech-language pathologists
psychotherapists
neurologists
Therapists will focus on engaging your brain's natural healing mechanism (neuroplasticity) to repair lost neural connections and restore as much function as possible.
Consistently practicing any skill affected by TBI helps reinforce demand for those functions. For example, if you want to improve your speech, you must consistently practice speech therapy exercises. Likewise, if you want to improve your memory, you should practice activities that test your memory. Task-specific training is essential for promoting adaptive changes in the brain.
Ultimately, there is no universal treatment for TBI or its secondary effects. Rather, each secondary effect must be addressed separately.
Understanding Secondary Effects of TBI
TBI is a serious medical condition that can cause life-changing secondary effects. Fortunately, many of these secondary effects can be effectively managed and improved.
We hope this guide to the most common effects of traumatic brain injury empowers you to overcome the obstacles you may face after your injury. Good luck!
Featured Image: ©iStock/nortonrsx/Antonio_Diaz