Occupational therapy after spinal cord injury focuses on easing the transition back to everyday life. SCI patients can maximize their independence by practicing everyday activities and using adaptive equipment.
This article will share 11 occupational therapy activities that spinal cord injury patients can practice at home. But first, let's discuss the reason why occupational therapy is critical for all spinal cord injury patients.
Occupational Therapy Goals for Spinal Cord Injury
Occupational therapists work with patients on the activities that "occupy" their time and help them to participate in these activities as fully as possible. This involves learning what day-to-day activities are most important to patients and finding a way to increase their engagement in these activities.
Like physical therapy, occupational therapy may use task-specific, highly repetitive exercise to regain mobility. Repetition is critical because it helps spark neuroplasticity; the mechanism the central nervous system uses to rewire itself and regain function after injury.
Unlike physical therapy, however, occupational therapy takes a more holistic approach by using practical, activity-based techniques and exercises to improve one's ability to engage in daily life. For example, a patient might practice how to get out of bed or brush their teeth.
Occupational therapy applies both restorative and compensatory strategies to optimize independence and minimize complications after spinal cord injury.
Restorative strategies focus on recovering physical functions affected by spinal cord injury. While damage to the spinal cord is permanent, motor and sensory functions can be relearned because of the spinal cord's neuroplasticity.
However, only undamaged neural pathways are capable of neuroplasticity; therefore, those with more severe or complete spinal cord injuries may have limited functional recovery.
In such cases, an occupational therapist must get creative and employ compensatory strategies: new ways to accomplish everyday tasks. This may include modifying the environment, adapting the activity, or educating the patient on compensatory techniques and equipment. Up next, you'll discover almost a dozen compensatory strategies for SCI patients.
11 Compensatory Occupational Therapy Activities for Spinal Cord Injury Patients
Compensatory strategies typically involve the use of adaptive tools to help make up for lost function. While it's important for SCI patients to participate in both PT and OT, these compensatory activities have direct, real-world application, making them very important.
Below, we'll discuss effective compensatory strategies that spinal cord injury patients can learn to use through occupational therapy:
1. Eating with adaptive utensils and plate guards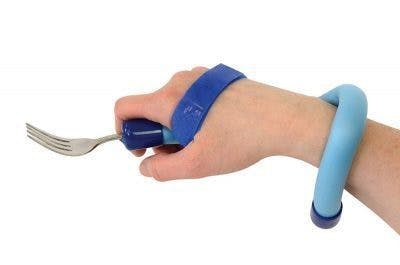 There are many variations of adaptive utensils for spinal cord injury patients with upper extremity motor impairments.
For example, some adaptive utensils can wrap around the forearm for those who cannot grip and others can have a bent handle for those who cannot twist or bend their wrists.
Similarly, individuals who have limited wrist control may benefit from using a plate guard, which creates a barrier around the plate to prevent spilling.
2. Grooming with universal cuffs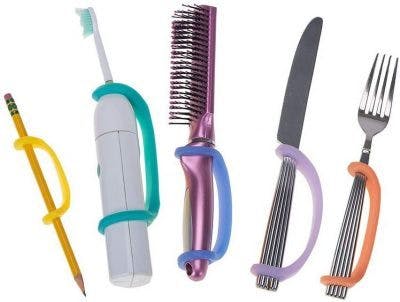 An occupational therapist may recommend using a universal cuff to spinal cord injury patients that struggle with gripping.
Items like hair brushes and toothbrushes can be attached to the universal cuff and then slipped onto the hand to avoid being dropped.
3. Managing incontinence with catheterization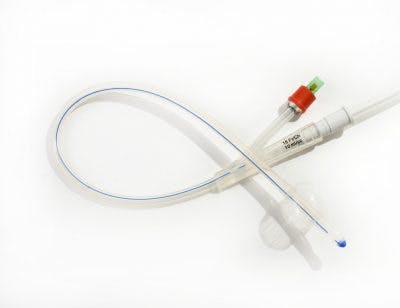 Another common complication of spinal cord injury is loss of control over the bladder muscles.
One way to manage urinary incontinence is through catheterization, which involves inserting a tube into the bladder to drain the urine.
This will help minimize the risk of leaking and prevent kidney damage due to urinary retention.
Depending on the patient's lifestyle and preferences, a catheter can be connected at all times or periodically administered. With education from an occupational therapist, many patients with spinal cord injuries are able to complete self-catheterization, greatly increasing their independence with toileting.
4. Using a raised toilet seat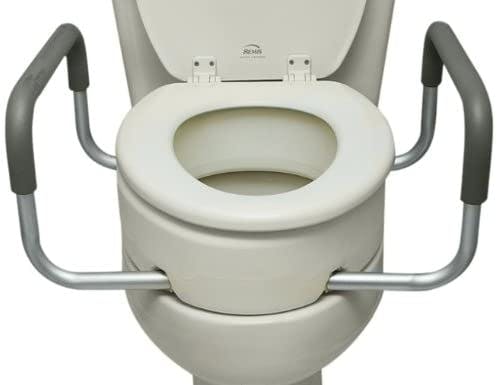 It can be difficult for spinal cord injury patients with limited lower body functions to perform transfers, especially when the seat is low.
A raised toilet seat may reduce the height difference between a patient's wheelchair and the toilet seat, making the seat easier to get on and off from, and can minimize pressure on the joints.
5. Getting dressed on a bed
Individuals with paralysis often find it easier to dress themselves in their beds instead of their wheelchairs.
Because of the large surface area of the mattress, individuals can move around without worrying about losing their balance or falling over. Once their clothes are on, they can always readjust them for comfort once they are sitting up.
6. Using a leg-lifter for easy transfers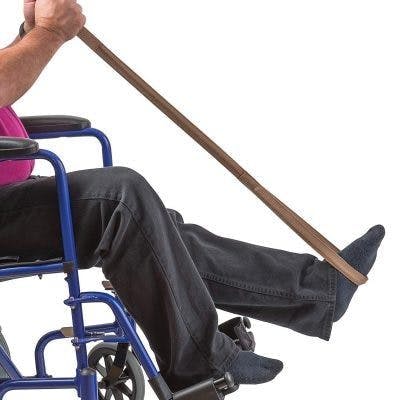 A leg-lifter allows patients to move their feet and legs to increase ease of transfers and repositioning following spinal cord injury.
By simply placing the foot inside the loop and pulling on the strap, patients who have good upper body strength can easily maneuver their legs.
7. Installing a stairlift to go up and down the stairs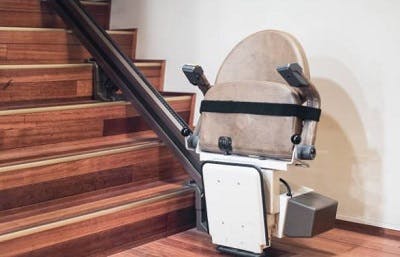 Stairs can be a major obstacle for individuals with lower body motor impairments.
An occupational therapist may recommend investing in a stair lift to help minimize the risk of falling and reduce the time it takes to go up and down the stairs.
8. Showering while seated, using a handheld showerhead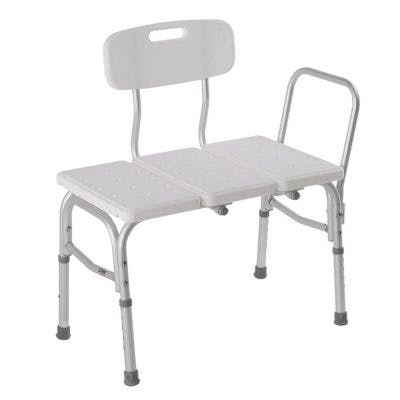 Spinal cord injury patients should use extra caution when showering by remaining seated, applying non-slip mats to the floor, and using a handheld showerhead to minimize the need to move around. Long handled sponges can also help patients wash their lower extremities safely, especially if they have decreased core strength.
Using a transfer bench can make it easier and safer for individuals to get in or out of the bathtub.
9. Using reachers to grab out-of-reach objects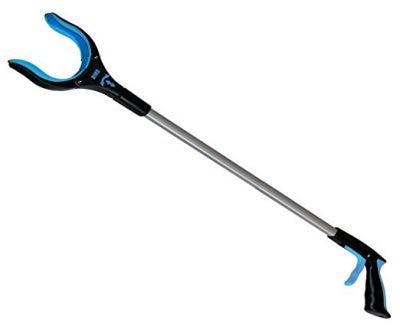 Individuals with poor trunk stability may find it difficult to sit upright and remain balanced, especially when reaching for items.
To minimize the risk of falling, an occupational therapist may recommend using a reacher as an extension of the arm. Reachers can also assist some individuals with getting their feet through their pant legs when getting dressed.
10. Installing grabs bars and rails for safe transfers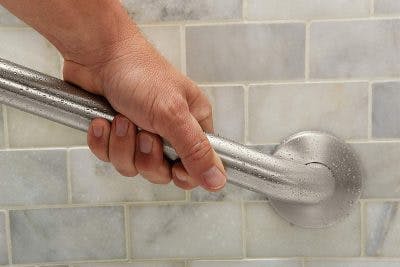 When performing transfers, it is essential to hold onto a stable surface.
Installing grab bars and rails at areas where transfers are commonly performed such as the bed, toilet, and bathtub can help prevent falling.
Although suction cup grab bars are readily available, these should be used with caution as the suction may not always hold, especially in an area with changing temperatures and humidity like the shower.
11. Installing car adaptations to drive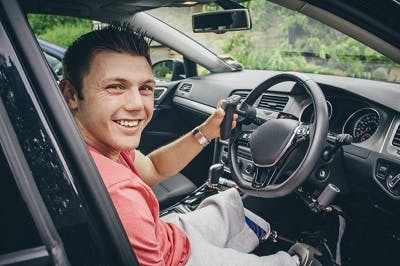 Car adaptations like hand controls and adjustable seating can enable individuals with spinal cord injuries to safely operate a car.
Individuals must pass written and clinical evaluations to ensure they can drive without endangering themselves or anyone around them.
SCI patients will work with a specialized occupational therapist who is certified in driving rehabilitation to determine what types of car adaptions will be needed and learn how to use them.
Now that we've gone over occupational therapy techniques that help spinal cord injury patients become more independent, let's discuss how OT prepares individuals to return to work or school.
Preparing to Return to Work or School After Spinal Cord Injury
Work and school make up a significant portion of an individual's lifestyle, and occupational therapists can help patients understand what to expect as they return.
Along with practicing activities of daily living to become more independent, spinal cord injury patients must understand their rights in the workplace or at school. This is where your OT can help you out.
An occupational therapist helps educate patients about the Americans with Disabilities Act and the Individuals with Disabilities Education Act (IDEA).
Employers and educational institutions must make reasonable accommodations to help individuals with disabilities succeed. Reasonable accommodations can include:
Ensuring that the environment is wheelchair-accessible
Permitting a more flexible schedule
Supplying adaptive equipment
Providing a notetaker
Allowing extra time on assignments/exams
Patients should not feel rushed to return to work or school. Rather, they should return when they feel both physically and mentally prepared.
Occupational Therapy for Spinal Cord Injury: Key Points
Occupational therapy will help prepare SCI patients to return to their everyday lives through restorative and compensatory strategies.
While restorative rehabilitation is preferred (because it promotes the most independence), spinal cord injury recovery may be limited. Therefore, the next best option is to find alternative ways to promote a fulfilling lifestyle.
Ask your OT to recommend some activities or techniques for you to practice at home, or try some of the methods mentioned in this article. We hope they help you on the road to recovery. Good luck!
Featured Image: iStock/AnnaStills