Wondering which assistive devices are the best for people with quadriplegia? Adaptive equipment for patients with a spinal cord injury should help promote independence by providing alternative ways to perform everyday tasks.
This article will share 9 adaptive tools for people with quadriplegia and the best practices for improving mobility.
9 Assistive Devices for Quadriplegics
Every spinal cord injury is different, so adaptive tools may benefit some more than others.
Quadriplegia describes paralysis in the upper and lower limbs. However, functional abilities amongst people with quadriplegia can vary depending on the level and severity of one's spinal cord injury. For example, someone with a C8 spinal cord injury (SCI) may be able to control most of their arm movements but struggle with hand functions while someone with a C5 SCI may only be able to lift the shoulders.
Additionally, some individuals with quadriplegia still have partial control over affected areas of the body while others may not be able to move at all.
The following assistive devices will be especially helpful to those with weak hand or wrist function. For more tips and advice on adapting to paralysis, speak with your occupational therapist.
Without further ado, here are 9 tools for people with quadriplegia that can help make everyday life after spinal cord injury easier.
1. Universal Cuff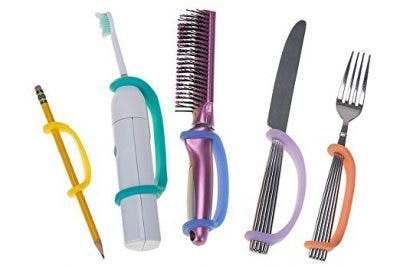 Universal cuffs are one of the most useful tools for people who have limited control of their hands.
First, you slip items like utensils, pens, and toothbrushes into the slits. Then, you place your hand between the item and cuff.
The items remain secure so that even if you can't grip objects with your fingers, you can still eat a meal, draw, or groom yourself.
2. Reacher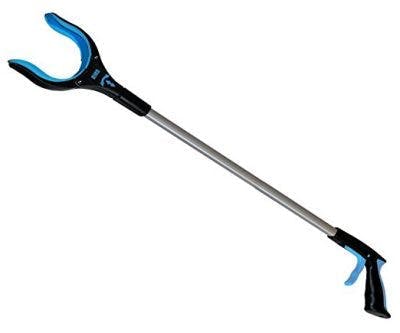 Rather than risk falling over while leaning forward, you can use a reacher as an extension of your arm. A reacher is an adaptive tool that helps individuals with quadriplegia grab objects that are slightly out of the way.
They're extremely versatile and can help with tasks like cleaning and cooking. Simply position the jaw of the reacher around the object you want to grab and then clamp the trigger to tighten its grip.
3. Wheelchair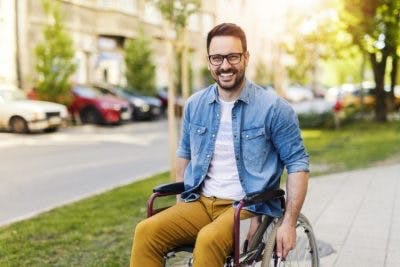 The most widely used adaptive equipment for patients with a spinal cord injury is the wheelchair.
If you do not have enough strength in the upper extremities, a power wheelchair can be extremely helpful. It moves at the touch of a button and can be controlled with different types of head or hand controls.
However, those that do have control over their arms can use a manual wheelchair, which will help maintain arm strength and prevent muscle atrophy.
4. Transfer Bench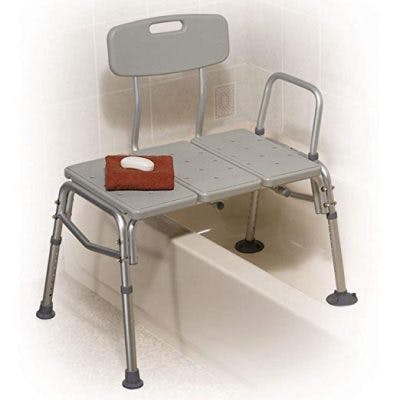 A transfer bench can help individuals with quadriplegia safely get out of their wheelchairs and into the bathtub.
Learning how to maneuver yourself in and out of a transfer bench can be complicated and requires quite a bit of arm work, so we recommend that only those with minimal upper extremity weakness attempt to use one on their own.
Transfer benches allow you to remain seated and wash up without worrying about slipping or falling over. There's also a grab bar on the side that can help stabilize you.
5. Shower Hose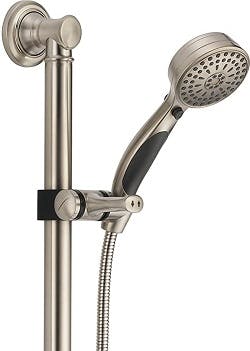 Another assistive tool that can make bathing easier is a shower hose with a handheld showerhead and holder.
It allows you to bathe with minimal movement of the body. Instead of turning around and risk slipping, individuals can move the showerhead.
The one in the image above also has a holder that you can slide up or down the bar for extra convenience.
6. Plate Guard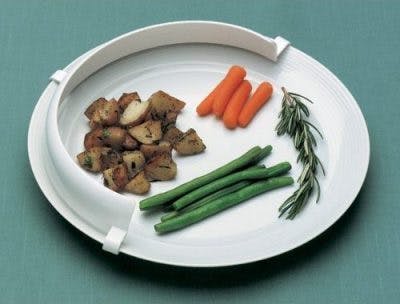 Individuals who do not have enough strength to poke their fork through their food often have to scoop it onto their utensils. This usually results in food falling off the plate.
A plate guard attaches to the edge of your plate and serves as a barrier to prevent spilling.
You can also slide your food against the plate guard, which helps place the food onto your utensils with limited wrist rotation.
7. Adapted Utensils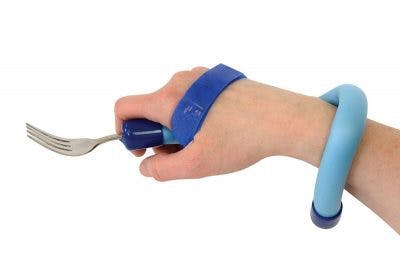 Adapted utensils are designed to help those with weak hand and wrist control.
The photo above shows a fork with a long, bendable foam handle that can be molded around your arm so that you don't need a strong grip to pick up food.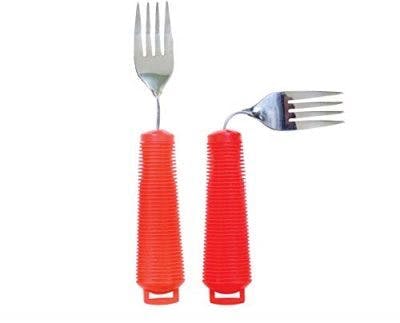 Here's another example of an adapted utensil. This fork can bend so that the wrist doesn't have to. It also has thicker handles that are easier to grip onto.
8. Doorknob Extender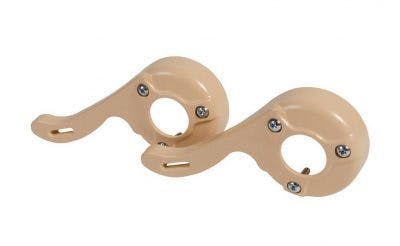 Patients with quadriplegia might struggle with grabbing and twisting doorknobs.
Doorknob extenders can attach to the doorknob and create a lever. Rather than twisting the wrist to open doors, individuals can press down on the handle.
9. Leg Lifter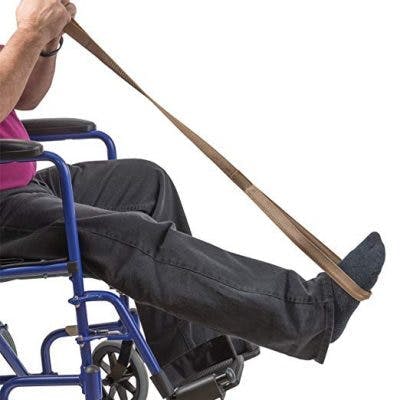 Leg lifters can be extremely helpful for patients with limited strength to lift their legs.
Once your foot is inside the loop, you can use your arms to maneuver your leg into or out of wheelchairs, beds, and chairs.
Adaptive tools can help patients with quadriplegia become more productive in their everyday lives. However, individuals may become overly dependent on them, which can slow down recovery. In the following section, we'll discuss 2 devices that can help promote recovery.
Recovery-Promoting Devices for People with Quadriplegia
Adaptive equipment helps individuals regain a sense of independence after spinal cord injury. However, they should not solely rely on assistive tools unless they have a complete spinal cord injury or are unable to perform the function otherwise.
Instead, individuals with any sort of mobility in the hands or wrists should repeatedly practice weakened functions to promote rewiring of the spinal cord. Ultimately, the goal is to not use assistive devices, and the only way to do that is to improve your arm and hand functions.
The problem is, many individuals find it difficult to stay motivated and perform the repetitions they need to improve their mobility at home. This is where rehabilitation devices can help make a difference by increasing user engagement.
Flint Rehab offers 2 rehabilitation devices that can help promote recovery after spinal cord injury: the FitMi and MusicGlove.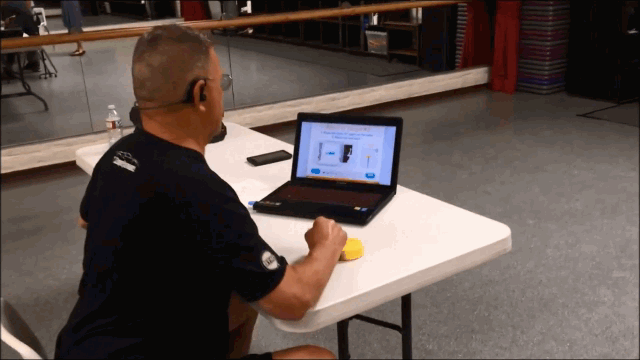 The FitMi makes it fun and easy to get your repetitions in. It includes 40 exercises designed by physical and occupational therapists.
By tapping, moving, and squeezing the sensorized pucks, spinal cord injury patients with incomplete quadriplegia can improve control of their hands, arms, trunk, and lower bodies.
Click here to view all the exercises that can be practiced with the FitMi»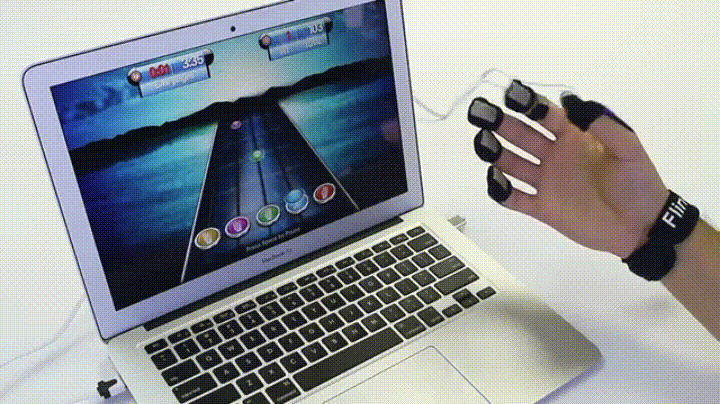 Individuals who want to specifically improve their hand functions may benefit from practicing finger pinching motions with the MusicGlove. It is clinically proven to improve hand functions in just 2 weeks.
Both of these devices promote massed practice of weakened functions, which helps stimulate neuroadaptive changes in the central nervous system. Additionally, users unlock new difficulty levels as they complete each round, which helps keep them challenged and motivated as they improve.
Understanding Tools for People with Quadriplegia: Key Points
Assistive devices for quadriplegics are convenient, help keep individuals safe, and promote independence.
They can be extremely helpful, but should also only be used as needed. After a spinal cord injury, patients with movement in their upper limbs should practice weakened functions in order to improve them and no longer need to rely on adaptive equipment.
Hopefully, this article helped you better understand the role of assistive devices as you work on spinal cord injury rehabilitation. Good luck!
Photos from top to bottom: iStock/Teichert