Wondering what the best tools for living with quadriplegia are? Adaptive equipment for spinal cord injury patients helps make daily living easier.
They're super convenient, protect you from injury, and help you regain independence after SCI.
9 Useful Adaptive Tools for People with Quadriplegia
Every spinal cord injury is different, so these tools may benefit some more than others.
This article will be especially helpful to those with weak hand or wrist function.
For more tips and advice on adapting to paralysis, be sure to speak with your occupational therapist.
Here are 9 tools for quadriplegics that help make everyday life after spinal cord injury easier.
1. Universal Cuff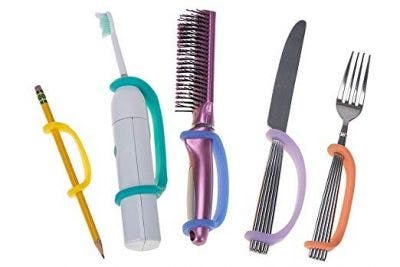 Universal cuffs are one of the most useful tools for people who have limited control of their hands.
First, you slip items like utensils, pens, and toothbrushes into the slits. Then, you place your hand between the item and cuff.
The items stay secure so that even if you can't grip objects with your fingers, you can still eat a meal, create some art, or groom yourself.
2. Reacher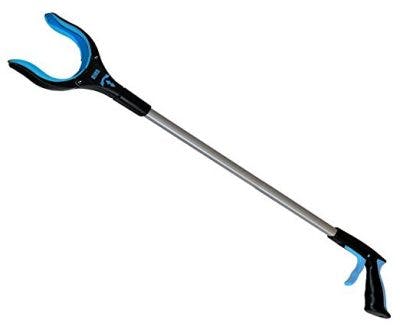 A reacher helps you grab objects that are out of reach without losing your balance and falling over.
They're extremely versatile and can help you with tasks like cleaning and cooking.
All you have to do is position the jaw around the object you want to grab and then clamp the trigger to tighten its grip!
3. Wheelchair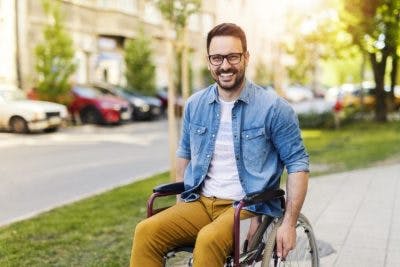 We can't talk about adaptive equipment for spinal cord injury patients without mentioning wheelchairs.
If you do not have enough shoulder and arm strength, a power wheelchair can be extremely helpful. It moves at the touch of a button and can be controlled with a joystick.
However, those that do have enough control over their arms should use a manual wheelchair so that they can build strength and prevent muscle atrophy.
4. Transfer Bench
The purpose of a transfer bench is to help you get off your wheelchair and into the bathtub.
This is probably one of the more difficult tools for individuals with quadriplegia to utilize, so we recommend that only those with minimal upper extremity damage attempt to use one on their own.
It allows you to wash up without worrying about slipping or falling over. There's also a bar on the side that you can grab onto to stay balanced.
5. Shower Hose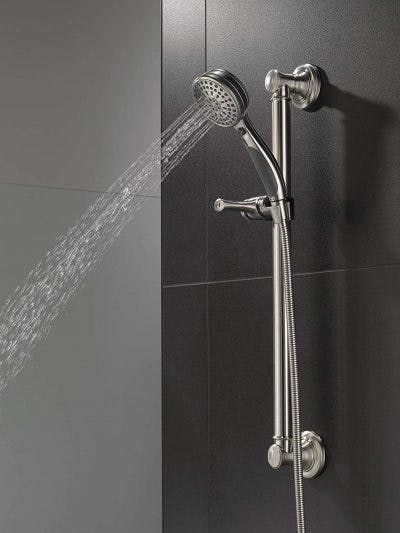 Another tool that makes bathing easier is a shower hose with a handheld showerhead and a holder.
You can take the shower head out of the holder and move it around your body so that you can wash without struggling.
The one in the image above also has a holder that you can slide up or down the bar for extra convenience.
6. Plate Guard
Individuals who do not have enough strength to poke their fork through their food often have to scoop it onto their utensils. This usually results in sliding food across the plate.
A plate guard attaches to the edge of your plate and serves as a barrier to prevent food from falling off.
You can also slide your food against the plate guard, which helps place the food onto your utensils with limited wrist rotation.
7. Adapted Utensils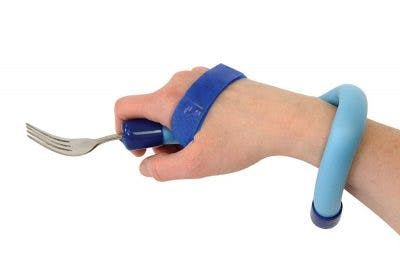 Adapted utensils are designed to help those with weak hand and wrist control.
The photo above shows a fork with a long, bendable foam handle that can be molded around your arm so that you don't need a strong grip to pick up food.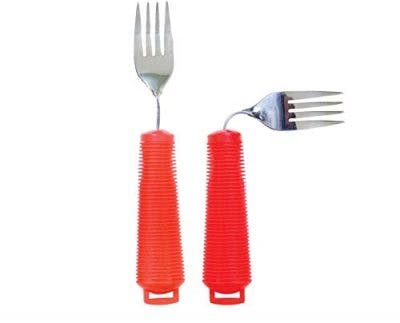 Here's another example of an adapted utensil. This fork can bend so that the wrist doesn't have to.
It also has thicker handles that make it easier to grip onto.
8. Doorknob Extender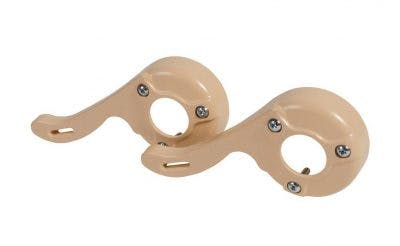 After spinal cord injury, it may be difficult to grab a doorknob and twist it around.
Doorknob extenders can be super helpful because they attach to your doorknob to create a lever.
Rather than twisting your wrist, all you have to do is press down on the handle to open the door!
9. Leg Lifter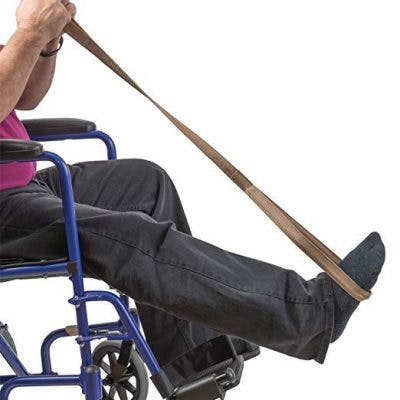 Leg lifters are extremely useful for spinal cord injury patients who cannot move their legs.
You place your foot inside the loop and use your arms to maneuver your leg into or out of wheelchairs, beds, and chairs.
If you don't have enough strength in your hands to grab and pull the strap up, put your arm(s) through the loop and pull.
The Purpose of Adaptive Equipment for Spinal Cord Injury
The purpose of adaptive equipment for spinal cord injury is to help SCI patients regain a sense of independence.
However, they should not solely rely on adaptive equipment and give up on recovery.
SCI patients should continue to work hard towards improving motor functions so that they don't have to be so dependent on tools for people with quadriplegia.
The best way to develop weak hand and wrist function is through high-repetition exercises. The more you repeat, the easier it gets to move.
For 23 easy ways to get your hands and wrists moving, check out our article on Practical Hand Exercises for SCI Patients!