Individuals with neurological conditions often experience involuntary muscle contractions called spasticity. If left unmanaged, spasticity can worsen over time and significantly restrict one's mobility. To prevent spasticity from progressing, doctors may recommend a surgical procedure called selective dorsal rhizotomy (SDR).
This treatment helps permanently reduce spasticity in the legs, and sometimes even in the upper extremities, which can promote ambulation and improve overall functional outcomes. However, SDRs are invasive and irreversible, so it's essential to understand the benefits and risks of the procedure.
To help you understand what selective dorsal rhizotomy is, this article will discuss:
What Does Selective Dorsal Rhizotomy Involve?
A selective dorsal rhizotomy is a surgery that involves cutting sensory nerve fibers, typically in the L2 to S1 levels of the spinal cord to reduce the hyperexcitability of spastic muscles in the legs.
Spasticity occurs because damage to the central nervous system disrupts the transmission of messages between the brain and muscles. As a result, the muscles become hyperreactive to stimulation and contract. Because brain signals cannot reach the muscles and tell them to relax, they remain contracted.
During an SDR, incisions are made along the lower back and electromyography is used to observe abnormal muscle responses when specific nerve roots are stimulated. Once the nerve roots that cause overactive muscle contractions are identified, they will be cut so they can no longer activate muscle contractions.
Because cut nerves in the spinal cord cannot regenerate, the spasticity relief provided by SDR is often permanent.
Although selective dorsal rhizotomies for spasticity relief in individuals with cerebral palsy currently are performed on the lumbosacral portion of the spinal cord, there has been a limited amount of recent research on the effect of cervical SDR on upper limb spasticity in those with other neurological conditions.
One study found that cervical SDR reduced upper limb spasticity in an individual following a brain injury, while another found positive results in individuals who had upper limb spasticity following a stroke or spinal cord injury. Even though both of these studies were relatively small and did not include individuals with cerebral palsy, they demonstrate that there's a possibility for cervical SDR to be used for upper limb spasticity in individuals with cerebral palsy in the future.
Of note, however, even lumbosacral SDR has been demonstrated to help with spasticity in the upper extremities of those with spastic quadriplegia, even though that is not the primary goal of the surgery.
Now that you understand what the procedure involves, let's discuss who is an ideal candidate for it.
Who Is a Good Candidate for Selective Dorsal Rhizotomy?
A selective dorsal rhizotomy can help relieve spasticity in individuals with neurological injuries like stroke and spinal cord injury. However, it is most commonly performed in individuals with spastic cerebral palsy.
Cerebral palsy encompasses a wide range of motor disorders at varying severities caused by damage to the developing brain. Because everyone experiences CP differently, SDR may not be ideal for all individuals with CP.
Generally, the ideal candidate for selective dorsal rhizotomy will:
Have some ability to walk (assisted or independently)
Be between the ages of 3-8 years old
Have a type of CP called spastic diplegia
Have no prior history of orthopedic surgery
Individuals that do not meet these criteria (such as adults, individuals with other neurological injuries, and individuals with more severe CP) may also benefit from this procedure. However, there may be more effective or less invasive options available for your specific condition.
Other treatments for spasticity include orthopedic surgery, Botox, muscle relaxants, orthotic devices, and physical therapy. Depending on the severity of your spasticity and how much of the body it affects, your doctor may recommend these treatments instead.
The following section will discuss some of the benefits of selective dorsal rhizotomies.
What are the Benefits of Selective Dorsal Rhizotomy?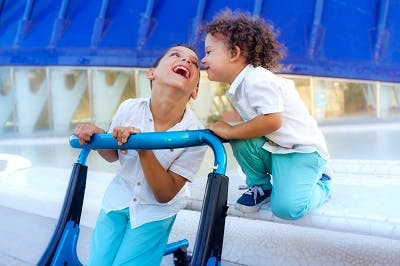 Spasticity can significantly restrict movement and decrease an individual's quality of life by causing pain, poor sleep quality, and the inability to walk.
By reducing spasticity, SDR can promote:
Greater range of motion
Reduced muscle and joint pain
Improved quality of sleep
Improved gait
Better sitting and standing balance
A study that followed 294 adults who underwent selective dorsal rhizotomy as children found that the benefits of SDR continued into adulthood with no long-term complications. Likewise, individuals who received selective dorsal rhizotomies as children were significantly more likely to have less functional decline compared with age-matched controls.
Spasticity can place severe strain on the musculoskeletal system, causing the body to expend more energy to function and age at an increased rate. It's suggested that by relieving spasticity, selective dorsal rhizotomies may be able to prevent premature aging in individuals with cerebral palsy.
Up next, we'll discuss potential risks associated with this procedure.
What are Potential Complications of Selective Dorsal Rhizotomy?
As with any surgery, there are potential complications that may occur during or as a result of selective dorsal rhizotomy.
Possible risks[1], [2], [3] associated with selective dorsal rhizotomy include:
Infection
Hemorrhage
Leaking of cerebrospinal fluid
Numbness
Skin irritation
Reduced sensation
Spinal deformity
Bowel and bladder dysfunction
Back pain
If you experience any of these complications after your procedure, speak to your doctor as early as possible. The sooner these complications are identified and addressed, the less likely they are to progress and impact your quality of life.
The following sections will discuss the importance of participating in rehabilitative therapies after SDR.
How to Optimize Functional Outcomes After Selective Dorsal Rhizotomy
Recovery after a selective dorsal rhizotomy always includes participation in rehabilitative therapies such as physical and occupational therapy. These interventions help individuals get accustomed to reduced spasticity in the legs and practice the exercises and activities necessary to improve their functional mobility.
A physical therapist will have individuals practice targeted exercises that stimulate the muscles and improve movement patterns. In contrast, an occupational therapist will work on developing the client's functional independence by practicing activities of daily living such as dressing or transferring.
Consistently practicing these rehabilitative exercises and activities will stimulate the central nervous system to make adaptive changes. Neuroplasticity is the brain and spinal cord's ability to reorganize its neural circuitry. It allows for functions affected by spasticity or damage to the central nervous system to be rewired to unaffected regions and improved.
Neuroplasticity is significantly influenced by the behaviors you consistently perform. Therefore, repetitively practicing the specific exercises and activities you learn in rehabilitative therapies can help reinforce demand for those functions and promote adaptive changes.
Selective Dorsal Rhizotomy: Key Points
To permanently treat spasticity in individuals with spastic cerebral palsy, a doctor may recommend selective dorsal rhizotomy. This surgery involves cutting sensory nerve roots in the spinal cord to prevent overactive muscle contractions.
While SDR will not magically improve motor functions in individuals with cerebral palsy, the procedure can help improve their quality of life by preventing motor impairments from worsening and causing further complications. With the help of rehabilitative therapies, individuals can learn the exercises and activities necessary to promote neuroplasticity and improve their mobility.
We hope this article helped you understand what SDR is and how it can help individuals with cerebral palsy improve their functional abilities.