Has your spinal cord injury left you with no hand control? Well, there's still hope!
Learning how to use tenodesis will help you become more functionally independent after SCI.
This article will teach you what tenodesis is and how to optimize its effects.
Let's get started!
What is Tenodesis?
Tenodesis is an adaptive technique that allows spinal cord injury patients with hand paralysis to grasp and release objects by adjusting the positioning of their wrists.
If your wrist is flexed (bent down), the fingers should straighten and feel loose.
In contrast, if your wrist is extended (straightened or bent upwards), the fingers should start to curl together, forming a tight grip.
This occurs because the tendons that allow you to bend and straighten your fingers run from your fingers, through the wrist, to your forearm.
When you move your wrist, you're pulling on the tendon, which causes passive movement of the fingers.
Using Tenodesis After Spinal Cord Injury to Boost Independence
Not every spinal cord injury patient will be able to use tenodesis because you need to be able to control your wrist movements.
Generally, those with C6 or C7 spinal cord injuries can take advantage of tenodesis because they can move their wrists and have limited finger control.
The biomechanical pulling of the fingers allows individuals to grab and release items despite having no control over their hands.
Tenodesis grip can help SCI patients with paralyzed hand functions perform tasks like brushing their teeth, using silverware, writing, and getting dressed.
Check out the video below to see how SCI survivor Mason uses tenodesis to be more independent!
How to Optimize Tenodesis After Spinal Cord Injury
Tenodesis can significantly change the way spinal cord injury patients with no hand function participate in activities of daily living.
Here are 3 easy ways to maximize the effects of tenodesis:
1) Wear a Tenodesis Splint
A tenodesis splint is a type of orthosis that you wear over your hand and forearm.
They help provide that extra boost SCI patients may need to perform tasks on their own.
For example, if you need to hold a larger object, you can adjust the splint so that your hand will open up more.
Check out the video below to see how a tenodesis splint helps support finger movements.
2) Stretch Wrist with Fingers Flexed
The better you get at controlling your wrist motions, the easier it will be to grip onto objects.
You must stretch your wrists to maintain range of motion.
Make sure that the fingers are curled in to avoid lengthening the tendons.
You want the tendons to stay tight so that your wrist movements have a greater impact on the firmness of your grip.
3) Stretch Fingers with Wrist Flexed
You'll also need to stretch the fingers to prevent stiffness.
Make sure that the wrist is flexed so that there is no resistance.
Your fingers should feel loose so that you're free to passively move them without compromising tendon tension.
Can Hand Function Return After Spinal Cord Injury?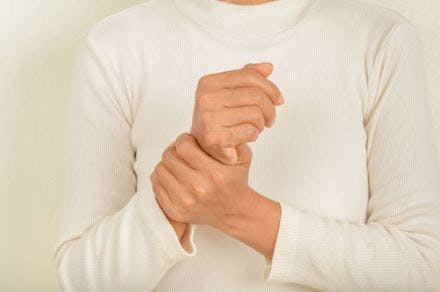 Recovery outlook will vary depending on the severity of your spinal cord injury.
Central nervous system lesions cannot heal; however, thanks to neuroplasticity, the spinal cord can rewire itself (as long as the injury is incomplete).
Circuits can reorganize themselves, and new axons can sprout from spared neural pathways, which allows for functions damaged by spinal cord injury to potentially be recovered.
If you have weak hand control, it is ideal to practice hand exercises rather than rely on wrist movements.
The more you practice using weak functions, the stronger the neural pathways for those functions will become, and the more natural the movements will get.
However, if you have no hand control at all, optimizing the effects of tenodesis can significantly improve your quality of life.
Tenodesis and Spinal Cord Injury
That's a wrap! If you have a C6 or C7 spinal cord injury, try bending and straightening your wrists.
You'll likely be able to use tenodesis to perform tasks on your own.
If your fingers don't move very much or your grip is loose, consider getting a tenodesis splint for extra support.
Good luck!
Featured image: ©iStock.com/fizkes