Reading spinal cord injury recovery stories can be an excellent way to stay motivated and hopeful.
While every spinal cord injury and its recovery process are unique, it can be extremely helpful to know that even after the most severe injuries, recovery can be possible if you're willing to put in the work.
To encourage you to keep working towards recovery, this article will share 4 inspiring spinal cord injury recovery stories:
4 Motivating Spinal Cord Injury Recovery Stories
We hope these spinal cord injury recovery stories help you understand that you're not alone and that there are others who have endured and overcome similar experiences and obstacles. With a hopeful mentality and trust in the rehabilitation process, functional improvements after an incomplete SCI are possible.
Without further ado, let's get into the spinal cord injury recovery stories!
1. How Michelle Became a Doctor and 4-Time Paralympic Medal Winner
Our first spinal cord injury recovery story is Michelle's. In 2011, Michelle fell 5 stories from her dorm and shattered her L2 vertebra, resulting in an incomplete spinal cord injury.
Before her accident, she was a pre-med student and Division 1 swimmer. The last thing she expected was to spend the rest of her semester in a hospital bed.
After 3 surgeries, months of healing, and 5 weeks of intensive rehab, Michelle was able to walk again. However, she still had weakness in her legs.
Then, she was introduced to Para-Swimming, and in just one month, Michelle was competing in trials for the 2012 Paralympic Games. While she didn't make it this time around, it didn't stop her from continuing to practice.
Two years later, she decided to try again. In her first competition back, she made the national team. As a result, she chose to defer med school to follow her dreams at the Rio 2016 Paralympic Games.
During her training, Michelle learned that time spent in recovery is just as important as the workout, and "for every 3 hours of training, she'd spend two hours recovering, focusing on the quality of the work rather than the quantity." Michelle ended up winning 4 medals: 2 gold, 1 silver, and 1 bronze.
One year later, she started med school. She explains, "after spending so much time in hospitals after I got hurt, I saw how amazing medicine was."
Before her spinal cord injury, Michelle was an aspiring doctor and competitive swimmer. After her injury, she became a doctor and a 4-time Paralympic medal winner.
2. How Daquan's Intense Focus Helped Him Walk Again
Daquan's T6 incomplete spinal cord injury was caused by a car accident. The car he was in flipped 5 times, which resulted in paralysis and loss of sensation from the middle of his trunk down. After 3 weeks in intensive care, he began rehabilitation.
Daquan explains, "Nobody was telling me I was going to walk again, but nobody was telling me I wouldn't, and that's what kept me going."
Even without any sensation in his trunk and lower body, he was able to walk short distances by placing increased dependence on his eyes and focusing on his steps.
His doctor compares the amount of concentration required for Daquan to move to be "the kind of concentration required to walk a tight rope."
Ultimately, Daquan learned to adapt and reteach himself how to walk despite his lack of sensation. He even walked across the stage at his graduation to receive his diploma, just like all his classmates.
3. How Hayden Overcame a 5% Chance of Walking Again
After getting tackled during a football game, Hayden was immediately paralyzed from the shoulders down with a C4 spinal cord injury.
His spinal cord was finally stabilized after an all-night surgery.
"Only about 5% of patients in his situation when we saw him walk again," says his surgeon.
After participating in intensive rehabilitation, Hayden was able to gradually transition from a power wheelchair, to a manual wheelchair, to a walker, to crutches, to finally being able to walk on his own.
Nearly three and a half months after his SCI, Hayden was able to walk his way up the stairs and out of the rehabilitation clinic. Hayden's story is truly a testament to what it means to keep going when the odds are against you.
4. How Lee Optimized His Recovery with a Positive Mindset
At 61 years old, Lee got into a bike-riding accident that resulted in an incomplete C3 spinal cord injury and paralysis from the neck down.
He was in the ICU for 3 weeks and felt extremely vulnerable being paralyzed. He couldn't talk, move, or breathe on his own and needed a ventilator. At one point, he even developed ICU psychosis and believed that the doctors and nurses were trying to kill him.
As he continued to participate in rehabilitative therapies, Lee learned how to use a power wheelchair, have bowel movements on his own, get his trach tube removed, and have his feeding tube removed.
Additionally, he used a standing machine and a weight-bearing treadmill that gradually increased the amount of body-weight going through his legs to help him become stronger. Lee can now stand and walk on his own with no assistance.
When asked to share something with people who've recently incurred spinal cord injuries, Lee replied:
"If you are just starting your rehabilitation—then I can almost guarantee you things are going to get better […] If it doesn't get better or doesn't get easier – then you need to do something about it. Find a support group. Surround yourself with supportive – positive – funny – people. Don't be afraid to ask for some help […] You can do this!"
Spinal Cord Injury Recovery Stories: Key Takeaways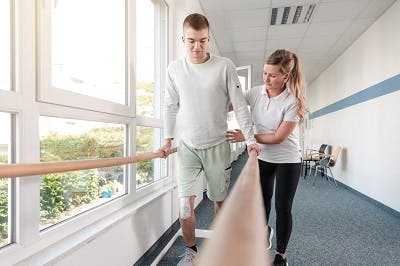 As you've just learned from these 4 unique spinal cord injury recovery stories, an SCI can happen to anyone.
All the individuals whose recovery stories were shared in this article demonstrated the determination to work for hours multiple times a week. The key to recovery after an incomplete spinal cord injury is to perform highly repetitive and task-specific exercises. This stimulates the central nervous system and promotes adaptive changes in its neural circuitry.
We highly recommend documenting your recovery process through pictures, videos, or blog posts. This will help remind you of how far you've come and allow you to inspire others with your own SCI recovery story.