A C6 spinal cord injury is a type of cervical spinal cord injury, the most severe type of injury. After a C6 spinal cord injury, individuals experience varying degrees of paralysis in the upper and lower body, also known as quadriplegia.
However, even amongst C6 spinal cord injury patients, functional outcomes will be different. Therefore, an individualized approach to recovery is essential.
To help you understand what to expect following a C6 spinal cord injury, this article will go over what functions are directly affected at the C6 level of injury, common complications, and recovery outlook.
Complete vs Incomplete C6 Spinal Cord Injury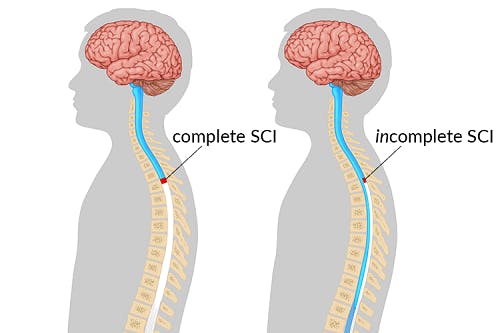 Spinal cord injuries can be complete or incomplete. A complete spinal cord injury results in no motor control or sensation below the level of injury because all neural pathways have been permanently damaged.
Because motor signals from the brain cannot pass through the site of injury, individuals will have no control over movements below the level of injury. Likewise, sensory signals from areas innervated below the level of injury cannot reach the brain, resulting in complete loss of feeling.
In contrast, an incomplete spinal cord injury refers to partial damage at the injury site. This means that spared neural pathways between the brain and areas below the level of injury exist, which is why some SCI patients can move and feel areas innervated below their level of injury.
How Does C6 Spinal Cord Injury Affect Sensation and Movement?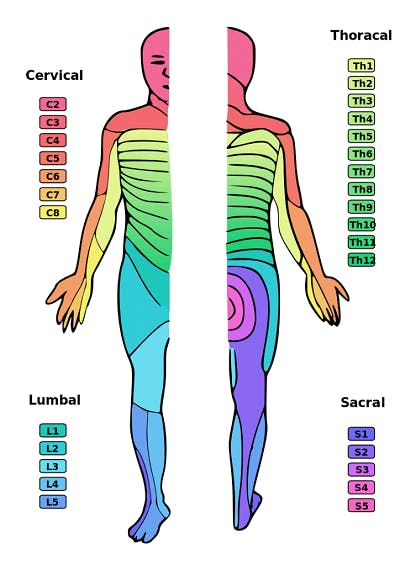 Each level of the spinal cord connects to, or innervates, a different set of muscles for movement and area of skin for sensation. One's level of injury refers to the lowest segment of the spinal cord where sensory and motor functions are unaffected.
The nerves at the C6 level innervate the extensor carpi radialis longus and brevis. These two muscles are located in the forearm and allow for wrist extension.
Similarly, C6 spinal cord injury will affect sensation at the thumbs, index fingers, and part of the forearms. These are the sites that doctors will test to determine the level of spinal cord injury.
C6 SCI patients generally have normal sensation and movement at the head, neck, and shoulders. They should also be able to bend the elbows and straighten the wrists. This is because areas innervated above the level of injury are not affected and function normally.
Now that you understand what functions are affected by C6 spinal cord injury, let's discuss how to recover.
C6 Spinal Cord Injury Recovery
With all spinal cord injuries, damaged neurons in the central nervous system are unable to regenerate. The good news, however, is that spared neural pathways may offer opportunities for recovery.
Spared neural pathways are capable of neuroplasticity, which is the spinal cord's ability to adapt and rewire itself. This means that functions weakened by spinal cord injury can be redirected to healthy, undamaged nerves for recovery.
The most effective way to promote neuroplasticity is through massed practice. Every movement stimulates the spinal cord. The more you repeat a weakened movement, the better your spinal cord gets at recognizing a demand for it. This prompts the rewiring and strengthening of new neural pathways for that specific movement.
Individuals with milder C6 SCIs typically have different recovery outlooks because they have more spared neural pathways. However, many other factors such as motivation, intensity of rehabilitation, and pre-existing health conditions can also influence recovery after C6 spinal cord injury.
Next, we'll go over complications that can arise following a C6 spinal cord injury.
C6 Spinal Cord Injury Complications
Depending on the severity of one's C6 spinal cord injury, the onset of complications can vary. Those with more severe SCIs are more susceptible to complications due to more significant sensory and motor impairments.
Common complications of C6 spinal cord injury include:
Now that you understand potential complications of C6 SCI, we'll discuss what you can do to minimize them and improve your quality of life.
Effective Ways to Manage a C6 Spinal Cord Injury
Generally, management of C6 spinal cord injury will focus on rehabilitating as much function as possible, and learning how to compensate for lost functions.
Below, we'll go over 5 management interventions that can help C6 SCI patients live more productive, fulfilling lives.
1. Participate in Rehabilitation Therapies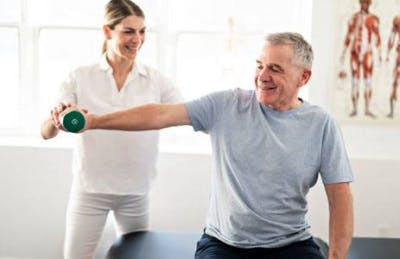 Participation in rehabilitation therapies like physical and occupational therapy is essential for improving mobility and independence after C6 spinal cord injury. Both physical and occupational therapists will assess the individual's functional abilities and create a personalized rehabilitation plan.
Physical therapy primarily focuses on exercise while occupational therapy is a more functional approach that uses activities of daily living such as eating or getting dressed. Occupational therapists may also teach individuals how to use adaptive tools to help compensate for limited movement.
This study found that after participation in intensive inpatient rehabilitation programs, complete C6 spinal cord injury patients were generally capable of:
eating and drinking when provided with food
dressing when provided with clothes
propelling a wheelchair on flat and inclined surfaces
grooming
assisting during bathing
managing their catheter
2. Use Tenodesis
Tenodesis is an adaptive technique that C6 spinal cord injury patients can learn to grasp and release objects. It does not require any active movement of the hands, but rather a calculated flexion of the wrist.
C6 spinal cord injury patients can use tenodesis to pick up objects and perform activities of daily living like brushing their teeth. It's a compensatory technique that allows people with complete C6 SCIs perform grasp and release activites.
However, individuals with incomplete SCI, who have even the slightest bit of hand control, should avoid becoming over-reliant on tenodesis because it can lead to learned non-use. Instead, try to improve hand functions by regularly participating in hand therapy. The more you practice using your fingers, the more you'll promote neuroplasticity, which can potentially recover hand functions.
Learn more about using tenodesis after spinal cord injury »
3. Wear Orthotic Devices
Orthotic devices like braces, casts, and splints can help promote proper form and musculoskeletal alignment after a C6 spinal cord injury.
For example, wearing a trunk brace can help SCI patients with poor core control sit upright. Without it, you might lean to the side, which places excess pressure on the hips, spine, and lower back.
Orthotic devices can also help combat spasticity by providing a prolonged gentle stretch in a functional position.
4. Take Medications
Depending on the side effects you're experiencing, some spinal cord injury patients may take various medications for multiple complications. Not all medications react well when taken together, so make sure your physician is aware of all other medications you are taking to minimize the risk of adverse side effects.
Learn more about medications for spinal cord injury »
5. Have a Caregiver Perform Passive Range of Motion Exercises
Individuals who have very limited motor control should practice passive range of motion exercises with their caregivers.
Passive exercises do not require any energy exertion from the patient; rather the caregiver will move the patient's body for them. This can help stimulate neurons in the spinal cord and promote circulation.
Although you are unable to perform the motion, you should make an effort to focus on the movements. The goal of SCI recovery is to reteach the brain, spinal cord, and body to work in sync again. Concentrating on the movements (even if you cannot control them yet) can help strengthen those connections.
Understanding C6 Spinal Cord Injury: Key Points
Every C6 spinal cord injury is unique, so it's important that rehabilitation be personalized and targeted to each individual's abilities.
Those with very severe C6 spinal cord injuries experience paralysis from the chest down, in the hands, and partially in the wrists and elbows. By participating in intensive rehabilitation programs, individuals can learn how to improve their mobility.
Hopefully, this article helped you understand what to expect after a C6 spinal cord injury and how to manage it to maximize your quality of life.