Video games may help TBI patients recover their physical and cognitive abilities faster than traditional therapy, according to recent research.
Although they might seem like just a pleasant distraction, video games engage several parts of the brain at once and can even promote neuroplasticity.
Today's article will explain the many therapeutic uses video games offer. Then, we will show you some of the best types of video games for TBI.
Let's get started.
Advantages of Video Games for TBI
Video games that require specific thinking skills and muscle movements can help stimulate connections between different parts of the brain. When different neurons fire together like that, they create new neural pathways that help the brain recover function.
This phenomenon is known as neuroplasticity, and it is one of the best ways to heal the brain after a TBI.
However, neuroplasticity requires high repetition for it to activate. In fact, animal studies have shown that it takes about 400 to 600 repetitions per day of challenging functional tasks to cause changes in the brain.
This is where video games can prove useful for TBI patients. Because video games are fun and engaging, the person playing a game is more likely to do more repetitions of an action than if they were just exercising in a gym.
This is just one of the advantages that video games have over traditional therapy. But is there any evidence that video games can actually improve a patient's cognitive skills?
Cognitive Benefits of Video Games for TBI Patients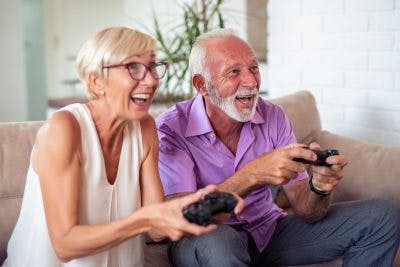 According to scientists who have studied the cognitive benefits of video games, certain games can improve a person's executive functions. Some examples of the executive functions that video games can improve include:
Problem-solving
Information processing
Attention and concentration
In fact, a recent study from Macquarie University in Australia examined the cognitive effects of first-person shooter games on TBI patients. The researchers used a cognitive rehabilitation program that included action video games and traditional cognitive therapy.
The TBI patients were trained to utilize the skills they had learned during cognitive therapy in the video game. At the end of the 8-week study, the patients who played video games made more improvements in attention and information processing skills compared to the control group. They were also more efficient at daily tasks than the group which did not play video games.
Therefore, it seems that incorporating video games into TBI rehabilitation can help brain injury patients recover their cognitive skills.
Best Video Games for TBI Patients
There are hundreds of video games available that could be useful for TBI patients. The key is to choose one that you find enjoyable and that can challenge your brain.
However, the games do not have to be complex to offer cognitive benefits. Even simple games like Super Mario have been shown to improve brain function.
With that said, here are a few video games that we find to be the most useful for TBI recovery.
1. Virtual Reality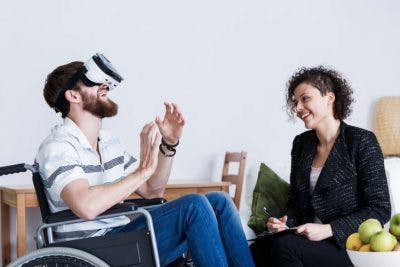 Virtual reality (VR) is an advanced, immersive form of gaming that allows a person to interact with a computer-generated environment.
In a VR session, the person feels like they are really there, which makes therapy more engaging. And when the brain is engaged, more neurons will fire, which helps speed up the brain's healing process.
Studies have shown that VR is perhaps the most promising type of gaming rehab techniques for TBI patients. In one study, patients used a VR game designed to help them integrate several cognitive skills. At the end of the study, the group that used VR made incredible gains in every cognitive function, while the non-VR group did not.
While VR offers many potential benefits, not every TBI patient can use it. Some of the negative reactions to virtual reality include nausea, severe vertigo, and migraines.
2. Strategy Games
Real-time strategy games require players to plan, strategize, and manage limited resources. This forces people to learn how to pay attention to more than one thing at a time. They also encourage cognitive flexibility, because the player must be quick to adjust their tactics when something unexpected occurs.
Therefore, they may be ideal video games for TBI patients who struggle with executive functions such as organization skills and decision making.
Strategy games can also improve other cognitive skills including problem-solving, attention, and working memory.
Some examples of real-time strategy games include:
If the above games are too difficult, a good alternative is the popular Plants vs Zombies games on smartphones. This game utilizes many aspects of classic strategy games, but the gameplay is simpler and more suited for beginners.
3. Puzzle Video Games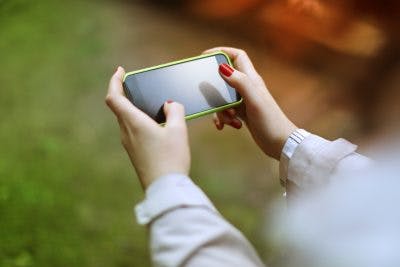 Puzzle games challenge players to use different parts of their brains by solving intricate problems. They can help TBI patients learn how to recognize patterns and use logical and creative thinking.
Many puzzle games are available on smartphones, but some are also played on consoles. Most puzzle games have simple rules which make them ideal for people just learning how to play video games.
Our recommendations for puzzle games for TBI patients are:
4. Wii Sports
Generally, any Wii game is great for TBI patients. Using the Wii requires hand-eye coordination and balance. Both of these are critical skills to improve after a brain injury.
Wii Sports are especially suited for TBI survivors because they challenge a person's reflexes, which are often impaired following a TBI. There is also some strategy involved, especially in games like bowling or golf.
Some of the best Wii Sports games we recommend include:
Wii Bowling
Boxing
Wii Tennis
5. Music Glove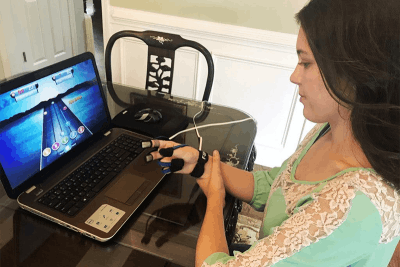 MusicGlove is a more sophisticated video game for brain injury patients. In fact, it is designed specifically to help TBI survivors recover function in their hands.
It utilizes similar features as the popular Guitar Hero game and encourages patients to perform hundreds of hand exercises, which helps boost neuroplasticity.
In fact, in a recent clinical trial, patients who used MusicGlove for 3 hours per week saw significant improvement in hand function at the end of 2 weeks.
That's only 6 hours of therapy to regain significant fine motor skills.
So if you are looking for a fun way to improve your hand function, give MusicGlove a try.
Using Video Games to Promote TBI Recovery
Video games can help promote a faster recovery from TBI and improve cognitive functioning.
Different video games target different cognitive skills, so it is a good idea to try a variety of games. This ensures that you stimulate as many areas of your brain as possible.
We hope this article helps you better understand the benefits of video games for TBI patients. Good luck!