Have you noticed that hand function is often the last thing to return after injury like stroke?
To help you avoid a plateau and recover hand function faster, we've rounded up the top 5 hand rehabilitation methods.
Before we dig in, you need to understand the #1 driver of a fast recovery.
Maximize Hand Recovery with Massed Practice
Although hand recovery is often a slow process, there a way to speed up recovery: massed practice.
Massed practice refers to practicing something with high repetition, which helps activate neuroplasticity and rewires the brain.
The more repetitions you perform of hand therapy exercises, the more your brain will rewire itself and hand function improves.
As you read through the best hand rehabilitation methods below, remember that massed practice is key.
The Best Hand Rehabilitation Methods
After sorting through the science, we compiled a list of the best science-backed methods for hand rehabilitation.
Let's dive straight into the list.
1. Hand Therapy Exercises Help Rewire the Brain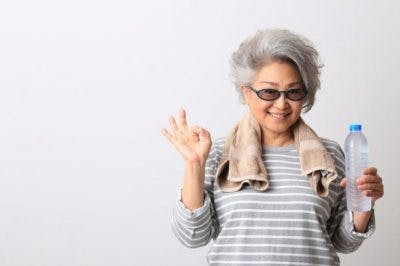 Therapeutic hand exercises are a great way to rewire the brain and improve hand function.
The more repetitions you perform, the more your hand will improve. Repetition rewires the brain.
Sometimes it can be difficult to exercise when your hand is stiff and tight, so the next hand rehabilitation method can help with that.
2. Botox Helps Open Clenched Hands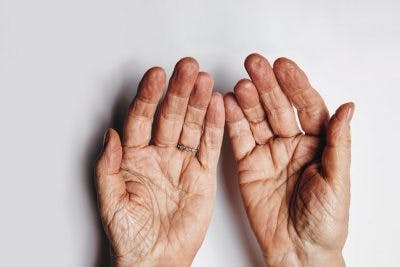 Spasticity is a condition of stiff, tight muscles after stroke; and stroke patients often experience spasticity in their hands.
One effective spasticity treatment is Botox, which is an injectable drug that blocks the nerves causing your hand to clench.
Be careful, though. Botox is only a temporary treatment.
Be sure to use it in combination with massed practice of hand exercises to rewire the brain.
3. Electrical Stimulation Helps Boost Neuroplasticity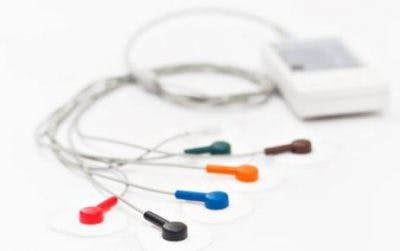 Activating neuroplasticity is critical to improving hand function.
When electrical stimulation is applied during hand rehabilitation, it sends a strong signal to the brain and encourages neuroplasticity.
While electrical stimulation alone can produce results, studies show that combining e-stim with hand exercise leads to the best results.
4. Mirror Therapy Helps Hand Paralysis Recovery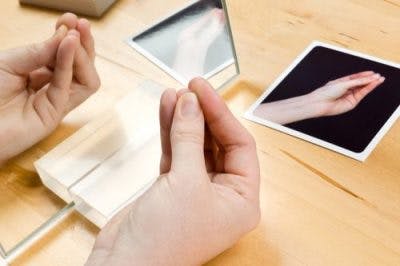 Mirror therapy for stroke recovery is a highly effective method for hand rehabilitation.
It involves the use of a tabletop mirror to reflect your non-affected hand in place of your affected hand.
When you perform hand exercises with your non-affected hand in this manner, it 'tricks' you brain into thinking that you're moving your affected hand.
As a result your affected hand function will improve. It's quite amazing and complex, so refer to our guide to learn how mirror therapy works.
5. MusicGlove Helps Motivate Thousands of Repetitions
To rewire the brain effectively, you need to complete thousands of repetitions of hand exercises.
While it can be difficult to motivate yourself to achieve that many reps, hand exercise devices like Flint Rehab's MusicGlove can help.
It works by combining hand exercises into a music-based game that helps you complete over 400 repetitions per session.
Since massed practice is key to recovery, it's no wonder why the device is clinically proven to improve hand function quickly.
Don't Let Lack of Exercise Slow Down Hand Recovery
Without these advanced hand rehabilitation methods, recovery can be painstakingly slow.
That's because your hands are the furthest thing from the midline of your body.
The farther away something is from your midline, the slower recovery will be.
That's why many stroke patients can walk within the first 6 months of stroke recovery, but their hand function doesn't return for years.
Don't worry, though. Massed practice can help accelerate hand recovery and turn those years into months.
And when you combine your exercise with booster techniques like e-stim or MusicGlove, you'll be on the fast track to recovery.