Many stroke survivors and caregivers find themselves wondering if recovery from post-stroke paralysis is possible, and what the process entails.
There is no single answer. Every stroke is different, and therefore every recovery will be different.
To help shed some light on post-stroke paralysis, this article will discuss some important factors that influence recovery. Then, we'll list some effective treatment methods and a success story at the end.
Use the links below to jump straight to any section:
Factors that Influence the Chances of Recovery from Stroke Paralysis
If you have paralyzed muscles after a stroke and wonder if you can regain movement, it's important to understand that stroke recovery is highly individualized.
Every stroke is different, and every brain is wired differently. This means that every recovery is unique to every person. This can make it difficult, if not impossible, to predict the outcomes of any particular case of post-stroke paralysis.
Fortunately, there is plenty of clinical evidence that shows positive correlation between the intensity and consistency of rehabilitation and recovery after stroke. This is an important factor that influences the chances of recovery from stroke paralysis.
The size and location of a stroke are two other important factors. Generally, when a stroke affects larger areas of the brain, the effects can be more substantial, such as paralysis of one side of the body (a condition called hemiplegia).
To gain better insight into recovery after post-stroke paralysis, it helps to look at the rehabilitation process.
Studies Show Long-Term Rehabilitation Is Key to Recovery
During rehabilitation, many stroke survivors experience the fastest recovery during the first 3 months after stroke. This is partly due to inpatient rehab during this time, which requires 3 hours of therapy per day.
It's important that stroke survivors continue rehabilitation at home after inpatient rehabilitation is over. Without constant participation in therapy, progress can plateau.
For instance, one study followed stroke patients 5 years post-stroke and found that "the level of functional and motor performance at 5 years post-stroke was equivalent to the level measured at 2 months."
Researchers credit the intensity of inpatient rehabilitation for the initial gains during the first 2 months. In order to keep recovery going, there must be consistent therapy at home after inpatient rehab is over.
Fortunately, when rehabilitation is pursued long-term, the prognosis becomes more optimistic.
Another study analyzed the impact of long-term rehabilitation by gathering 51 stroke patients that could not walk 3 months post-stroke. After two years of long-term rehabilitation, 74% of participants regained their ability to walk without assistance.
This shows the importance of continuing rehabilitation after inpatient therapy.
How the Brain and Body Recover After Stroke Paralysis
Now let's discuss how rehabilitation for post-stroke paralysis works.
Paralysis after stroke is the result of disruption between the brain and muscles. When the brain cannot send the correct signals to your affected muscles, they can become difficult to move or paralyzed.
Fortunately, the brain can rewire itself and bounce back from injury. While many stroke survivors might not achieve a full recovery, functional gains are possible with the right approach and circumstances.
The process revolves around neuroplasticity after stroke. Neuroplasticity is the brain's innate ability to rewire itself and learn new skills. It occurs based on experience.
For instance, no one is born knowing how to ride a bike. It's the practice and experience that gets us there. Riding a bike becomes easier by attempting to ride a bike over and over. The same concept applies to stroke rehabilitation, including recovery from post-stroke paralysis.
Up next, you'll discover some effective treatments to encourage neuroplasticity and recovery.
Methods for Rehabilitation After Post Stroke Paralysis
With all forms of rehabilitation after stroke, it's important to experiment with different modalities until you find what works for you.
Once you find something that works, try your best to see it through on a daily basis. It cannot be stressed enough: long-term rehabilitation is key to recovery.
Here are some rehabilitation methods for post-stroke paralysis that you can try at home with the help of a caregiver:
Passive range-of-motion exercises. Ask a caregiver or therapist to move your affected limbs through their pain-free range of motion on a daily basis. Although you aren't "doing it on your own," passive movement helps stimulate the brain and activate neuroplasticity.
Self range-of-motion exercises. To encourage more recovery, try to practice classic rehabilitation exercises passively by assisting your paralyzed side with your unaffected side. Pay attention to each movement, as neuroplasticity occurs through passive exercise specifically when attention is paid to the movement.
Mental practice. Visualization is another way to spark neuroplasticity. Before each exercise session, spend some time visualizing yourself doing each movement on your own. Mental practice is clinically proven to help spark neuroplasticity – and when it's combined with physical practice, it leads to even better results.
Electrical stimulation. This works by sending electrical impulses to the affected muscles, which helps them contract and potentially move if the contraction is strong enough. Attention must be paid to the movement in order to encourage neuroplasticity. Work with a therapist to get started and learn where to place the electrodes, what rehab exercises to pair it with, etc.
Mirror therapy. This standard rehabilitation method is great for stroke survivors that struggle with hand paralysis. Mirror therapy works by using a mirror to "trick" the brain into thinking that you're moving your paralyzed hand, when it's actually your non-affected hand that's doing the work.
FitMi home therapy. This at-home rehab device customizes an exercise regimen based on your level of ability. Many users see significant results, including those recovering from post-stroke paralysis. The story up next shares more insight on this.
It's important to work closely with your caregivers and medical team to establish your rehabilitation regimen. Once established, try your best to continue on a daily basis at home.
Stroke Paralysis Success Story
A stroke survivor named Ron once struggled with arm paralysis after stroke. Here is his recovery story as told by his wife: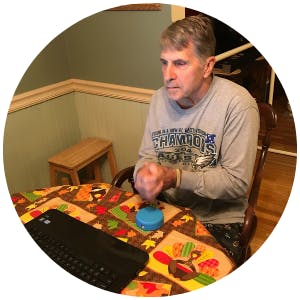 "My husband suffered a stroke caused by a dissecting carotid artery in late May of this year. He lost 40% of his left hemisphere of his brain causing right side paralysis.
His speech was slightly impaired but thankfully Drs believe he is a rare left-handed person with speech located in right hemisphere of his brain! Ron was in ICU for a week, followed by a rehab hospital for five more weeks. He came home and has done outpatient therapy three days a week since.
About three weeks ago I ordered the FitMi and just this past week he moved his arm for the very first time!!! He and I both think the repetitive movement of the arm has given his brain the signal that it's there and ready to move!!!
He will continue with both the FitMi and his other therapies for as long as it takes to fully recover!!!
Ron's story illustrates how the brain responds to experience. His affected arm regained small amounts of movement by passively practicing arm exercises with FitMi home therapy on a regular basis.
FitMi is an ideal recovery system for stroke patients pursuing rehab at home, because it adjusts to your ability level. Even survivors struggling with paralysis can use FitMi to exercise passively, just like Ron.
Not everyone is guaranteed to recover like Ron, but we hope his story inspires you to explore your potential. You'll never know what your chances of recovery are until you try.
Recovery from Stroke Paralysis
Now that you've reached the end, we hope that you're inspired to create your own home therapy program to encourage recovery from post-stroke paralysis.
Experiment with different rehabilitation techniques — with your therapist's help and approval — until you find what works for you. Then, keep doing that on a daily basis to maximize your chances of recovery from stroke paralysis.
This is the best way to provide the brain with the stimulation and experience it needs to rewire itself and bounce back from injury.