Although being a caregiver for someone with quadriplegia can be very demanding, it can also be incredibly rewarding. While there can be some anxieties about becoming a caregiver, there are many resources that can help you feel prepared. Over time, caregiving can sometimes become burdensome. However, there are some simple ways that you can prevent becoming overwhelmed and have a positive caregiving experience.
This article will explore some topics you should keep in mind when caring for an individual with quadriplegia at home.
Becoming a Caregiver for an Individual with Quadriplegia
To ease your loved one's transition home, it is a good idea to proactively prepare everyone involved. However, in order to adequately prepare, a little background information on quadriplegia is needed.
Quadriplegia occurs when an individual experiences paralysis of all four limbs. Oftentimes, quadriplegia is caused by a spinal cord injury. Generally, the higher the level of injury, the more dependent individuals with quadriplegia will be on their caregivers.
After a spinal cord injury, the damaged neural connections can "forget" how to perform specific tasks. For individuals with incomplete quadriplegia, these tasks can be relearned them through repetition. The more you repeat a movement, the more you're promoting that neural connection and the easier it gets to perform. While it is important to give individuals with quadriplegia the care that they need, doing too much for them can actually prevent them from making improvements.
Here are some things to consider when initially becoming a caregiver for an individual with quadriplegia.
Talk to Therapists About Caregiver Training
Spinal cord injuries can vary greatly in severity. Because of this, physical and occupational therapists often provide caregiver training sessions before individuals with quadriplegia return home. Participating in this training is an excellent way to gain more awareness of what your loved one is able to do, as well as understand what areas they will require assistance in.
The therapists will often demonstrate how caregivers can best support the individual they will be working with. This will ensure that you will be providing the appropriate level of care, rather than overburdening yourself by doing more than you need to. Additionally, encouraging individuals with quadriplegia to do as much as they can independently promotes their ability to maintain and potentially improve upon their current functional skills.
Caregiver training may include practicing transfers, dressing, bathing, and other daily activities. Furthermore, therapists may discuss important home safety measures, such as appropriate positioning to prevent the formation of pressure ulcers.
Ask for a Home Visit "Practice Run"
If possible, ask whether your loved one with quadriplegia could participate in a home visit with therapy staff. This could allow for both you and your loved one to do a "trial run" before they actually arrive home. Consider making the home environment as accessible as possible beforehand by eliminating clutter, removing throw rugs, and ensuring doorways are wide enough for a wheelchair to easily pass through.
A home visit is an excellent time for you and your loved one to practice transferring into and out of the bed, shower, and vehicle. Furthermore, individuals can practice maneuvering their wheelchair or other equipment throughout the home. Caregivers are able to both see and discuss any major barriers they see at this time to problem solve any issues in advance.
Make the Most of the First Few Days
When your loved one with quadriplegia first arrives home, allow yourselves some time to settle into a routine. Being a caregiver for an individual with quadriplegia is no easy task, but with time and practice, it can be a positive experience for everyone involved.
It may be a good idea to consider setting up home health services, including both physical and occupational therapy. These therapists can train you and your loved one in appropriate home exercises. They can also help address any problems that come along as you are both transitioning into your new roles.
Preventing Caregiver Burnout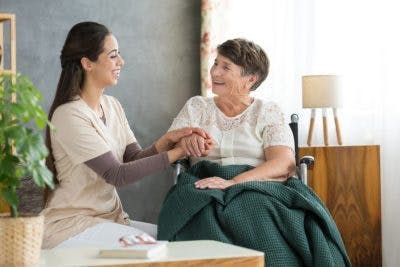 Spinal cord injury recovery can be as much of an emotional battle as a physical one. Consequently, it can be both physically and mentally exhausting to care for someone with quadriplegia at home. With this in mind, here are just a few ways to prevent caregiver burnout.
Take Time for Self-Care
It is nearly impossible for anyone to pour from an empty cup. When caregivers forget to take time for themselves, they may become stressed, frustrated, and exhausted. Try to take at least a few minutes each day to do something that you enjoy. This may be practicing yoga, reading a book, listening to music, or going out for coffee.
Caring for an individual with quadriplegia at home can sometimes be an around the clock job. Simply allowing yourself to have some time on your own can make your caregiving responsibilities seem more manageable.
Consider Respite Care
Similarly, when caregivers are feeling overwhelmed, they may want to consider respite care. Respite care workers provide short-term relief for primary caregivers. Depending on your needs, you could hire someone for respite care for an hour per day, a few hours per week, or a couple of days each month.
Respite care workers often have more experience than family members who became caregivers out of necessity. As such, they may have some suggestions of ways to improve how you are currently doing things. Having another individual assist with the caregiving responsibilities temporarily can be an excellent experience for everyone involved.
Join a Caregiver Support Group
There are numerous virtual and in-person caregiver support groups readily available for individuals caring for someone with quadriplegia at home. Support groups allow you to share both positive and challenging experiences with others who have been in a similar position. Members of the support group may empathize with you and provide ideas to help with any difficulties you may have. Support groups are a wonderful source of emotional support.
Change Your Routine
Simply switching up your typical routine may help ease tensions and prevent negative feelings. Trying to incorporate engaging activities for individuals with quadriplegia into your day can not only be fun, but can also promote a more positive caregiving relationship. Some ideas include finding and trialing new recipes, renting a track chair to explore off-road trails, or checking out a local event.
Caring for Someone with Quadriplegia at Home
Becoming a caregiver is a life changing event. Caregivers and their loved ones go through many challenging experiences together. However, with the right tools, this time can be enjoyable and fulfilling for all involved.
Hopefully this article helped you get into the right mindset for caring for someone with quadriplegia at home.