Constraint-induced movement therapy can help stroke patients improve movement – even after severe stroke.
Not sure what constraint-induced movement therapy (CIMT) is? You're about to find out, along with some useful exercises you can start doing today!
What Is Constraint-Induced Movement Therapy?
Constraint-induced movement therapy is a challenging form of rehabilitation where the non-affected side is "constrained" from participating.
This forces use of the affected side of the body. Patients need minimal movement to get started with this therapy. (If you are completely paralyzed, see our other methods for stroke paralysis recovery.)
Constraint-induced movement therapy works in 3 steps:
Restraining the unaffected limb
Forcing use of the affected limb
Massed practice*
*Massed practice simply means high repetition and frequent practice. This provides the brain with the stimulation it needs to rewire itself through neuroplasticity and improve motor control.
Although these 3 steps for CIMT may sound simple, it can be frustrating when mobility impairments are severe, so be patient with yourself.
Forcing the use of your affected side is challenging, to say the least. Do what you can, and be patient when progress is slow. Things will get better if you keep trying day after day.
Constraint-Induced Movement Therapy Exercises
Constraint-induced movement therapy works best when you increase the exercise difficulty level little by little every day.
With that in mind, try these constraint-induced movement therapy exercises, starting with the easier ones and moving on to more difficult ones as you get stronger:
1. Straight Push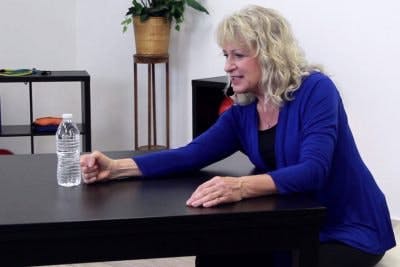 Place a water bottle on a table, and use your affected arm to glide across the table and tap the water bottle with your fist. You can use your torso to initiate this movement, but pay extra attention to avoid hiking your shoulder.
2. Play Cards with Your Affected Hand
Put your affected arm behind your back and try to play a card game like solitaire. This will likely be very slow and take lots of time, so don't focus on winning the game. Just focus on your movements – and remember to breathe!
3. Hand Exercises
Skim through our hand exercises for stroke patients and choose some to do with your affected hand only. It can help to place an oven mitt over your non-affected hand to prevent it from getting involved. For example, try spinning a pen several times with your affected hand.
4. Practice Turning the Pages of a Magazine
Turn the pages of a magazine with your affected hand while sitting on your non-affected hand. If this is too difficult, you can use your non-affected hand to bend the corners of the magazine pages to make them easier to grab.
5. One-Sided Stretches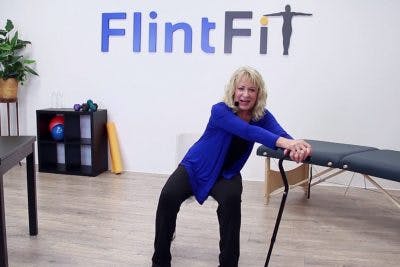 Browse through our arm and shoulder exercises for stroke patients and try doing easy exercises with your affected arm. For example, you can do the Cane Lean stretch with your affected arm only. Start by placing your affected arm on a cane and lean forward. Do this several times to help stimulate the affected side.
*In the photo above, Barbara is placing both hands on the cane. For CIMT, the goal is to only use the affected arm. However, if your therapist does not think this movement is safe, then using both hands is encouraged in the beginning.
6. Trace Shapes and Handwriting
Draw different shapes on a piece of paper and place it under a piece of glass. Then, use a dry-erase marker to trace the shapes with your non-affected hand. As with all constraint-induced movement therapy exercises, keep your non-affected hand behind your back. As you get better, you can trace more intricate designs like your signature.
Have Patience with CIMT Exercises
For maximum results, try to practice constraint-induced movement therapy every day. Remember, massed practice is critical for results.
In the beginning, massed practice might just mean a few repetitions because it can be exhausting and frustrating – and that's okay. What matters is that you keep trying and strive to increase your reps gradually over time.
Be kind and patient with yourself as you get started with constraint-induced movement therapy. With consistent practice, you will see incredible results. Best of luck on the road to recovery!