Practicing fine motor activities after stroke can be an effective way to improve hand and finger mobility, coordination, and strength. Intensive, targeted training helps stimulate the brain to promote recovering affected muscle functions. To help you achieve your recovery goals, this article will share 10 effective fine motor activities for adults after stroke.
Table of contents:
Fine Motor Activities to Practice After Stroke
Fine motor skills play a major role in our ability to perform everyday tasks in an efficient manner. They're what allow us to accurately grab an item, type words on a keyboard, and tie our shoelaces.
After a stroke, individuals may struggle with tasks that involve fine motor skills. Fortunately, these skills can be improved through repetitive practice.
Here are some fun and effective fine motor activities for adults after stroke:
1. Therapy ball exercises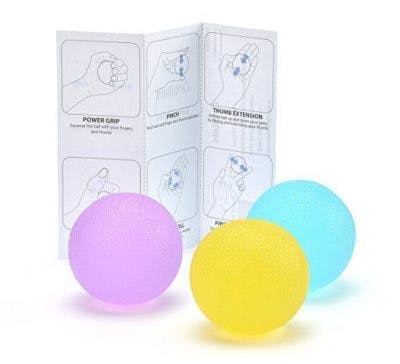 Hand therapy ball exercises are great for individuals following stroke, especially for those that have hand weakness or struggle with clenched hands. Some exercises involve squeezing or pinching a therapy ball, which would benefit patients who need to strengthen the finger flexors (the muscles that allow you to bend your fingers and make a fist).
However, hand therapy balls can also be useful for patients with spasticity that present with clenched fists. Placing their hand and fingers around the ball can allow them to stretch out the tightened muscles. If spasticity is severe, these patients may need to use their unaffected hand to help place the spastic hand around the ball.
See all hand therapy ball exercises »
2. Therapy putty exercises

Therapy putty is a popular hand rehabilitation tool used in occupational therapy. By manipulating the putty in various ways, you can give your hand a good workout. For example, you can practice finger extension by wrapping the putty around your index finger and then extending your finger up, pushing through the resistance of the putty. As your hand grows stronger, you can increase the resistance of the putty you're using to continue challenging yourself and improving muscle function.
See all therapy putty exercises »
3. MusicGlove hand therapy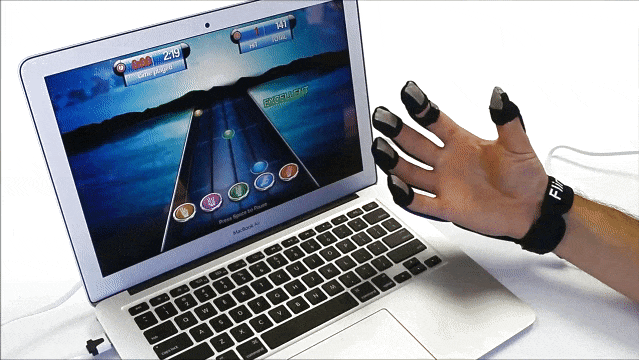 While most hand therapy exercises can be dry and boring, MusicGlove is a high-tech home therapy system that incorporates gaming and music into your hand exercises. It's clinically proven to improve hand function in just 2 weeks because patients are motivated to achieve higher repetition of finger exercises.
4. Tabletop exercises
Whenever you're sitting at a table, it's a great time to do some hand exercises. You can use various household items like coins, paper clips, silverware or pens to practice a variety of fine motor skills. For example, you can practice gripping a pen, sliding it across the table, and releasing it. Additionally, you can work on using your thumb and fingers to spin the pen in a circle on the table in both clockwise and counterclockwise directions. Practicing tracing and writing can also be effective for improving fine motor coordination skills.
See all hand exercises for stroke patients »
5. Moving beans
If you have any dried beans in your pantry, pour some onto a table and practice moving them into a cup, one by one. While this might be mundane, it's a commonly-practiced occupational therapy exercise for fine motor skills. Once you become skilled at picking up one bean at a time, try using smaller beans, or attempt picking up multiple beans in your hand at once, then manipulating them to your fingertips one at a time to place into the cup.
6. Stacking coins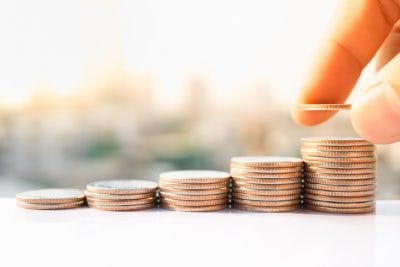 Have any spare change lying around? Try flipping the coins all one direction (either heads or tails side up) and stacking the coins on top of each other as a simple and affordable fine motor activity. This activity helps develop grasp and release functions, as well as careful placement. Sorting coins is also great for developing fine motor skills, as well as addressing cognitive functions. Furthermore, to work on building strength, try adding coins to therapy putty and attempt to remove them.
7. Rubber band resistance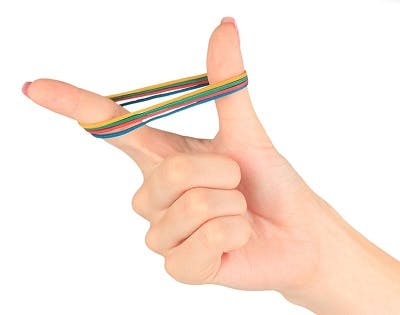 Rubber bands make great "resistance training" for your fingers. Simply place the bands around your thumb and index finger and try to push the band apart. You can do this with all 4 of your fingers.
8. Play the piano
Learning how to play a simple tune on the piano is an excellent way to develop your fine motor skills. By pressing the correct keys, you'll not only improve your precision but also develop a new hobby.
The best part is, there's almost an infinite number of songs you can learn to play. Therefore, no matter what your level of ability is, there's always a way to challenge yourself and improve your fine motor skills.
9. Board games
Are you a board game fanatic? Most board games require you to maneuver a small object across the board to keep track of your position. This is a fun and engaging way to practice holding onto small objects and moving them in small increments.
Board games can also involve rolling dice across the board, pressing buttons, flipping cards, and spinning a wheel. These various activities can all help you develop your fine motor skills after a stroke.
10. Shuffling a deck of cards
There are endless ways to work on developing your fine motor skills with a deck on cards, including:
Shuffling the deck
Laying the cards out on a table so you can see each one
Flipping each card over one by one
Picking a card out of the middle of a deck
Standing the cards on end to make a house of cards (great for those really looking to challenge their fine motor skills)
Cards are thin, which helps you develop your grip and precision. Additionally, there are numerous card games you can learn to play with a single deck of cards. You can entertain yourself for hours while developing your fine motor skills.
Now that you're familiar with some activities that can help you develop your fine motor skills after a stroke, the following section will address the underlying mechanism that allows you to recover them.
How to Improve Fine Motor Skills
The key to improving fine motor skills after stroke is to consistently perform high repetitions of targeted exercises. High repetition is key to recovery because it helps activate neuroplasticity, the mechanism the brain uses to rewire itself and recover.
If you struggle with severe spasticity, which often results in clenched hands after stroke, you can start with passive exercises and stretching. Passive exercise involves assisting your affected hand though a movement, either with the help of a therapist or by using your non-affected hand.
Both passive and active exercise helps stimulate the brain and encourages neuroplasticity to recover affected functions. The more repetitions you practice on a consistent basis, the more your fine motor skills will improve. This is called "massed practice."
Although progress may come slowly, especially with severe hand impairments, your brain is on your side. As long as you put in the reps, you'll improve your chances of recovery. The brain never runs out of neuroplasticity, so even if it has been months since your stroke and recovery appears to slow down, there is still potential to improve.
One of the most effective ways to practice targeted hand exercises and develop your fine motor skills is to participate in occupational therapy.
Occupational Therapy Fine Motor Activities
Many individuals participate in occupational therapy after stroke to improve their functional independence. Occupational therapy involves practicing many of the activities you perform daily such as grooming, feeding, and getting dressed. Most of these everyday activities require fine motor skills, which makes it an excellent and practical way to achieve high repetition of therapeutic movements.
For example, getting dressed requires a wide range of fine motor skills. Everything from grabbing your shirt to pulling up your zipper and buttoning your pants uses fine motor skills. Because these are activities you perform regularly, it's easy to see the real-world application of developing these skills. The more you practice, the easier they become.
Occupational therapists can also develop a home exercise program for you using various household items to allow you to continue improving your fine motor skills on your own. This may involve exercises such as those listed above, adapted to your specific skill level to challenge your fine motor skills without being too easy or too difficult.
Additionally, an occupational therapist can recommend adaptive tools to improve your independence while you work on developing your fine motor skills. Improving your fine motor skills takes time. While you may initially struggle to perform the activities, as long as you trust in the process and keep practicing, you'll stimulate the brain and promote adaptive changes.
Fine Motor Activities for Adults After Stroke: Key Points
Believe it or not, most of the activities you perform daily involve fine motor skills. Therefore, it's essential to practice them to improve your independence after a stroke.
We hope you try some of these fine motor activities for adults after stroke. Remember, the key to recovery is to consistently practice the skills you wish to improve. This helps stimulate the brain to make adaptive changes and strengthens those functions.