Foot drop treatment is tailored to each unique person because everyone will respond differently.
If you struggle with foot drop, talk to a physical or occupational therapist about treatment options. They can assess your condition and make the best recommendation.
This article will guide you through the causes and possible treatment options for foot drop so that you can make an informed decision.
Causes of Foot Drop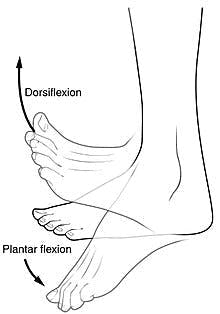 Image source: Wikipedia
Foot drop occurs when someone has difficulty lifting the front part of the foot up toward the shin – a movement known as dorsiflexion.
Common causes of foot drop include neurological injury like stroke, traumatic brain injury, and spinal cord injury. The event disrupts the central nervous system's ability to send signals to the foot that control dorsiflexion, making the movement difficult or impossible.
Localized injury, like a pinched nerve, can also cause foot drop. In some cases, foot drop can be caused by muscular disorders like muscular dystrophy.
Understanding the cause of your foot drop is critical for recovery, because treatment needs to be tailored accordingly. For instance, treatment for foot drop after stroke will differ from treatment after nerve injury.
Talk to your doctor to get a clear understanding of what caused your foot drop before talking to your physical therapist.
Foot Drop Treatment and Rehabilitation
Below are all the available treatments for foot drop, organized by least- to most-invasive.
1. Foot Drop Exercises
Foot drop exercises focus on practicing movements that involve dorsiflexion. Exercising your foot is a safe, non-invasive way to improve foot drop, especially after neurological injury like stroke. By practicing foot drop exercises, you can retrain the brain and nervous system to control your foot again.
2. Passive Exercise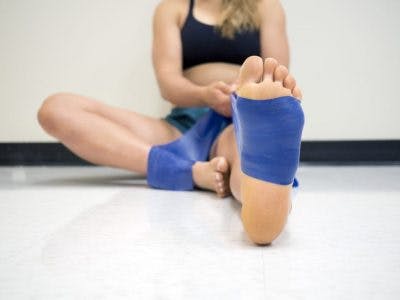 If you cannot move your foot at all, there's still a way to exercise your foot – namely through passive exercise. This involves assisting your foot through the movements. Although this isn't active movement, passive exercise still helps improve blood flow and prevent further deterioration of the conditions. It also helps activate neuroplasticity, which helps recovery from foot drop after neurological injury like stroke.
3. Functional Electrical Simulation
Functional electrical stimulation involves applying electrical currents through the skin to the nerves and muscles. It has been shown to help improve foot drop and gait in stroke patients.
Work with a physical therapist to learn where to place the electrodes. Depending on which muscles are affected in the foot and leg, they will adjust accordingly.
4. Ankle Foot Orthotics
Ankle foot orthotics offer support to the foot so that it doesn't drag on the floor, which helps improve your safety. If your therapist recommends an AFO brace for foot drop, you should listen to them.
However, AFOs are considered a crutch, and they encourage dependence on the AFO. When the foot and lower leg muscles are neglected, it often worsens the conditions.
To prevent the condition from worsening, the use of an AFO should be accompanied with consistent foot drop exercise to encourage recovery and prevent learned nonuse.
5. Surgery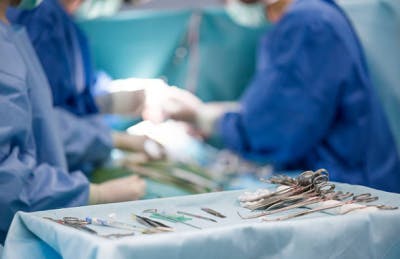 When foot drop is caused by compression of the peroneal nerve, surgery can be performed to improve the condition. Surgery can help release pressure from the nerve, which may restore dorsiflexion.
While the surgery is considered simple, it's also invasive. Try to exhaust your attempt to recover through non-invasive foot drop exercises before considering surgery.
6. Nerve Transfers
In stubborn cases of foot drop, nerve transfers can sometimes be used to restore function. This surgery works by taking "donor nerves" from other parts of the body and transferring them to the affected area. Depending on where the issue is, your doctor may recommend a nerve transfer there to improve dorsiflexion.
7. Home Modification
Safety becomes a concern with foot drop since it impairs your ability to lift your foot and affects your gait. To reduce the risk of falling, it's important to modify the home to make accidents less likely. Get rid of any throw rugs, keep floors clear, and install grab bars in the shower. For more ideas, ask your occupational therapist to audit your house for safety recommendations.
How Long Does Foot Drop Recovery Take?
Patients generally see small signs of recovery from foot drop within 3-6 months after surgery, according to Washington University. In most cases, return of movement takes 6-12 months.
If you decide to approach foot drop treatment without surgery, it's unknown how long recovery will take. However, it's well understood that when foot drop exercises are practiced daily, results will come faster than inconsistent therapy.
Foot drop recovery is a long process, so it's important to stay safe in the meantime. The use of ankle foot orthotics and home modification equipment can help you get around. Good luck!