Frozen shoulder after stroke can be a painful condition that hinders your quality of life. If you want to treat frozen shoulder and relieve the pain, you're in the right place!
You're about to learn the various causes of frozen shoulder after stroke and how to treat the condition. We hope you can find some relief by the end of this article.
What Causes Frozen Shoulder After Stroke?
The shoulder is a vulnerable ball-and-socket joint encased in connective tissue. Frozen shoulder occurs when the connective tissue thickens and tightens around the shoulder joint, resulting in restricted and painful movement.
Frozen shoulder is caused when the arm is immobilized for a long period of time. Stroke patients with arm paralysis are particularly at risk for this condition.
Unfortunately, mobility issues after stroke are a slippery slope. If paralyzed patients do not participate in physical therapy, mobility issues begin to worsen. Partial shoulder dislocation (a condition known as shoulder subluxation) can worsen into frozen shoulder.
This condition can be prevented by keeping the arm moving. If frozen shoulder occurs, it can be treated the same way it's prevented: with movement. Not just any movement will suffice, however.
Frozen shoulder patients need to participate in physical therapy and other supplementary treatments to overcome this condition.
Treatment for Frozen Shoulder After Stroke
Below you will find some great treatment methods for frozen shoulder after stroke. If you want to try any of them, have a conversation with your therapist before you begin to ensure your safety.
Here are some of the best treatments for frozen shoulder after stroke:
1. Physical Therapy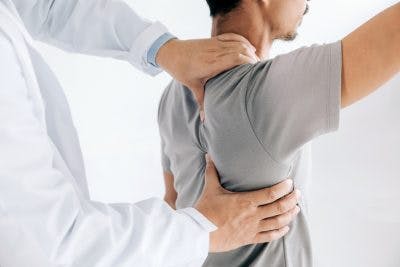 Physical therapy exercises for the shoulder and arm are the best treatment for frozen shoulder after stroke. They gently introduce movement into the shoulder and stimulate the brain.
By stimulating the brain with exercise, patients can help spark neuroplasticity, which is the brain's ability to rewire itself and regain lost functions, such as arm movement.
Stroke patients with frozen shoulder often struggle with paralysis, which makes exercise difficult. Fortunately, patients can start with passive range-of-motion exercises to get movement into the arm during the initial stages of recovery.
Be cautious when attempting to exercise with frozen shoulder. If the upper arm bone is disconnected from the shoulder socket, exercise on your own can be dangerous. It's important to work under the guidance of a qualified therapist.
2. Electrical Stimulation
Electrical stimulation is another promising treatment for stroke patients with frozen shoulder. It works by applying electrical impulses through the skin to the affected muscles.
Electrical stimulation often helps bring movement into paralyzed muscles. It's one of the top treatments for post-stroke paralysis.
With immobility being the root cause of frozen shoulder, electrical stimulation can help. If the shoulder has become dislocated, electrical stimulation may help encourage the arm bone to go back into the socket.
Your physical therapist will likely suggest pairing electrical stimulation with exercises. Studies have shown that combining these two treatments leads to even better results.
3. Botox for Spasticity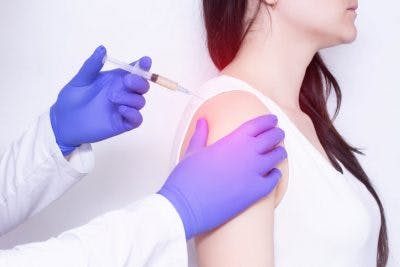 Botox is a great way to reduce spasticity after stroke, which can help reduce pain from frozen shoulder and improve range-of-motion. However, it only produces short-term results.
Although results are temporary, botox may offer enough relief for patients to participate in physical therapy. Therefore, this treatment option – although temporary – can help you address the root issue by doing the exercises necessary for recovery.
Work with your therapist to apply Botox to temporarily reduce spasticity in your arm and shoulder. Then, use the temporary boost in mobility to accomplish gentle physical therapy exercises to improve frozen shoulder long-term.
4. Shoulder Taping
Now that you know some of the best treatments for frozen shoulder, let's discuss an effective compensation strategy: shoulder taping.
Shoulder taping does not treat the root cause of frozen shoulder, because it does not encourage movement. However, it can help relieve pain. A qualified physical therapist can show you how to tape your shoulder, or show your caregiver how.
5. Arm Slings
If your shoulder has become partially dislocated, then taping may not suffice. If you need a better compensation strategy, your therapist may recommend a sling.
Slings can help support the arm and reduce the gravitational pull on the shoulder socket, which aggravates conditions like frozen shoulder.
A good physical therapist will also prescribe gentle exercises along with a sling, as a sling does not address the root cause.
Which Frozen Shoulder Treatment Is Right for You?
If you suffer from frozen shoulder after stroke, it's important to talk with your therapist about treatment.
Therapists can show you how to exercise your shoulder and arm safely. Furthermore, if you need extra help with pain management, a therapist can teach you how to tape your arm properly and apply electrical stimulation correctly.
It's extremely important to work under the guidance of a professional for painful conditions like frozen shoulder. Good luck on the road to recovery.
Photos from top to bottom: ©iStock.com/pcess609/Henadzi Pechan