During stroke rehabilitation, it is critical to stay active. While physical activity is key, it is also important to keep your mind engaged. This is where it becomes helpful to utilize games for stroke patients.
The more you stimulate your brain, the more you activate neuroplasticity, the brain's natural repair mechanism. This will allow you to regain and maintain cognitive function.
One of the best ways to stimulate your brain after a stroke is through games. In this article, we'll show you 9 fun and challenging games that are perfect for stroke patients.
Since stroke can vary in its severity, we have organized this list by difficulty, starting with the simplest and ending with the most challenging. This lets us include something for nearly every stroke patient, no matter their level of cognitive function.
With that, here is our list of the 9 best games for stroke patients.
Best Games for Severe Stroke Patients
The following are a few games suitable for stroke patients with severe cognitive difficulties. These games offer a light challenge to a patient's memory or concentration without exhausting them. While none of these games were designed specifically for stroke recovery, they all engage crucial mental skills that you can use to increase your independence.
If you find these games too simple, feel free to skip ahead to the next section where we cover more complex games.
1. Connect Four
Connect Four is an excellent game to improve fine motor skills and attention. Players must pick up and drop small disks to connect four in a row, while also paying attention to both their own and their opponent's pieces.
2. Go Fish!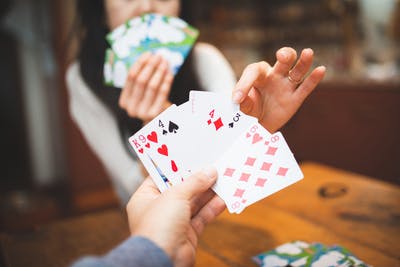 Card games like "Go Fish" are perfect for severe stroke patients who need to relearn skills such as memory and pattern recognition. The object of the game is to play all your cards by creating pairs, either by drawing new cards or asking your opponents if they have one you need. The first person to get rid of all their cards wins the game.
This game requires some strategy, but not so much that it will become frustrating. It also gives stroke patients with speech difficulties a chance to practice their speaking skills.
If fine motor skills are more severely impaired and holding onto a handful of cards is challenging, a card holder may help.
3. UNO
UNO is another simple yet entertaining game for stroke patients.
The goal is to match the color or number of a card in your hand with the card on the table until you play all your cards. But you have to do so before your opponent does.
It's an excellent way to engage color and number recognition. There is also some mild strategy and planning skills involved.
4. Checkers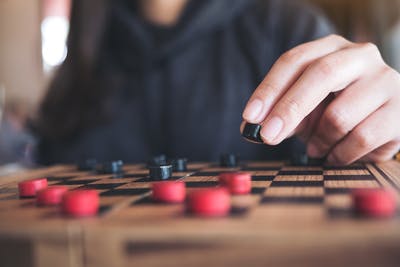 Checkers involves simple movements that can help stroke patients improve their grip. It also allows them to practice problem-solving to perform the best moves on their opponent.
This board game is ideal for patients who would like more of a challenge, but whose cognitive function is not quite ready for a more complex game such as chess.
Games for Moderate and Mild Stroke Patients
The rest of the games on this list are more challenging than the ones listed above. They are appropriate for stroke patients with only mild or moderate cognitive impairment.
5. Scattergories
This game is great for boosting mental organization and word-retrieval abilities. It's especially ideal for stroke patients with language difficulties, such as aphasia.
The goal of the game is to name as many items in a category that start with the same letter in under two minutes.
If the full Scattergories game is too difficult, stroke patients can start with Scattergories Junior, which is a simpler version.
6. Scrabble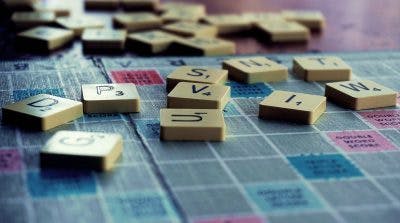 Like Scattergories, Scrabble is a classic board game that challenges a person's word-finding abilities. However, it requires a little more cognitive effort. Not only are you limited by the tiles in your hand, you also must use the tiles on the board to build new words off of them.
This engages several cognitive skills at once, including:
Memory to find the best word
Problem-solving to build a word from available letters
Cognitive flexibility to adapt if the player before you takes away the word you were about to play
If playing a full game of Scrabble is too challenging, players can each take 25 tiles and attempt to make as many words as possible with the tiles they have. Whoever uses all their tiles first wins. This continues to use problem-solving and word finding skills.
7. Battleship
Battleship involves a good amount of strategy, which makes it another excellent game for stroke patients.
To win, you must find your opponent's battleships by guessing their coordinates before they sink yours. Since you cannot see your opponent's board, this requires memory, concentration, and other cognitive skills such as deductive reasoning. It can also improve fine motor skills.
8. Chess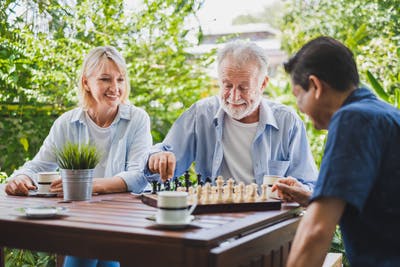 Chess engages nearly every cognitive skill, making it an awesome game for stroke patients who have recovered moderate cognitive function and wish to regain more.
Chess challenges your memory, since you must remember what each piece does. It forces you to use both logic and creativity to find the best move. And finally, it teaches players how to plan ahead and adapt to unexpected situations.
All of these skills are critical for restoring full independence after stroke.
9. MusicGlove and FitMi
FitMi and MusicGlove are rehab devices that utilize gaming techniques to encourage patients to persevere with their therapy. MusicGlove is specifically designed to help stroke patients recovery hand function, while FitMi targets a player's entire body, including their hands, arms, and core.
Both of these rehabilitation devices focus on activating neuroplasticity, the brain's ability to reorganize neurons. By engaging neuroplasticity, the brain can rewire itself to allow undamaged areas of the brain to take over function from damaged ones. This will result in an increase in function.
MusicGlove in particular has shown stunning results in recent studies. For example, in one clinical trial, stroke patients who used MusicGlove for 3 hours per week saw significant improvement in hand function at the end of 2 weeks. That's only 6 hours of therapy needed to regain significant fine motor skills.
Therefore, if you are looking for new ways to stay engaged in therapy, we recommend giving FitMi and MusicGlove a try.
Finding the Best Games for Stroke Patients
Games offer exciting stimulation for stroke patients and can help promote a faster and fuller recovery from stroke.
Different games will engage different parts of the brain and target different cognitive skills. Therefore, it's important to choose ones that will offer a good challenge without overwhelming you.
We hope this article inspires you to try some of these games and brighten up your stroke recovery.