Incomplete spinal cord injury recovery time may vary depending on the level of injury, severity, and rehabilitation process. Other factors can also interfere with recovery time including various internal and external variables like associated injuries, diet, social support, and living environment.
However, incomplete spinal cord injury recovery time is not linear, with most survivors experiencing the most significant improvement within the first 18 months; and other individuals may continue to experience incremental improvements years after the initial injury.
This article will discuss some of the best tips in supporting your body and mind during the early healing stages.
Is Incomplete Spinal Cord Injury Recovery Time Limited?
There is no set timeline for recovery because every spinal cord injury is different and every survivor may experience different outcomes. However, many individuals with an incomplete spinal cord injury experience the largest spike in recovery during the first 3-6 months post-injury.
During this early stage, the central nervous system enters a heightened state of plasticity, or learning, as it tries to stabilize itself. Many survivors may see significant improvements in their affected limbs such as increased movement and sensation in their body parts that were previously immobile or lacking sensation.
This spontaneous recovery typically plateaus, or slows down, around 12-18 months. However, incomplete spinal cord injury recovery time is not limited to that first year of heightened plasticity.
There are three factors that can continue improving after this initial phase, and they are the severity of your injury, the level of your injury, and your functional abilities. As you continue in your rehabilitation journey, home modifications and continued strengthening exercises will maintain those improvements.
Complete vs. Incomplete Spinal Cord Injury Recovery Time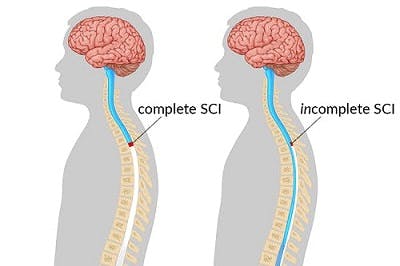 The spinal cord uses neural pathways to communicate with the brain and muscles. When neural pathways become damaged or destroyed by a spinal cord injury, it can result in loss of sensation, immobility, and other secondary effects.
In a complete injury, the spinal cord is fully severed; meaning there are no existing neural pathways below the level of injury. However, with an incomplete injury the spinal cord is only partially severed and there are spared neural pathways remaining. Spared neural pathways can be strengthened by neuroplasticity, the nervous system's ability to heal and rewire itself.
The level of spinal cord injury (the lowest region where movement and sensation exist) determines which muscles and neural pathways are recoverable. Neuroplasticity strengthens existing neural pathways and creates new ones, allowing for better communication between the central nervous system and the body.
How to Assist Incomplete Spinal Cord Injury Recovery
Although the spinal cord experiences a temporary heightened state of plasticity after initial injury, it is still capable of rewiring itself even years later. To continuously activate neuroplasticity and optimize your incomplete spinal cord injury recovery time, it's important to practice high repetition of exercises daily.
Practicing a skill consistently helps train the nervous system to recognize that skill and strengthen its neural pathways. To increase your recovery time, it's important to establish a proper rehabilitation regimen. This can include a combination of different therapy exercises such as gait training or hand therapy exercises.
Your therapist is a great resource and can provide you with a suitable rehabilitation plan tailored to your ability level. However, to ensure you stimulate neuroplasticity on a regular basis, it's important to practice rehab exercises in between your therapy sessions.
To help you stay motivated and achieve high repetition of exercises at home you can use FitMi, an interactive neurorehab device designed to improve full-body mobility after spinal cord injury. FitMi provides you with exercises based on your ability level and the muscle groups you want to target.
Exercising your affected muscles daily is essential to improve function and sustain the gains you've made in therapy. However, in addition to exercise, there are other factors that can hinder or promote healing after an incomplete spinal cord injury and affect recovery time. Learning how to manage these factors is important to maximize your chances of recovery.
Factors That Can Affect Incomplete Spinal Cord Injury Recovery Time
Incomplete spinal cord injury recovery time is not linear because it can be affected by a combination of various factors. While some factors are external, meaning they are out of your control, some factors are internal and can be managed with the proper care.
Potential factors that can affect incomplete spinal cord injury recovery time include:
1. Severity
The severity of an injury often determines an individual's incomplete spinal cord injury recovery time. Less nerve damage usually means fewer functions impaired. Studies show that if less nerve tissue sheaths are affected, there are better long term outcomes.
2. Stabilization of the Spinal Cord Immediately After Injury
Majority of the damage caused by a spinal cord injury is a result of secondary processes the body uses to stabilize itself. For instance, after a spinal cord injury the immune system releases an inflammatory response to help stabilize the microenvironment and protect the body. This can result in swelling, cell death, and reduced blood flow.
Excess swelling of the spinal cord can cause spinal shock, which refers to a temporary loss of all reflexes, motor control, and sensation below the level of injury. Spinal shock can last up to a few months post-injury. It's important to seek emergency medical care to minimize these secondary effects and support incomplete spinal cord injury recovery time.
3. Co-Occurring Health Problems
It is important to pay attention to overall health conditions that may arise secondary to the injury and from initial strength loss. Additionally, many survivors deal with chronic pain which can make it challenging to practice therapeutic exercises daily and stimulate neuroplasticity. However, studies have shown that exercise is integral in decreasing overall pain levels and increases brain neuroplasticity.
Additionally, some health conditions to lookout for that can co-occur with incomplete spinal cord injury recovery include:
Pressure sores
Sleep complications
Certain medications
Obesity
These conditions can interfere make your rehabilitation process more challenging if they are not properly addressed. To reduce the risk of increased adverse symptoms and unmonitored health conditions after spinal cord injury, it's important to seek proper medical care.
4. Physical Activity
After a spinal cord injury, many individuals may experience paralysis or become sedentary. The lack of mobility can increase the risk of pressure sores and other complications.
Movement after a spinal cord injury is crucial to activate neuroplasticity, increase proper blood flow, and lower the risk of complications. The more you promote movement, the greater chance you have of supporting the early neuroplasticity stages.
Being physically active, 20-30 minutes of moderate-vigorous levels 3 times per week and strength training 2 times per week, also helps to boost your physical and mental health. Increasing physical activity will help with decreasing the effects of co-occurring health problems mentioned above. It also can help create more endorphins (happy hormones) to help decrease severity of anxiety/depression.
5. Well-Balanced Diet
Maintaining a well-balanced diet is essential during spinal cord injury recovery. Healthy, nutritious food provides your body with the fuel it needs to heal and function properly. Different types of foods also affect your mood and energy levels which may interfere with the rehabilitation process.
Additionally, consuming foods with excess sodium (salt) or sugar can increase the risk of developing serious health conditions such as diabetes or high blood pressure, which can impede incomplete spinal cord injury recovery time. Consult with your doctor before making any changes to your diet to ensure it is safe for you.
6. Mental Health
Survivors may experience a variety of psychological effects after spinal cord injury. It is natural to feel sad, angry, and depressed. But, who you are does not change after the injury. Having a support system of friends, family, and/or other survivors is crucial in these early stages of recovery.
It is important to remember to approach rehab with a patient and balanced mindset. Incomplete SCI is a life-changing event, and everyone hopes that they will regain all of their mobility and sensations. But the reality is you will gain some, but most likely not all, of those back. It makes it that much more important that you are able to take the time every day to practice your rehab exercises and find other ways to boost your mind and body through adaptive athletics and exercise. Additionally, talking to your doctor about medication and therapy can help you cope and improve your quality of life.
Taking the time to commit daily to your rehab journey will help you see gains in your strength and endurance, allowing you to live the healthiest and most fulfilled life.
Understanding Incomplete Spinal Cord Injury Recovery Time
Incomplete spinal cord injury recovery time is different for every survivor and can be affected by various factors including the severity of an injury, a balanced-diet, and mental health status. Fortunately, symptoms and recovery journey can be improved by stimulating the nervous system and activating neuroplasticity, especially in those early months and years.
To attain your goals, working hard every day to get stronger and learning new ways to manage your daily activities will allow you to be as independent as possible. We hope this article helped you understand how to optimize your incomplete spinal cord injury recovery journey and support healing.