Brain injury recovery is a challenging process that can take months, sometimes years, of consistent therapy. One way to make this process smoother is to set long-term goals that you can strive towards.
Unfortunately, setting effective therapy goals can be difficult if you don't know where to start. That's why, in today's article, we'll explain some key ingredients to creating successful, long-term goals for TBI patients.
Let's get started!
Setting Long-Term Goals For TBI Recovery
Consistent therapy is the key to making a good recovery from TBI. When you exercise, you activate neuroplasticity, the brain's natural healing mechanism. This allows the brain to reorganize neurons and recover functions.
Unfortunately, many brain injury patients struggle with low motivation, which makes it hard for them to participate in therapy. This is where long-term goals for TBI patients can prove useful.
Long-term goals can help direct your rehab to focus on the skills that matter most to you. Studies show that patients participate more in therapy when their goals are relevant, functional, and personal.
But how do you set goals like these? One good way is to use the SMART approach, where you set goals that are:
Specific
Measurable
Achievable
Relevant
Time-Bound
To help you understand this process better, we'll explain each component of the SMART approach in the sections below.
1. Be Specific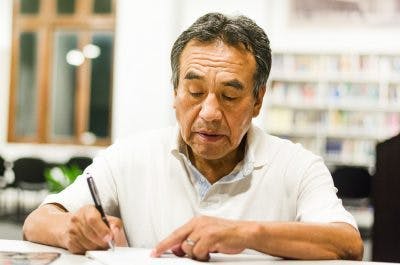 Make sure the goal you set isn't too broad. When something we strive for is too big or too vague, we can easily lose motivation.
In fact, this is one of the reasons TBI patients struggle with their motivation. The goal they have (full recovery) is so large and overwhelming that it can sometimes feel easier to give up.
Therefore, instead of simply telling yourself that you want to walk again, aim for something more specific. You could first set a goal of walking from your bedroom to the kitchen on your own, for example. Then expand the goal to include walking around your entire house, etc…
This makes the goal feel less intimidating and helps you stay focused.
2. Choose Measurable Goals
In addition, the goal you set must be something you can easily measure for success.
For instance, striving to lift 15 pounds is a more measurable goal than simply saying you want to become stronger.
This strategy also helps you find objective ways to measure your progress. If you can increase the amount of weight you can lift by a half-pound every week, this will give you a huge boost of motivation. It lets you see how close you are to your ultimate goal.
3. Make Goals Achievable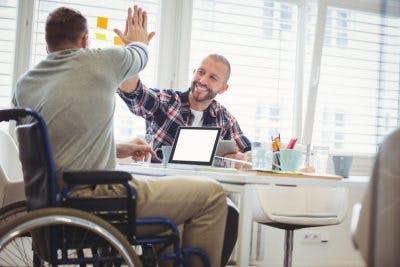 Do not set a goal that you have no realistic chance of achieving right now. You want the goal to be challenging, but not impossible.
For example, if you have limited motor functioning, you shouldn't make hiking the Grand Canyon your long-term goal. This doesn't mean you will never be able to hike it, of course. But you should start with something a little more feasible. Otherwise, you will only discourage yourself.
Instead of hiking the Grand Canyon then, make walking your local park your initial long-term goal. If this becomes too easy for you, then choose something slightly more challenging, but still within reach.
4. Keep Things Relevant
The goal you work toward must be something you really want. Something you wish you could do that you can't achieve just yet.
For example, while strength training is important, it can be hard to complete 30 bicep curls on their own. But instead, if you think about how you must get stronger in order to dress yourself again, doing the exercises can feel more exciting.
Therefore, when your long-term goal is something you are passionate about or something that feels relevant to your life, it's much easier to find the motivation to put in the work.
Some questions you can ask yourself if you have trouble thinking of a relevant goal include:
What do you find more difficult since your injury?
Which hobby did you enjoy before your injury?
What skills do you need to live independently again?
Your therapists can also help you answer these questions and find goals that feel relevant.
5. Time-Bound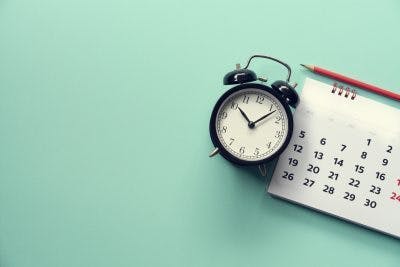 Finally, it helps to create a time frame for when you plan to complete your goal.
For example, if you struggle with aphasia, plan in the next 3 months to learn to say at least 10 words. This gives you a concrete window in which you can make progress.
Having a limited amount of time also keeps you accountable and forces you to stay motivated. It can prevent you from delaying your exercises until another day.
If you only have three months to meet a goal, you're more likely to work harder than if you have 8 or 12 months.
Building Up to Long-Term Goals
These five tips can help you create successful long-term goals for your brain injury recovery. But there are a few more ideas that can help.
First, you should break down your long-term goals into smaller steps. These smaller steps are known as short-term goals.
For example, if you want to live on your own, you will need to recover specific skills, such as the ability to dress yourself, cook, clean, etc. Each of these are short-term goals that you must achieve before you can live independently.
Next, you can break each of these short-term goals into activities that you can practice to regain them. For instance, to cook safely, you will need to improve your memory and fine motor skills. Fortunately, practicing cognitive and occupational therapy activities can help you improve those abilities.
Think of it like steps on a ladder. You can't skip all the way to the top, but each step on the ladder brings you higher and higher until at last, you reach your ultimate goal.
The Benefits of Long-Term Goals for Brain Injury Patients
Long-term goals keep TBI patients engaged and motivated in their therapy programs. This, in turn, promotes a fuller recovery from brain injury.
When creating long-term goals, therapists and patients should try to make the goals as specific, relevant, and achievable as possible.
The more personalized the long-term goals are, the more successful they will be. Good luck!