Many children with cerebral palsy walk with an abnormal walking pattern called scissoring gait.
To help you understand what a scissoring gait is and how it can affect your child's future, this article will discuss its primary cause, associated risks, and various management interventions.
What's the Link Between Scissoring Gait and Cerebral Palsy?
A scissoring gait is characterized by the knees and thighs pressed together or crossing each other while walking.
It's caused by high muscle tone (spasticity) in the hip adductors. The hip adductors are the muscles responsible for bringing the thighs together. Because these muscles remain contracted, internal hip rotation occurs and the upper half of the legs cannot separate while walking.
A scissoring gait is most common in individuals with spastic diplegia. This type of CP occurs when motor impairments predominantly affect the legs.
There are a variety of abnormal walking patterns that can result from cerebral palsy, but a scissoring gait is the most prevalent.
Now that you understand that spasticity is the underlying cause of a scissoring gait in individuals with cerebral palsy, let's discuss the risks associated with poor management.
Risks Associated with Poorly Managed Scissoring Gait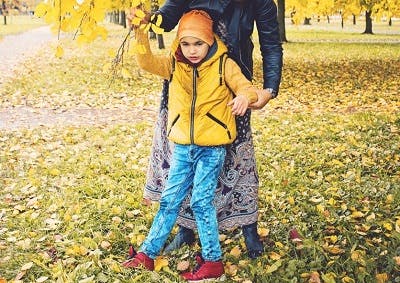 Cerebral palsy is a static disorder, meaning that the brain damage that causes CP will not worsen over time. However, complications of cerebral palsy like spasticity can progress if not properly managed.
Potential risks associated with poorly managed scissor gait include:
Developmental deformities or limited growth due to uneven muscle pull
Increased risk of falling due to poor balance skills
Increased risk of pressure sores due to knees constantly rubbing against each other
Limited range of motion due to tight joints
Pain due to consistent muscle tightness and strain on the joints
Loss of walking ability
Although spasticity can worsen with age, it can also be reduced with consistent management. To maximize your child's mobility, it's essential to seek spasticity management as early as possible.
Children's brains have greater plasticity than those of adults. This means that it is much easier for children to adapt and form new habits than it is for adults. Managing spasticity early and practicing correct form can help replace abnormal walking patterns before they become ingrained habits.
In the following section, we'll discuss management interventions that can help correct a scissoring gait.
Scissoring Gait Treatment Interventions
Early intervention plays an essential role in minimizing the progression of a scissoring gait in children with cerebral palsy.
Correcting a scissoring gait is two-fold. First, spasticity must be minimized so that the muscles can freely contract and relax. Second, the child must practice improving their walking form consistently.
Below, we'll discuss several interventions that can help decrease a scissoring gait in children with cerebral palsy. Depending on the severity of your child's spasticity, some interventions may be more ideal than others. Speak with your child's pediatrician or physical therapist to determine the most effective and beneficial treatment plan.
Medications
Muscle relaxants like baclofen can help reduce muscle hyperactivity for temporary spasticity relief.
Generally, muscle relaxants in pill form provide short-term spasticity relief and need to be taken multiple times a day. Because they're taken orally, muscle relaxants can affect the entire body and cause feelings of sedation, fatigue, or weakness. This may not be ideal for individuals who only experience spasticity in their legs.
Baclofen can also be administered through a surgically implanted intrathecal pump. Because the muscle relaxant is directly delivered to the spinal cord, it can be provided in smaller doses, which reduces the risk of side effects.
Botox
Botox injections are another treatment that can help temporarily reduce spasticity in children with cerebral palsy. It works by blocking the nerve signals that cause muscles to contract.
Generally, Botox injections should provide 3-6 months of spasticity relief. However, depending on the given dosage and severity of your child's spasticity, its effects may wear off sooner.
It's important to understand that muscle relaxants and Botox only provide short-term relief and may not be ideal for long-term use.
While using Botox, children with CP should take advantage of their reduced spasticity and follow an intensive gait training program to improve their form.
Orthotics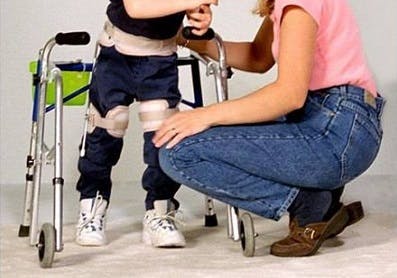 Orthotic devices such as braces and splints can help support normal form and musculoskeletal alignment.
Children are growing, and unmanaged spasticity can cause disproportional growth. Wearing an orthosis can help counteract spastic muscles from progressive tightening.
Additionally, orthotic devices like de-rotation straps or SWASH (Sitting Walking And Standing Hip) orthoses can help keep the legs parallel and prevent crossing.
Surgery
Various surgeries can help reduce spasticity in children with cerebral palsy. However, surgeries should only be considered if other management interventions are not effective.
For a scissoring gait, an adductor lengthening surgery may be recommended. This involves lengthening the inner thigh muscles.
Another surgery that is commonly performed to reduce spasticity is a selective dorsal rhizotomy. This involves cutting overactive nerve fibers that cause the muscles to contract. When nerve fibers are cut off, they can no longer grow back, and the innervated muscles will no longer be spastic.
Physical Therapy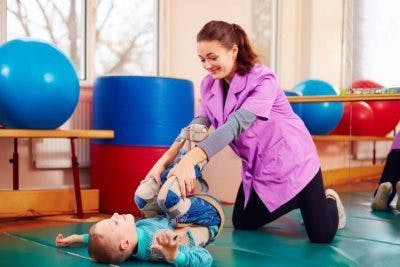 Even with spasticity significantly reduced, children may continue to walk with a scissoring gait because that is how they've always walked. Treatments like surgery, nerve blockers, and muscle relaxants may decrease spasticity, but it will not teach your child how to walk with correct form.
If your child has only ever walked with a scissoring gait, walking without it is going to feel uncomfortable. In order to improve their form, children will need to attend physical therapy and develop new walking habits.
A physical therapist will assess your child's mobility and create a personalized exercise plan to improve their gait. The more individuals practice walking with correct form, the stronger the neural pathways for that movement pattern may develop, and the more comfortable it will feel.
Walkers
Many individuals with spasticity in the legs struggle with balance and may need the support of a walker for mobility.
Using a walker will allow individuals to practice bearing weight on the legs, which in turn may promote circulation and strengthening of the bones and muscles.
To discourage the legs from scissoring, some walkers include features like straps or cushioning that may keep the legs apart.
Understanding Cerebral Palsy and Scissoring Gait: Key Points
Many individuals with cerebral palsy walk with a scissoring gait due to spasticity in the hip adductors. If not properly managed, a scissoring gait can affect balance and growth.
Early intervention is essential because spasticity can worsen over time. Effective management of scissoring gait will focus on minimizing spasticity and promoting correct form.
We hope this article helped you better understand why children with cerebral palsy scissor gait and how to correct it. Good luck!