If you're experiencing difficulties falling or staying asleep after spinal cord injury, you're not alone. In fact, sleep problems are more common in individuals with spinal cord injuries than in the general population.
To help you better understand sleep problems after spinal cord injury, this article will discuss:
Consequences of Spinal Cord Injury Sleep Problems
Getting an adequate amount of sleep is essential for optimal functioning during the day. The average adult needs 7-9 hours of sleep a night.
Since a spinal cord injury results in impaired motor control and sensation, the body must work harder and expend more energy to perform movements. During sleep is when the body and mind replenish their energy stores.
Lack of sleep or poor-quality sleep can result in:
Decreased attention span
Decreased alertness
Poor memory
Increased pain
Depression
Weight gain
Low energy levels
Cardiovascular disease
Excessive daytime sleepiness
Impaired judgment and decision-making skills
Worsened mood
It's suggested that poor or decreased sleep has long-term health consequences and "may lead to premature death, an increased risk for cardiovascular disease, and the development of metabolic disorders."
Now that you understand why it's essential to prioritize sleep, let's discuss various factors that can cause sleep problems after spinal cord injury.
Causes of Sleep Problems After Spinal Cord Injury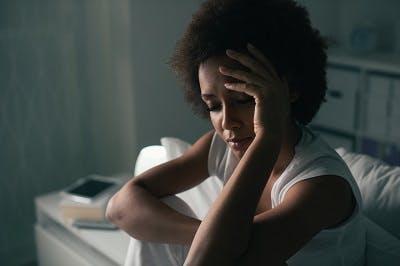 The outcomes of every spinal cord injury are unique, and various factors can contribute to sleep problems, including:
Body temperature dysregulation. Following an SCI, the body may struggle to regulate its body temperature. As a result, individuals may become too hot or cold during sleep and wake up.
Impaired motor control. Inability to or difficulty shifting positions during sleep can cause discomfort.
Chronic illness. Individuals with chronic illnesses such as hypertension, diabetes, and obstructive pulmonary disease are more likely to experience sleep problems.
Pain. Pain due to secondary complications like spasticity and pressure sores can disrupt sleep.
Obesity. Obesity leads to the narrowing of the upper airway, which contributes to sleep-disordered breathing.
Mental health disorders. High levels of stress and anxiety can negatively influence sleep quality.
Age. It's suggested that increasing age is associated with more sleep disturbances.
Diet. Eating foods that are difficult to digest and eating right before bed may contribute to sleep problems.
Environment. Sleeping in a loud or brightly lit environment may contribute to sleep difficulties.
Medication side effects. While medications may help individuals manage other complications of SCI, side effects that disrupt sleep may arise.
Level of Injury. Sleep problems are more prevalent amongst individuals with cervical or high-thoracic level spinal cord injuries due to more widespread sensory and motor impairments.
Periodic leg movement disorder. Periodic leg movement disorder, which can occur in individuals with SCI, is characterized by periodic episodes of involuntary and repetitive foot or leg movements that are sometimes accompanied by flexion of the knees and hips. Symptoms generally become more severe later in the day or when lying down and can significantly affect one's ability to sleep.
Identifying what is causing your sleep problems is critical to treating them. This will be further discussed in the management section of this article. But first, let's discuss the most common types of sleep problems.
Common Sleep Problems Amongst Individuals with Spinal Cord Injuries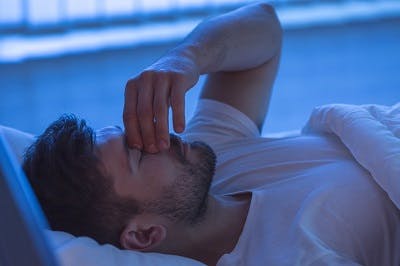 Major sleep disturbances associated with SCI include disrupted circadian rhythm, insomnia, and sleep apnea. Below, we'll discuss the defining characteristics of each sleep problem.
1) Circadian Rhythm Sleep-Wake Disorders (CRSWD)
Circadian rhythm refers to the body's sleep-wake cycle, which regulates energy levels throughout the day in response to light changes in our environment as well as other influences. It influences various bodily functions including eating habits, metabolism, hormone release, and body temperature.
Poor sleep quality may interfere with the alignment of your circadian rhythm and cause you to feel more extreme spikes of tiredness throughout the day. Some research has shown that the disruption of information between brain and body due to SCI may affect the body's circadian rhythm, resulting in poor sleep.
2) Insomnia
Insomnia is a sleep disorder characterized by difficulties falling or staying asleep throughout the night.
It becomes more prevalent as people age, and even more so after spinal cord injury. Many complications of spinal cord injury including bladder problems, impaired motor control, pressure sores, body temperature dysregulation, and anxiety can contribute to insomnia.
3) Sleep Apnea and Other Respiratory Disorders
Individuals with cervical or higher-level thoracic SCIs have an increased risk of experiencing respiratory complications that can negatively impact sleep.
This is because a major respiratory muscle called the diaphragm is innervated by the C3-C5 levels of the spinal cord. Similarly, the thoracic region of the spinal cord innervates the intercostal muscles (the muscles located between the ribs) that allow your lungs to expand and breathe in enough air.
Sleep apnea is a sleep disorder characterized by unstable breathing that stops multiple times throughout the night, and it is more common in people with SCI than in the general population. Individuals with sleep apnea generally experience severe snoring and feel tired during the day from constantly being woken up.
Now that you understand what types of sleep problems may occur after a spinal cord injury, let's discuss management.
How to Manage Sleep Problems After Spinal Cord Injury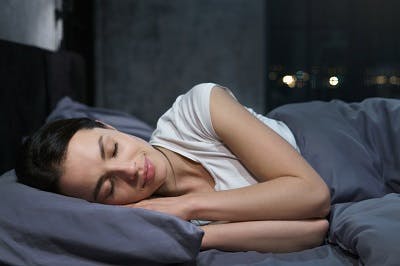 Generally, management focuses on identifying and treating the underlying cause of sleep problems.
For example, if you wake up multiple times throughout the night because of spasticity, management should focus on relieving the spasticity. Likewise, if sleep problems are caused by anxiety, management should focus on mental health.
Other management interventions that may help improve sleep after spinal cord injury include:
Cognitive-behavioral therapy. Cognitive-behavioral therapy can help you identify and effectively cope with negative thoughts and anxieties that may be keeping you up at night. This may involve following a bedtime routine to promote relaxation.
Continuous Positive Airway Pressure (CPAP) device. Individuals with sleep apnea may need to use a CPAP device to pump pressurized air into the airways while they're asleep.
Altering your sleeping environment. Setting the right sleeping environment can make all the difference. Try to avoid harsh lighting, distracting sounds, and extreme temperatures.
Medications. Prescription sleeping medications may help individuals fall and stay asleep throughout the night. However, relying on sleeping pills is generally not recommended for long-term management. Side effects often include feeling drowsy or sedated during the day.
Watching what and when you eat. Eating large amounts of food before bed can be harsh on your digestive system and interfere with sleep. Likewise, try to avoid caffeine, alcohol, and sugar 5 hours before bed.
Limit naps. Try to avoid taking naps later in the day, and even then, try to limit them to no longer than 30 minutes.
Melatonin supplements. The brain releases melatonin to help you fall asleep. Taking melatonin supplements can help your circadian rhythm get back on track and promote sleep.
Increasing physical activity levels. Physical activity helps promote a good night's rest and helps relieve stress.
To develop a treatment plan for your specific sleep problems, speak to your physician.
Spinal Cord Injury Sleep Problems: Key Points
Many individuals with spinal cord injuries experience sleep problems due to impaired motor control, increased stress, and the development of secondary conditions.
Managing sleep problems after SCI often requires a combination of interventions. What works for one person won't necessarily work for another. Therefore, a personalized approach to management is ideal.
We hope this article helped you understand the link between spinal cord injury and sleep problems.