Virtual reality for spinal cord injury recovery is a fun, engaging approach to rehabilitation.
The technology allows you to participate in an interactive 3-dimensional experience.
Although virtual reality was initially created for entertainment purposes, it's also staking its claim in the healthcare industry as an innovative approach to rehabilitation.
Is There a Place for Virtual Reality in SCI Rehabilitation?
Recovering from neurological injury primarily focuses on neuroplasticity, the central nervous system's ability to rewire itself.
The best way to promote neuroplasticity is through lots of repetition.
The more you repeat a weak movement, the stronger the neural pathways for that movement will become. You're retraining your brain, spinal cord, and body to be in sync again.
At physical therapy, a physical therapist will guide you through a bunch of exercises designed to improve motor function.
However, a PT session isn't very long, so you won't be able to perform all the repetitions you need.
For physical therapy to be effective, you need to practice these exercises at home, on your own time.
The problem is having the willpower to perform the same mechanical exercise over and over again. It gets monotonous and dissuades a lot of people from rehabilitative success.
This is where virtual reality comes in.
Why Virtual Reality for Spinal Cord Injury Recovery Works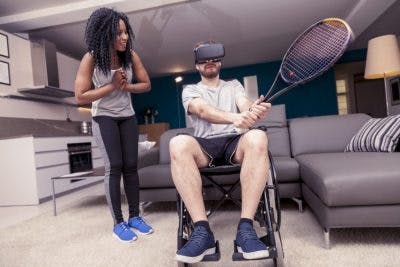 Featured image: ©iStock.com/nautiluz56
Simply put, virtual reality works for spinal cord injury rehabilitation because it promotes movement.
It's customizable and fully immersive, which will keep patients motivated to perform the repetitions they need.
You can make the game as easy or as difficult as you want to test and identify one's functional abilities and challenge them the right amount throughout every stage of their recovery.
Depending on the technology, multiple senses can be stimulated. Some VR technologies will be strictly visual, but others can include auditory or even tactile stimuli.
We're highly influenced by our senses, and virtual reality has the power to encourage your recovery in infinite ways.
Distraction is a powerful tool, and by stimulating an interactive challenge, patients can escape their everyday lives and participate in challenges that keep them moving without getting bored.
This review analyzed 9 studies that used virtual reality for spinal cord injury mobility rehabilitation.
7 of the studies reported positive recovery outcomes. While the other 2 studies reported no change in mobility outcomes, they did highly rate patient satisfaction and perceived effectiveness.
Using Virtual Reality for Psychological Rehabilitation Purposes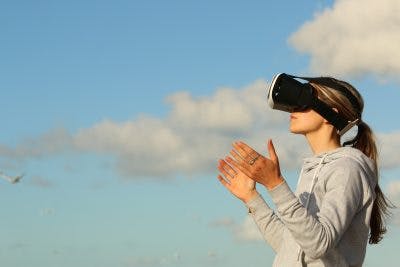 Virtual reality can also be used for psychological rehabilitation.
Spinal cord injury patients have increased risks of developing depression and anxiety because of how their injury can affect their ability to carry on with their everyday lives.
Virtual reality can help you escape to a relaxing, peaceful environment and administer a guided meditation session.
This study tested the psychological effects of virtual reality on two spinal cord injury patients.
Through virtual reality, they were immersed in an illusion of gently floating on a river while listening to mindfulness training.
Both patients reported feeling less depressed, anxious, and emotionally upset.
Is Virtual Reality for Spinal Cord Injury Rehabilitation Worth Trying?
Compared to other methods of spinal cord injury rehabilitation, virtual reality is still fairly new.
There are a limited number of studies on the effectiveness of virtual reality for motor function recovery after spinal cord injury, so larger-scale studies are still needed.
A setback of virtual reality is that some people report feeling nauseous or dizzy during the stimulation, but that may just be a testament of how realistic the experience can be.
Previously, the cost of virtual reality made it very inaccessible for the general public to experience.
Through technological advancements, virtual reality technology is now more affordable than ever and even sold for home-use starting at a few hundred dollars.
Virtual reality is a non-invasive and non-pharmacologic method of rehabilitation with very minimal side effects.
With so little to lose and so much to gain, it might just be the next big thing for getting spinal cord injury patients on their feet again.
Featured image: ©iStock.com/Halfpoint