Because cerebral palsy is a movement disorder that starts very early in life, a lot of content for cerebral palsy is geared towards children. This can make finding activities for adults with cerebral palsy challenging.
While playing with toys and sorting candy can be fun for adults too, there are more stimulating activities that will hold an adult's attention.
Engaging Activities for Adults with Cerebral Palsy
Because adults with cerebral palsy have dealt with their motor impairments their whole lives, they often already have a good idea of activities they enjoy and can do.
To inspire you to get out of your comfort zone and try something new, we've put together a list of 5 fun activities for adults with cerebral palsy.
Let's get started!
1) Cooking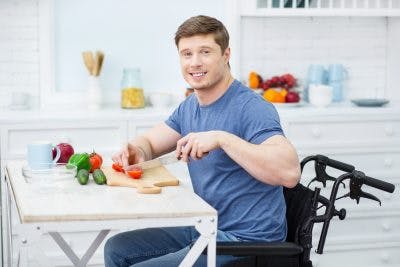 Cooking is a fun, rewarding activity that you can even do from a wheelchair.
It's something that you can really get creative with and take your time doing, which can be very therapeutic.
By measuring, mixing, and decorating your food, you can practice moving your affected arm(s) and developing some fine motor skills.
For those with more severely affected arms, kitchen appliances like electric mixers and food processors make it easier than ever to make a meal. There are also options, such as rocker knives and adaptive cutting boards, that make cooking with one hand possible.
Cooking options range from simple 2-3 ingredient meals to more intense meals that may require increased hand functions. If this is something new for you, it may be wise to start with an easier meal and gradually work your way up to trying something more difficult (and likely more tasty too!).
2) Playing an Instrument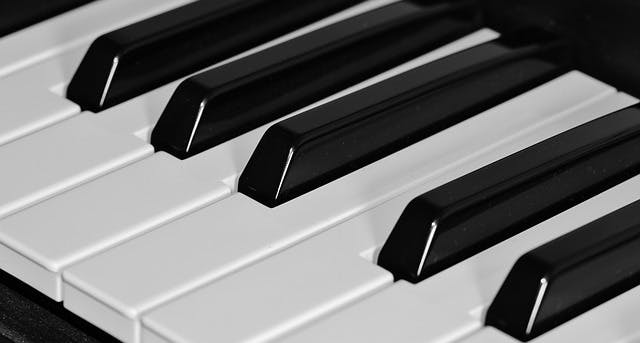 Music can be simple or complex, so even if your cerebral palsy makes it difficult to move your arms and fingers, there will always be something you can learn to play.
Instruments like the piano and drums are ideal for people with cerebral palsy because you can play with one or both hands.
However, individuals with cerebral palsy should try playing any instrument they want.
You'd be surprised at how people learn to play instruments in unconventional ways due to their disabilities.
Instruments like a trumpet (which only has 3 valves) or trombone (which you slide to play different notes) are often adapted and played by people with hemiplegia (motor impairments on one side of the body).
3) Adaptive Sports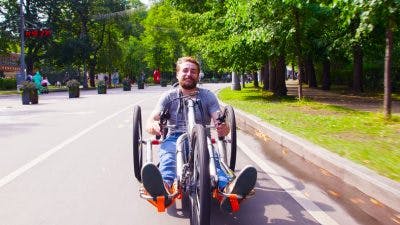 Almost all sports can be adapted for someone with cerebral palsy. Adaptive sports are a great way for people with disabilities to socialize, have fun, and be active.
Those with diplegia (paralysis in their legs) can play wheelchair sports in a manual wheelchair, but there are also adaptive sports for power wheelchair users like power soccer and power hockey.
There are a variety of accommodations and adjustments that encourage individuals with disabilities to be more active.
Some of the most popular adaptive sports include basketball, tennis, archery, handcycling, rugby, and archery.
It might sound unlikely, but bowling is also a fun activity that people with motor disabilities can play.
Ever heard of a bowling ball ramp? All you have to do is point the ramp in the direction to want the ball to roll and push the ball.
Swimming is also a great activity for individuals with cerebral palsy to try because being submerged in water will reduce pressure on the joints and apply mild resistance for strength-building.
4) MusicGlove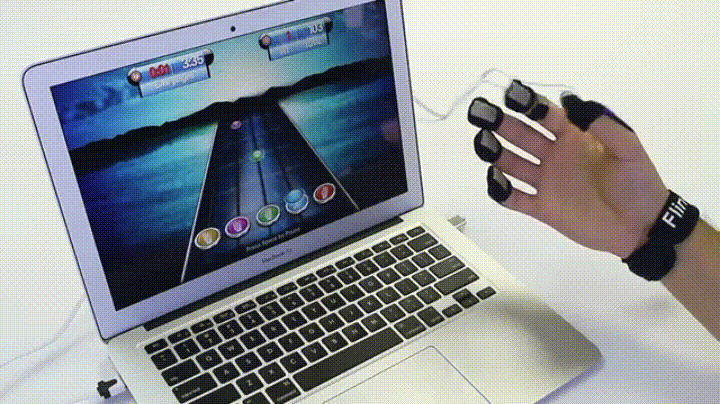 MusicGlove is a one-handed game that's ideal for individuals with spastic hemiplegia.
This fun tool combines gaming, music, and hand therapy together to motivate users to perform the repetitions they need to stimulate adaptive changes in the brain and improve their fine motor skills.
It's never too late to improve motor function, and MusicGlove provides a gamified approach that makes it easier to stay motivated.
5) Painting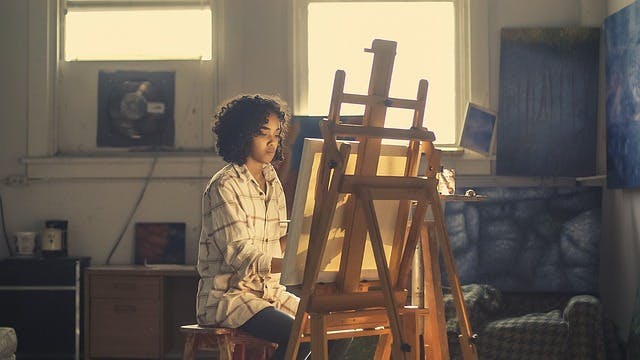 Painting is an activity that you can do one-handed and seated. Some people with paralysis in their hands will even use their mouth to hold a paintbrush.
You can also attach the paintbrush to a universal cuff so that it doesn't drop.
Painting is a great way to get creative and express yourself. There's no right or wrong way to make art, so feel free to paint however you want, even using finger painting if you desire.
You can develop fine motor skills by practicing gripping the paintbrush and making different strokes.
Find What Works For You
Ultimately, the best activities for adults with cerebral palsy are going to vary from person-to-person.
Everyone has different interests and hobbies, so it really depends on the individual.
Cerebral palsy describes a broad spectrum of movement disorders so every case will result in different ability levels.
For example, someone with spastic diplegia (affected legs) may be able to do lots of activities because they can freely use both of their arms while someone with spastic quadriplegia (affected arms and legs) will have much more restricted movements.
If you looked through this list of activities and thought that none of these activities were realistic for your motor impairment, we also have you covered.
There are a lot of fun sedentary activities to do including:
going to a live performance
watching a movie
going on a hot air balloon ride
attending a sporting event
having a picnic
having a conversation with loved ones
singing
going for a scenic stroll
getting your nails/ hair done
listening to music/ podcasts/ audiobooks
Hopefully, this article gave you some good ideas for activities you can enjoy with cerebral palsy.
Cerebral palsy should not hold you back. Find what works for you by experimenting and adjusting (which can be an activity all on its own).
Good luck!