Is cerebral palsy genetic? Parents with children who are born with cerebral palsy may wonder if their genes play a role in the onset of the condition. While many causes of cerebral palsy are identifiable, there are also many of unknown origin.
To help you understand what research suggests about genetics and their influence on cerebral palsy, this article will discuss:
Is Cerebral Palsy Genetic?
While there is no single gene that has been identified to cause cerebral palsy, it is suspected that a combination of multiple genes can increase one's chances of having CP.
Additionally, mutations in genes that affect brain development may also increase one's risk of developing cerebral palsy.
While genetic mutations were not considered a major contributor to cerebral palsy in the past, recent research suggests they may play a larger role. A study identified eight genetic mutations that are likely to contribute to the onset of cerebral palsy.
Researchers tested these mutations on the genes of fruit flies and found that they caused a variety of motor impairments characteristic of cerebral palsy. Although it warrants more comprehensive, larger-scale research, these findings provide evidence that genetic variants may be involved in more cases of cerebral palsy than historically believed.
Up next, we'll discuss various other factors that can cause cerebral palsy.
Common Causes of Cerebral Palsy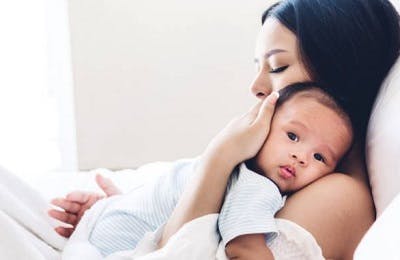 Cerebral palsy is a motor disability caused by damage to the brain before, during, or shortly after birth. Therefore, any event that damages areas of the brain responsible for motor functions (including the motor cortex, basal ganglia, thalamus, and cerebellum) could potentially cause cerebral palsy.
Some of the most common causes of cerebral palsy include:
Premature birth
Low birth weight
Bleeding in the brain
Brain infections
Multiple-birth pregnancies
Seizures
Lack of oxygen in the brain
Abnormal brain development
Head injury very early in life
It's important to note that in many cases, the exact cause of cerebral palsy is unknown. This leaves room to suggest that genetic abnormalities may be responsible for a significant number of unaccounted for cerebral palsy cases.
The next section will explain why multiple-birth pregnancies are more likely to cause cerebral palsy.
Why Twins Are More Likely to Have Cerebral Palsy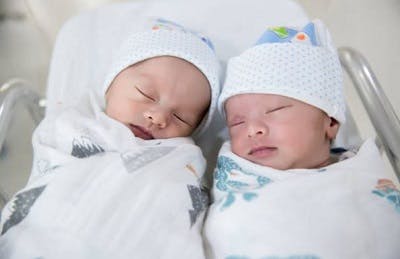 While many individuals with cerebral palsy have typically developing siblings, research suggests that there is a greater risk of recurrent cerebral palsy among twins. In other words, it is more likely for an infant who is a twin to have cerebral palsy than a single-born infant. In fact, the risk of cerebral palsy is about 5 times higher in twins.
This is mostly because multiple-birth pregnancies tend to have a higher risk of complications in general. For example, premature births (one of the major causes of cerebral palsy) are more common in twins. It could also be due to the increased prevalence of low birth weights in multiple birth pregnancies.
Generally, as the number of babies in the womb increases, the risk of pregnancy complications increases as well. As a result, triplets and quadruplets have an even greater risk for cerebral palsy.
Additionally, the risk of cerebral palsy tends to increase if both twins are of the same gender. However, in about 90% of cases, only one twin will have cerebral palsy.
The following section will discuss the likelihood of cerebral palsy being passed down from parent to child.
Can Cerebral Palsy Be Passed Down?
Individuals with cerebral palsy may be wondering if their child will also have cerebral palsy. While genetic factors can make a child more likely to have cerebral palsy, most women with CP give birth to perfectly healthy children.
A study of 88 parents with cerebral palsy reported that out of 122 collective children, only 2 had cerebral palsy.
However, it's important to note that complications of cerebral palsy such as spasticity and uncontrollable movements can make pregnancy and childbearing more challenging. This may increase the risk for complications before or during birth, which could potentially cause cerebral palsy. Additionally, the weight gain that comes along with pregnancy may increase strain on the joints, which can cause pain and further restrict mobility.
Expecting mothers with cerebral palsy should make sure to discuss with their obstetrician the best practices to maintain their safety and manage potential complications during pregnancy.
Cerebral Palsy and Genetics: Key Points
Recent research suggests that genetic factors may play a greater role in the onset of cerebral palsy than previously believed. However, this research must be more comprehensively studied to make any definitive conclusions.
We hope this article helped you understand the link between cerebral palsy and genetics.