Exercise can help individuals with paralysis of the lower body, also known as paraplegia, improve their circulation, prevent muscle atrophy, and promote potential recovery.
Individuals with paraplegia generally have normal upper extremity functions, meaning that control over the head, neck, shoulders, arms, and hands is unaffected. As a result, you can use your arms to help maneuver your legs into various positions.
In this article, we'll go over various exercises that can help individuals with paraplegia stretch and strengthen their muscles. All you will need is a leg lifter or resistance band to help move the legs.
Paraplegic Exercises for the Legs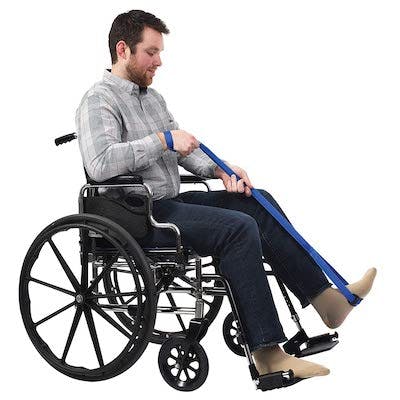 Depending on the level and severity of one's spinal cord injury, functional abilities amongst paraplegics will vary. Individuals with more severe spinal cord injuries will experience more paralysis while those with milder injuries may only experience weakness.
While your legs may not be able to exert full energy, your arms can. Passive range of motion exercises are exercises that don't require paralyzed limbs to exert energy. Instead, individuals with paraplegia can use their arms to move their legs around.
Although there is no active movement involved, passive exercise can help expand range of motion in the joints, promote circulation, and stimulate pathways between muscles and the spinal cord.
Individuals who can still control some movements in their legs should try to perform the following exercises without relying on the arms. Challenging yourself and repetitively practicing weakened movement patterns is key to promoting recovery.
Now that you understand how to practice these exercises depending on the severity of your paraplegia, let's get started.
1. Side Leg Lifts
This first paraplegic leg exercise involves slipping the front half of your foot into the loop of your leg lifter. Then, lie on your side so that the foot with the leg lifter is on top of your other leg.
Pull the strap of the leg lifter gently so that your leg raises to the side. Stop pulling when you start to feel your body's natural resistance and then hold the position to stretch your inner thigh.
Continue to lift and drop your leg 15 times, then turn to your other side and repeat to the other leg.
2. Knees to Chest
Place the leg lifter on one foot and lie flat on your back. Use one hand to slowly pull the strap towards your upper body and the other hand to bend the knee as it moves up.
Once your knee reaches your torso, use your arms to help keep it in place.
Hold the position for several seconds and then slowly straighten the knee as you bring the leg back down.
3. Ankle Rotations
Individuals with paraplegia can practice this exercise to avoid stiffness in the ankles.
Sit with one leg bent to the side so that you can easily reach your foot. Use one hand to stabilize your ankle while you use the other to move your foot in circles.
Be sure to rotate clockwise and counterclockwise. One way provides circulation and the other way reduces tension.
4. Ankle Pulls
Stiffness in the ankles is common in individuals with paraplegia, so it's essential to stretch and move them regularly.
For this ankle stretch, sit on the floor and place the leg lifter on one foot.
Make sure that the legs are straight and then slowly pull the strap towards your body so that your toes point towards the ceiling. Hold for 10-15 seconds and then release.
5. Hamstring Stretch
This next exercise will help paraplegics maintain flexibility in the hamstrings which in turn will reduce tension in the knees and hips.
Sit on the floor with the front half of your foot inside the leg lifter.
Pull the strap up your body so that the entire leg lifts off the ground. Pull until you reach mild resistance, then hold for 10-15 seconds.
6. Knee Extensions
Individuals with paraplegia can practice this next exercise in their wheelchairs (make sure to lock the wheels in place).
Place your foot into the leg lifter and then gently pull so that your knee straightens out.
Then, bring it back down and repeat 15 times before switching to the other leg.
7. Seated Elliptical
If you have access to a gym, using a seated elliptical can help passively exercise your legs.
The machine connects your arm and leg movements, so by swinging your arms back and forth, you're also promoting cycling motions in the legs.
Additionally, because you'll be seated, the legs will not be bearing any weight.
8. Seated Marches
If you have some motor control in the legs, consider practicing seated marches to stimulate the spinal cord and promote circulation.
In a seated position, alternate lifting the knees as if you're marching. Try to bring your knees up as high as possible.
This paraplegic exercise will help you develop the leg lifting motions necessary to walk again without bearing additional weight on the joints.
In the following section, we'll discuss exercises that can help individuals with paraplegia bear weight on their legs.
Gait Exercises for Paraplegia Recovery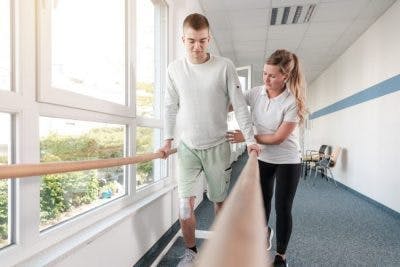 Once an individual with paraplegia develops enough strength and control in their legs to bear weight, they can focus on exercises that help develop their gait. Gait training is a type of physical training that focuses on developing your ability to walk.
Examples of gait training exercises for paraplegia include weight-bearing treadmill training, aquatic therapy, and overground training. Let's discuss what each of these exercises involve:
Weight-Bearing Treadmill Training
Weight-bearing treadmill training involves wearing a harness that controls the amount of weight placed on the legs. By reducing pressure on the joints, individuals with paraplegia can focus on improving their walking form.
The purpose of weight-bearing treadmill training is to gradually accustom the legs to additional weight until you can support your full body weight.
Aquatic Therapy
Another way individuals with paraplegia can relieve pressure off the lower extremities is by performing exercises in a pool.
Buoyancy is a property of water that helps keep you afloat and feeling light. Practicing walking in a pool removes pressure off the joints and allows you to practice standing and walking without bearing much weight.
The deeper you're submerged in water, the lighter you will feel. As individuals improve their form, they can gradually move into shallower waters to practice more control of their body and bearing more weight.
Overground Gait Training
Lastly, individuals with paraplegia can improve their gait through overground training.
This type of gait exercise involves using equipment like walkers, canes, and parallel bars to maintain balance. Using assistive devices teaches you how to shift your weight and balance.
Overground gait training can build strength and endurance in the legs so that you can support your body weight and walk longer distances.
Up next, we'll discuss paraplegic exercises that can help individuals improve their balance after spinal cord injury.
Core Exercises for Individuals with Paraplegia
Maintaining balance plays a major role in rehabilitating walking ability. Following a spinal cord injury, individuals with paraplegia may experience weakened core control, which can significantly affect balance.
Developing core strength can improve balance between your upper and lower body, which is essential for sitting upright, standing, and walking.
Check out the video below for seated core exercises that you can do from the comfort of your wheelchair.
Additionally, here are 4 exercises that will help individuals with paraplegia develop strength in their cores:
Heel Taps
This first core exercise for paraplegics involves laying down with your knees bent and feet flat on the ground.
Gently tilt your torso to the side and tap your heel with your fingertips. Only the upper half of your body should be moving. Then, tilt to the other side and repeat.
Sitting on a Stability Ball
Sitting on a stability ball requires you to constantly adjust your center of gravity, which continuously engages your core muscles. It is recommended that you master this exercises with the supervision and approval of a physical therapist before you attempt it at home independently.
Consider substituting a stability ball for a chair a few times a day to improve your balance.
Just make sure to lean the stability ball against a stable surface like the corner of 2 walls before getting on and off to avoid falling.
Stability Ball Crunches
Once you've mastered sitting on a stability ball, try carefully leaning back and performing crunches.
Crunches on a stability ball help minimize strain on the tailbone.
Knee Planks
This final core exercise for individuals with paraplegia involves laying on your stomach and gently getting on your knees and forearms, often called a quadraped position.
Make sure that the back creates a straight, downwards sloping line from your shoulders to the knees. Hold for 20-30 seconds (or however long you can).
Understanding Paraplegic Exercises: Key Points
It's essential for individuals with paraplegia to exercise in order to avoid extreme muscle atrophy, poor circulation, and stiff joints.
Improving leg functions and balance after an incomplete spinal cord injury can be a realistic recovery goal. However, individuals must make the effort to practice repetitive and task-specific exercises.
We hope you try these paraplegic exercises and see for yourself how effective they can be. Good luck!
Photos from top to bottom: iStock/Halfpoint/kzenon