There are many different methods for regaining arm movement after stroke.
However, every stroke is different, so everyone will respond differently to treatment. The best arm recovery method for one person might not fit another person.
Therefore, experimentation with different arm movement recovery techniques is critical for maximizing success.
Before we discuss the various methods for regaining arm movement after stroke, you need to know some essential background information.
How to Regain Use of the Arm After Stroke
When stroke affects the motor cortex of the brain, it can impair mobility in the side of the body opposite of the stroke.
For example, if a stroke occurs in the left hemisphere, it can impair mobility in the right arm or leg.
Because movement problems are caused by the impact of stroke, the solution to regaining arm movement is to rewire the brain so that it can send the correct signals to move your arm.
This is possible through neuroplasticity, your brain's natural ability to rewire itself and form new neural pathways.
Even after stroke has damaged the motor cortex of the brain, the healthy surrounding areas of the brain can take over – but it needs your help to happen.
Neuroplasticity & Regaining Arm Mobility After Stroke
In order to activate neuroplasticity, you need to practice whatever skill you want to relearn or improve. In this case, you need to practice moving your arm.
When we practice something, specific neural pathways in our brain are activated. Initially, these pathways might be weak. But when you practice over and over and over, these neural pathways become stronger and stronger.
That's why arm rehabilitation exercises are the best way to regain arm movement after stroke. They help strengthen the connections in your brain that control your arm movement.
This will help "relink mind to muscle" so that, when your brain fires a signal for your arm to move, your arm moves appropriately and accurately in response.
Methods for Regaining Arm Movement After Stroke
The most effective method for regaining arm movement after stroke involve activating neuroplasticity.
Here are the best techniques for getting movement back in the arm after stroke:
1. Arm Rehabilitation Exercises
Practicing physical and/or occupational therapy arm exercises for stroke patients regularly can help improve mobility in your arm. The brain needs consistent stimulation to rewire itself efficiently, so try to exercise daily. Oftentimes, completing multiple short exercise sessions per day helps more than completing just one longer session, as consistency and repetition are key to neuroplasticity. This will produce the best results.
2. Range of Motion Exercise
If your arm is stiff due to spasticity, then doing stretches and range of motion exercises can help loosen things up. When spasticity is severe, you may need splints to help you out (mentioned below).
3. Passive Exercise
If you struggle with arm paralysis after stroke, then it can be tricky to begin exercises. Fortunately, most stroke patients can participate in passive exercises. This simply involves assisting your affected arm through the exercises.
Although you aren't "doing it yourself," it still helps activate neuroplasticity. With enough passive exercise, it may help introduce movement into your arm.
Visualizing yourself completing these motions independently, even though you are unable to do so currently, can also help you to begin actively moving your arm more quickly.
4. FitMi Home Therapy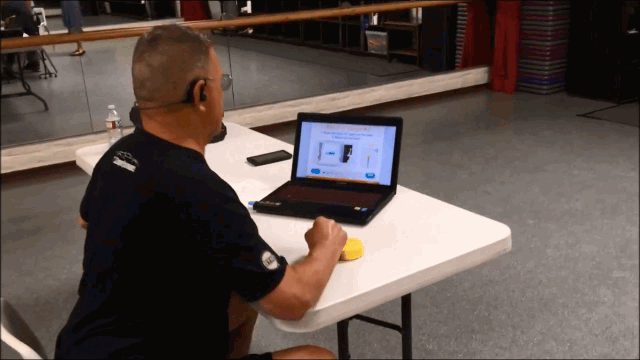 FitMi is a home exercise device designed to help you achieve the high repetition necessary for recovery. Many stroke survivors have used it to regain movement in their arm after stroke.
In fact, we wrote a success story of a man who moved his arm for the first time ever after just 3 weeks of using FitMi! It quickly helped him regain arm movement after post-stroke paralysis.
5. Botox
When spasticity is severe, you can use nerve blockers like Botox to temporarily reduce the spasticity. While the effects eventually wear off, requiring repeat treatments, it can help loosen your arm up enough to practice exercises.
This creates a window of opportunity to get neuroplasticity activated so that, eventually, you won't need repeat Botox injections. Instead, your arm spasticity will naturally go down as your mobility improves from the exercises.
6. Arm Splints
If you have severe spasticity or paralysis in your arm, you can also use splints to prop your arm or hand open. After doing this, you can do little exercises like this video with our favorite physical therapists, Bob and Brad:
7. Arm Pedaling
A great piece of stroke rehab equipment for arm mobility is an arm peddler. Because the movement is bilateral, you can use your non-affected arm to assist your affected arm. Bilateral training like this is particularly beneficial for stroke patients, as it increases stimulation in the brain to facilitate greater neuroplasticity.
8. Weight Bearing
Another way to increase use of your arm is by bearing weight through it. This can be done while sitting or standing, and involves setting your affected forearm or hand on a surface and putting some of your weight through it. This helps to provide input from your arm to your brain to rewire their connection through neuroplasticity.
Getting Movement Back in the Arm After Stroke
Which arm rehabilitation method seems the most interesting to you? Try that first! Since repetition and consistency are key to recovery, it's best to choose a rehabilitation method that interests you. That way, you actually do your therapy!
If you ever feel like giving up hope, check out this inspiring success story to remember that there's always hope for arm recovery after stroke. Good luck!