Returning to work after brain injury can be a complicated process that will look different for everyone. But finding employment again can offer a sense of accomplishment and improve your self-esteem.
Some TBI patients will be able to return to their old job, while others may need to find a new occupation. This article will guide you through the process and explain some of the obstacles you may need to overcome before returning to work.
Finally, we'll also explain which resources are available to brain injury patients that can help make your transition back to employment smoother.
Use these links to jump to sections most relevant to you:
Obstacles to Returning to Work after Brain Injury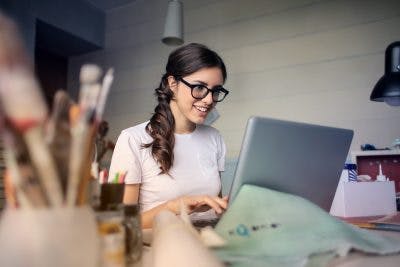 Having a job with a steady income can help you feel more independent and satisfied with life. It also keeps your body and mind active, which will prevent your brain injury from getting worse.
Sometimes, however, it will not be possible for you to return to your old job, especially if you used to work in a fast-paced, high-stress position. Some effects of brain injury that can affect a person's ability to return to work include:
Cognitive problems, such as difficulties with attention, concentration, and memory
Weakness
Lack of coordination in arms and legs
Vision impairments
Fatigue
However, it's important to recognize that these impairments are not necessarily permanent. The brain possesses a remarkable ability to repair itself after an injury, known as neuroplasticity. Through neuroplasticity, the brain can reorganize neurons, which allows undamaged areas of the brain to take over functions from damaged ones. This can enable you to recover lost abilities.
Therefore, it's important to not despair of ever regaining the ability to return to work after brain injury. With consistent physical, speech, and occupational therapy, you can activate neuroplasticity and regain function.
Still, this process can take time, and severe brain injury survivors might always have some degree of remaining deficits. Fortunately, there are resources available to help adapt the workplace to meet a person's needs.
Understanding Your Employment Rights After Brain Injury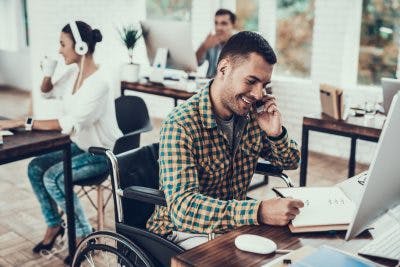 The Americans with Disabilities Act (ADA) prohibits employers from discriminating against persons with disabilities. The law applies to companies with 15 employees or more; however, some states may have additional laws that apply to companies with fewer than 15 employees.
Under the ADA, employers are required to provide reasonable accommodations to all employees with disabilities. These accommodations can be used to enable the person to perform their work. Therefore, it's important to know what adjustments employers can make for you before returning to work after brain injury. Some accommodations you can discuss with your boss include:
Working shorter hours
Returning to work gradually, maybe working from home at first
Taking more breaks to prevent overstimulation
Starting with a lighter workload
Reassignment to a new, less stressful role
Your employer can also provide you with physical and technological aids, such as modified desks or chairs, wheelchair accessibility, and computer programs to help you stay on task.
Remember, your employer wants you to succeed, so do not hesitate to ask. By providing you with accommodations, they can help you improve your work performance, which will in turn benefit the company as a whole.
If you are not sure which accommodations to request, work with a vocational rehab specialist or an occupational therapist who can help you determine which adaptations will benefit you the most.
Accessing Disability Benefits After TBI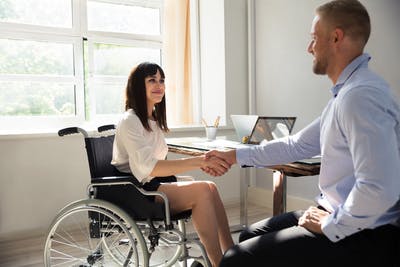 While full employment might be your ultimate goal, it's important not to return to work too soon after a brain injury. Sometimes you might be unaware of your deficits, and that might cause you to make serious mistakes on the job. In addition, returning to work before your brain has fully healed from its injury could cause more damage and set back your recovery.
Fortunately, there are benefits available to brain injury patients that allow them to continue receiving income while they recover from their injury. You can receive these benefits either through disability insurance (SSDI) or through supplemental security income (SSI).
Traumatic brain injury patients should apply for benefits as soon as possible, as it usually takes several months to process disability claims. According to the Social Security Administration (SSA), TBI patients qualify for benefits if they experience either:
A. Disorganization of motor function in two extremities, resulting in an extreme limitation in the ability to stand up from a seated position, balance while standing or walking, or use the upper extremities, persisting for at least 3 consecutive months after the injury.
OR
B. Marked limitation in physical functioning, and in one of the following areas of mental functioning, persisting for at least 3 consecutive months after the injury:
Understanding, remembering, or applying information
Interacting with others
Concentrating, persisting, or maintaining pace
Adapting or managing oneself
If you do receive approval for benefits, it's important to remember that benefits do not typically begin until 6 months after injury. In addition, benefits usually cease once the person finds employment. However, there are programs that allow exceptions.
Social Security Incentives for Returning to Work After Brain Injury
For those receiving Disability or Supplemental Security Income (SSI), you might be eligible to take part in the Ticket to Work program.
The Ticket to Work program gives brain injury patients access to career counseling, vocational rehab, and job placement and training. It also allows TBI survivors to test out the prospect of employment without fear of losing their benefits.
Ticket to Work programs are available in all 50 states. Other Social Security incentives that the Ticket to Work programs provide include:
Trial Work Period (TWP): The TWP allows brain injury patients to test their ability to work for at least 9 months. Individuals will receive full SSDI benefits as long as they report their work activity. This makes it ideal for brain injury patients just beginning to return to work.
Expedited Reinstatement (EXR): If a brain injury patient becomes unable to work again within 5 years after their EPE ends, they can request reinstatement of SSDI benefits without filing a new application.
Continuation of Medicare Coverage: After the TWP ends, Medicare coverage will continue for 93 consecutive months.
Now that you understand more about the benefits and accommodations available to help brain injury patients return to work, we can discuss what steps you should take to find employment again.
Preparing to Return to Work After Brain Injury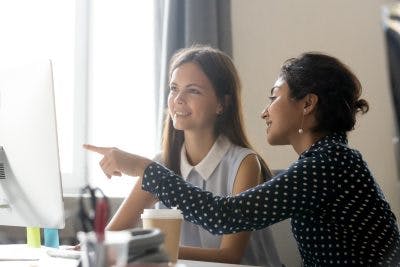 To ensure that you are ready to return to work after brain injury, it's critical to take part in physical, speech, and occupational therapy. These therapies can help you regain the abilities you need to thrive in the office.
In addition, it can help to practice at home some of the tasks you may need to perform. This way, you can prepare yourself for the challenges you might face at work.
Some ways you can practice at home include:
Work at your home computer and concentrate for as long as you will need to at work. Try playing cognitive training games or watching videos if you can't think of anything else to do at your computer. If you can only do a few minutes at first, that's ok.
Improve your physical endurance. Do some exercises and chores around the house every day until you can last at least a couple of hours without a break. Again, don't feel bad if this is hard in the beginning, that's why you're practicing!
Do activities that involve planning, such as cooking or shopping.
Get up at the same time every morning. Make sure you practice getting up at the time you would typically go to work.
Doing all this every day will give you a safe space to make mistakes and discover what your needs are before starting your job.
Finding Employment Again After Brain Injury
Returning to work after brain injury represents the ultimate victory over brain injury for many people.
That's why we wanted to create this guide to employment after TBI. We hope these tips help make the journey towards finding work again a little more manageable.
It might take you longer than others to recover the skills needed to work, but do not give up.
With enough therapy and the right accommodations, you can have a real chance to get back to doing the work you love.