When a person suffers a severe brain injury, the official medical prognosis is often bleak.
And yet, there are hundreds of severe brain injury recovery stories where patients defy the odds and live productive, happy lives after their injury.
In today's article, we're sharing two of the most powerful severe brain injury recovery stories we've ever heard.
While every traumatic brain injury is unique, we hope these stories inspire you to never lose hope during your recovery.
Dylan's Severe Brain Injury Recovery Story
At 8:30 p.m. on a cold December night, Dylan's mother got a call no parent wants to receive.
There had been an accident, and her son was in the emergency room.
Dylan suffered a severe traumatic brain injury while driving to his friend's house. He lost control of his car after hitting a patch of ice on the road.
When paramedics arrived at the scene, they found the driver's side door crushed under a telephone pole. Inside, pinned to the driver's seat, was Dylan, unresponsive and barely breathing.
It took 8 minutes to extract him from the car.
Treatment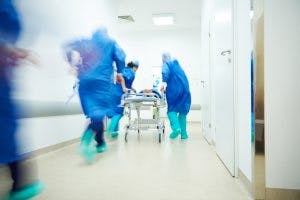 Once the paramedics succeeded at pulling Dylan from the car, they rushed him to the nearest hospital, arriving at the E.R. 37 minutes after the accident.
Scans revealed that Dylan had suffered one of the worst brain injuries possible: a diffuse axonal injury.
There were also signs of hemorrhages on his brainstem and oxygen deprivation.
Doctors immediately performed emergency surgery. They removed the left side of his skull to ease pressure and stop the hemorrhaging. However, the surgery did not rouse Dylan from his coma, and he remained unresponsive.
After they transferred him to the ICU, the medical team examined Dylan's symptoms using the Glasgow Coma Scale. The results were disheartening.
Dylan's pupils were fixed and non-reactive to light; he had no eye movement and did not respond to commands. In short, he displayed all the signs doctors do not want to see in a brain injury patient.
Distressing Medical Predictions
Based on his Glasgow Coma Score – on which Dylan scored one of the lowest scores possible – the doctors predicted a 78% chance of "unfavorable outcome" by six months.
An unfavorable outcome on the Glasgow Scale refers to either death or a persistent vegetative state.
This meant that after six months, Dylan would most likely still be unconscious, if he survived at all. Even if he did regain consciousness, the doctors told his parents, he would almost certainly be severely disabled.
They predicted he could never again live at home, and would only have brief moments of clarity when he would recognize them.
Dylan's Recovery Journey
The official prognosis could not have been more wrong.
After 17 days, an EEG showed activity in Dylan's brain for the first time. At four weeks he opened his eyes. By day 60, he could move from his bed to a chair with assistance from therapists.
90 days after his injury, Dylan walked 50 feet independently and responded to specific yes-or-no questions.
Dylan continued to stun experts and make miraculous improvements all throughout his recovery. When he returned for his one-year follow-up, he could perform nearly all activities of daily living independently.
At his two-year check-up, Dylan was functionally independent, with only mild cognitive impairments. He even had a job helping his dad on construction projects.
Dylan's case shows that initial exams and scans are not always accurate at predicting a person's outcome. Dylan had suffered one of the most severe brain injuries, he displayed all the signs of a poor diagnosis, and still went on to make a good recovery.
Simon's Severe Brain Injury Recovery Story
A tragic hit-and-run left Simon so broken that the paramedic at the site initially mistook him for dead.
Despite his serious condition, Simon would eventually make one of the most remarkable recoveries from severe brain injury in medical history.
Simon's brain injury destroyed a third of his right hemisphere and caused severe internal bleeding. When the doctors evaluated him, he scored only three points on the Glasgow Coma Scale.
People with a GCS score of three have a 7% chance of survival with a good outcome. And that's if they remain in that state for less than two weeks. Simon's coma lasted over a month.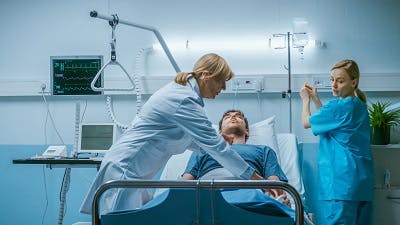 When Simon finally woke up, he had almost no awareness of his surroundings. He had forgotten how to read or write, and could barely understand what others were saying.
His attention span was minimal, and he even scored a 50 on the IQ test. (the lowest score possible)
Needless to say, the doctors predicted he would have to depend on others for the rest of his life.
Simon's Outcome
Today, however, Simon has regained nearly all his cognitive function, and now has an IQ level of 151! He's even written a bestselling book about his recovery story.
All while missing a third of his right brain hemisphere.
Simon was lucky enough to get the help of a therapist who refused to give up on him, despite his seemingly hopeless case. His therapist, Dr. Lois Provda, made him work on cognitive therapy activities three times a week, and by the time she finished with him, his mental abilities had more than doubled.
After only two years, Simon went from practically helpless to living on his own with only minor assistance.
Simon's story is the best demonstration we've seen of the power of neuroplasticity. Even though he was missing an entire section of his right hemisphere, Simon rewired his brain and regained skills that doctors believed he had lost forever.
Severe Brain Injury Recovery Stories
Every traumatic brain injury is different, and every survivor's story is unique.
While you will not have the same journey Dylan and Simon did, their severe brain injury recovery stories show just how much you can accomplish if you work hard and keep up with your therapy.
Even when every medical expert told them their chances were dim, they never lost hope. And because of their unrelenting perseverance, they overcame impossible odds and made astonishing recoveries.
We hope their stories inspire you to do the same.