About 8% of all spinal cord injuries are caused by sports. As a result, sports accidents are the 4th most common cause of spinal cord injury (SCI).
However, some sports are more likely to result in a spinal cord injury than others. To help you understand the relationship between spinal cord injuries and sports, this article will discuss:
Which Sports Have the Greatest Incidence of Spinal Cord Injury?
Various sports can cause a traumatic spinal cord injury; however, some sports have a greater risk than others. The sport that causes the most spinal cord injuries in the United States is diving.
Other sports that increase the risk of sustaining traumatic spinal cord injuries include:
Football
Cycling
Horseback riding
Skiing
Rugby
Cheerleading
Gymnastics
Snowboarding
Wrestling
As you can see, SCIs are more likely to occur with contact sports or sports that have a high risk of falling. The best way to prevent injury while participating in these sports is to make sure to always wear your protective gear and participate using proper form.
Additionally, sports-related spinal cord injuries are more likely to affect the cervical region of the spinal cord than lower regions. The cervical spinal cord refers to 8 levels of nerves that primarily make up the area along your neck. Following a cervical spinal cord injury, individuals experience weakness or loss of motor control and sensation in both the upper and lower body.
Depending on the severity of the spinal cord injury, many individuals may be able to recover their mobility.
Is it Possible to Recover from a Sports-Related Spinal Cord Injury Recovery?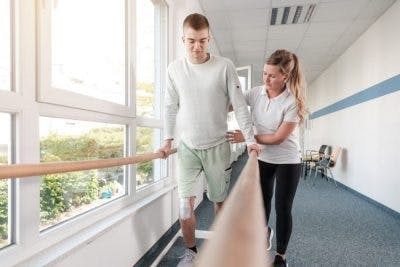 Although spinal cord damage cannot heal itself, unaffected parts of the spinal cord at the level of injury may be able to engage neuroplasticity. Neuroplasticity is the central nervous system's ability to make adaptive changes and rewire itself based on the behaviors you repetitively perform. It allows for functions weakened by injury to be strengthened by unaffected regions and improved through repetitive practice.
Recovery from any type of spinal cord injury is going to primarily depend on the severity and location of the injury. The higher your level of injury, the more areas of the body will be affected. Likewise, the more severe your injury, the fewer spared neural pathways between the brain and areas below the level of injury exist.
Additionally, the intensity of your rehabilitation will significantly affect recovery time. Spinal cord injury recovery is all about promoting neuroplasticity through massed practice.
Highly repetitive and targeted practice helps reinforce demand for those functions that were affected by the spinal cord injury. This encourages the central nervous system (the brain and spinal cord) to make adaptive changes in its neural circuitry. The more you repeat a weakened function, the more rewiring of the central nervous system occurs, and the stronger the new pathways become..
In the following section, we'll discuss whether it is safe for individuals with spinal cord injuries to return to sports.
Is it Safe to Play Sports Again After Spinal Cord Injury?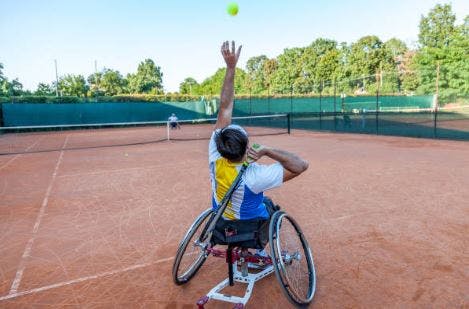 While the answer will be different for everyone, many individuals with spinal cord injuries can return to their favorite sports. Even if you have residual weakness or coordination problems, getting back into sports can be a great way to promote a healthy lifestyle and prevent negative secondary complications of spinal cord injury such as:
Being involved in sports can increase your sense of belonging, improve your mood, strengthen the muscles, and promote a healthy, active lifestyle.
However, individuals must make sure that they have recovered enough to return to sports. Make sure to speak with your medical team and rehabilitation specialists to determine when the best time is to play sports again.
In cases where your mobility is too limited to return to your favorite sport, participating in adaptive sports is an excellent alternative.
Adaptive Sports for Individuals with Spinal Cord Injury
If you have limited mobility as a result of spinal cord injury, consider looking into adaptive sports programs which allows nearly all sports to be adapted for individuals with motor impairments.
Adaptive sports programs are all about inclusion. They make sure that individuals with disabilities like SCI have the accommodations necessary to participate in sports. For example, you may learn how to play your favorite sports from a wheelchair or utilize adaptive techniques to compensate for limited mobility.
Participating in adaptive sports is also a great opportunity to meet other individuals with spinal cord injuries and share experiences.
To help you stay motivated during your recovery journey, the next section will share how Hayden sustained a spinal cord injury playing football and how he recovered his mobility.
SCI Recovery Story: Regaining Mobility After a Football Game Gone Wrong
After being tackled in a football game, Hayden was instantly paralyzed from his shoulders down due to a C4 spinal cord injury.
His surgeon explains how "only about 5% of patients in his situation when we saw him walk again."
After intensive rehabilitation, Hayden was able to gradually transition from a power wheelchair to a manual wheelchair, to a walker, to crutches, to independent walking!
Nearly 3.5 months after his SCI, Hayden was able to walk up the stairs and out of his rehab center. Although all odds were against him, Hayden continued to work hard on his rehabilitation and was able to walk again!
Spinal Cord Injury and Sports: Key Points
High contact sports are a major cause of spinal cord injury. Fortunately, depending on the severity and location of the injury, individuals may be able to recover their mobility and return to their favorite sports.
Participating in sports is a great way to be active, socialize, and develop healthy habits after an SCI. Even if your mobility is significantly limited, you may still be able to participate in adaptive sports programs. If you're interested in participating in sports again, make sure to get clearance from your medical team first.