Did you know that sports-related accidents are the 4th most common cause of spinal cord injuries?
About 8% of all spinal cord injuries are caused by sports-related accidents.
This article will go over all things sports and spinal cord injury. Let's get started!
What Sport Has the Most Spinal Cord Injuries?
The sport that causes the most spinal cord injuries in the United States is diving.
Other sports that often result in spinal cord injuries include:
Football
Cycling
Horseback riding
Skiing
Rugby
Cheerleading
Gymnastics
Snowboarding
Wrestling
Sports-related spinal cord injuries are more likely to result in cervical spinal cord injuries than thoracic or lumbar SCIs.
The best way to prevent injury while participating in these sports is to make sure to always wear your protective gear and practice using proper form.
Optimizing Spinal Cord Injury Recovery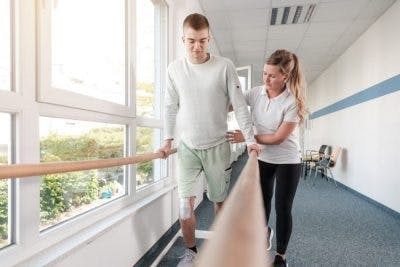 Although spinal cord damage cannot heal itself, neurons spared from damage can rewire themselves through neuroplasticity.
Neuroplasticity is the central nervous system's ability to rewire itself through processes like circuit reorganization and axonal sprouting.
This allows for functions weakened by spinal cord injury to be improved.
After a traumatic event like spinal cord injury, the spinal cord experiences a heightened state of plasticity for a few months.
Aggressively pursuing rehabilitation during this phase of heightened plasticity is ideal for improving motor functions.
It's important to understand that the spinal cord will always have plasticity and the central nervous system is always adapting.
SCI patients can continue to see improvements for years after their injuries.
Factors that Affect Recovery from a Sports-Related Spinal Cord Injury
Recovery from any type of spinal cord injury is going to primarily depend on the severity and location of injury.
The higher your level of injury, the more areas of the body will be affected.
The more severe your injury, the fewer neural pathways between the brain and body are spared.
SCI recovery heavily relies on the neuroplasticity of spared neural pathways.
Additionally, the intensity with which you approach your rehabilitation will significantly affect recovery time.
Spinal cord injury is all about promoting neuroplasticity through massed practice.
The more you repeat a weak function, the more rewiring of the central nervous system occurs, and the stronger neural pathways become.
Can You Play Sports Again After Spinal Cord Injury?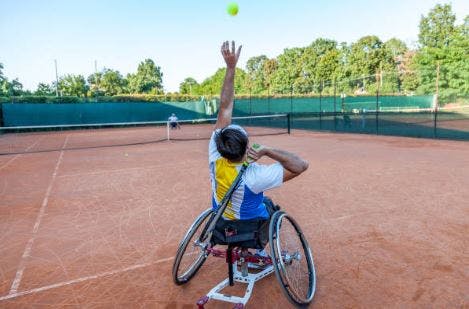 Absolutely! Even if you have motor impairments, getting back into sports can be a great way to promote a healthy lifestyle and prevent negative secondary complications of spinal cord injury like:
Being involved in sports can increase your sense of belonging, improve your mood, strengthen the muscles, and promote a healthy, active lifestyle.
Adaptive Sports for Spinal Cord Injury Patients
If you have limited mobility as a result of spinal cord injury, consider looking into adaptive sports programs.
Adaptive sports programs are all about inclusion.
They make sure that individuals with disabilities like spinal cord injury have the accommodations necessary to participate in sports.
This is also a great opportunity to meet other individuals with spinal cord injuries and share experiences adjusting to life after SCI.
Sports-Related Spinal Cord Injury Recovery Story
After being tackled in a football game, Hayden was instantly paralyzed from his shoulders down due to a C4 spinal cord injury.
His surgeon explains how "only about 5% of patients in his situation when we saw him walk again."
After intensive rehabilitation, Hayden was able to gradually transition from a power wheelchair to a manual wheelchair, to a walker, to crutches, to independent walking!
Nearly 3.5 months after his SCI, Hayden was able to walk up the stairs and out of his rehab center.
Although all odds were against him, Hayden continued to work hard on his rehabilitation and was able to walk again!
Spinal Cord Injury and Sports
Participating in sports is a great way to be active, socialize, and develop healthy habits after a spinal cord injury.
If you love playing sports, don't let your spinal cord injury stop you.
There are plenty of sports you can participate in! Just keep an open mind and be willing to try new things. Good luck!
Featured images: ©iStock.com/nautiluz56/kzenon/